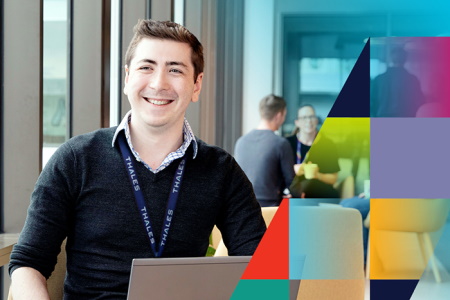 At Thales Australia, an internship (paid or voluntary) is generally for an undergraduate or student engaged by Thales for a fixed period of time (typically one to six months). On occasion, an intern may defer university for up to one year to complete an internship with Thales for which they earn credits towards their degree. The overall aim of the internships is to develop you for a potential graduate position with Thales in the future. 
Whatever the length of your internship and whatever you work on, you will come face to face with big innovations, collaborate on real projects and learn from some of the best in our business. Each internship is tailored to you, the project and the area you join, meaning that your experience will be, quite literally, unlike any other!
Applications are now open for the 2024 Thales Internship Program.
What we look for
People that have an interest in Thales and a passion for solving problems! Bring us your thirst for knowledge and a desire to get 'stuck-in' and we'll provide you with an opportunity to work on exciting projects and the chance to see whether you're interested in working in our industry. 
Step 1: You apply for a position with us via an advertisement (check here and search 'Australia' to see whether there are any open roles), or meet with us at a career fair or university event! 
Step 2: We'll have an initial phone conversation with you  where we'll see if we sound like the right fit for each other. We'll talk about your university studies, any work experience you have and your interest in working for Thales!
Step 3: You will be invited to attend an assessment centre where you'll learn more about Thales, including our culture and values, some group activities and an individual interview. In some instances, you may just be invited to attend an interview.
Step 4: If successful, we'll conduct pre-employment checks (medical and police check) and then make an offer!
 
Thales is committed to promoting and maintaining a workplace culture of shared respect that enables all of us to feel valued, do our best, and remain truly passionate about the place that we work. We are committed to making reasonable adjustments to provide a positive, barrier-free recruitment process and supportive workplace. We encourage applications from Aboriginal and Torres Strait Islander people and individuals from diverse backgrounds. 
Wellbeing matters at Thales, and where possible we encourage flexible working.