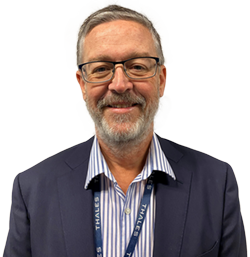 Peter Bull
Vice President, Digital Systems
In Jan 2019 Peter Bull was appointed Vice President Ground Transportation Systems, and Secure Communications & Information Systems, returning to the leadership team of Thales Australia & New Zealand.
Prior to taking up this role Peter was seconded to Thales France for four years  as the Vice President for International Business Development for the Radio Communications Product business. In addition to that he was also the Chair of the 5 Eyes group with Thales, and a board member of a Thales Joint Venture (STE) in Malaysia.
Between 2010 and 2014 Peter was the Vice President of the National Security and C4I business which later changed its name to Secure Communications and Information Systems. Prior to 2010 Peter was responsible for the overall strategy and operation of the Joint Systems business unit within Thales Australia.  
Peter has significant defence, project management and finance experience supported by an extensive military background.   
In his earlier career, Peter served 12 years in the RAAF. During this time Peter was involved in financial management and ICT related activities for RAAF personnel.  
Peter holds qualifications in accounting and project management. He is married to Donna and has an adult son and daughter.  His interests include golf, cricket, red wine and food.