Faces of Thales - Bradley Lovegrove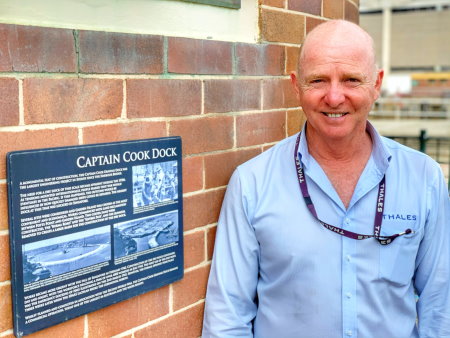 Get to know our long serving Dockmaster based out of Sydney's Garden Island, Bradley Lovegrove.
Born in Sydney, Brad grew up on the water in Oyster Bay. Following the call to the sea early on, he started sailing when he was only eight years old and began working in boatsheds when he was twelve. When asked what he was like as a youngster at school, Brad begins to laugh and states simply, "that's why I started working in boatsheds when I was twelve."
As most young sailors do, Brad started sailing in the Heron class, the entry level dinghy sailing boats that are often seen en masse on harbours and ports all around the country, and moved up through the ranks. "Anything that was made of timber, I'd sailed." 
His career "slipping" boats kicked off when he was just twelve, pulling them apart, antifouling them, and then putting them back together again. By the time he'd hit sixteen years old the workload was so intense and the money in it was so good, Brad says he actually took a pay cut when he started his apprenticeship at Garden Island as a Shipwright with the Department of Defence (DoD).
Although he was enjoying life as a ship handyman, in the back of his mind he knew he needed to have a trade behind him, and a Shipwright was in line with his passion for being on the water. 
"That was 1975 and I worked here at Garden Island Monday to Friday as an apprentice," he says. "But then I worked in the boatsheds on the weekends. Plus, I was mowing lawns, selling birds and washing cars. Sailing is an expensive sport and back then my apprentice wage was only 95c per hour, so I had to keep up the weekend work. My life was this; if I wasn't working I was sailing, and if I wasn't sailing I was working."
When he looks back at his apprenticeship, Brad says that he was very fortunate because he got to move through various areas of the Island. 
"I worked in the boatshed downstairs, the boatshed upstairs, the fibreglass shop, the drawing office, the dock squad and the outside Shipwrights," he says as he recalls the four years. "I got a very diverse execution of all the skillsets. One of the areas I enjoyed the most was the dock squad, funnily enough," he laughs.
He says that what he liked most working on the dock squad was that he could see the results of his work instantly. 
"Every day you could see what you'd accomplished," he notes. "You see a ship come in and sits down and you know you did that. It's gotten to the point now where pretty much every ship on Sydney Harbour I'd docked." 
Turning Twenty-One
At the end of Brad's apprenticeship in 1979, he'd bought a property on the Central Coast and was in the process of designing and building his first house.
"I was twenty-one and I needed a change," he says. "So, I quit the dockyard life and moved myself up the coast to finish building my house."
Brad took a job with a company called Vickers Xatal producing Easyrider/Nautiglass Boats and Mustang Boats. They'd also won the contract to make the front-end cabin for the new Express Passenger Train (XPT) trains set to hit the railways by 1981.
"There were four shipwrights and two pattern makers working on that project," he recalls. "So, I led a small team which made the first half dozen XPT front-ends to enter service."
Once that project was completed, Brad followed his calling back towards the sea and moved into the boating department of the company, doing fit outs for the boats. This role had him working on every aspect of the craft from its installation of electrical wiring, installation of alignment of stern drives and to the general fitting out of the rest of the systems and components of the vessel.
After a year of this type of work Brad felt the urge to move, and so he and a group of five mates packed up and drove north to Cairns over a six-month period.
"It was fantastic," he says with a wry smile. "I worked in pubs as a handyman and in boatsheds along the way to make money. We towed a twenty-eight-foot half cabin cruiser along with us and we went out onto the water as often as we could, often island hopping as we got further north."
Back in the Docks
After the trip north Brad got a phone call from a friend telling him about some casual work offered in the shipyard at Cockatoo Island.
"They'd laid the keel for HMAS Success and they needed people for a few months," he says. "I was meant to be there for three months and ended up staying there for five and a half years! In these years I worked both the Sutherland Dock and the Fitzroy Dock as well as the small slipways."
Brad then got another call about work, this time back at Garden Island as a supervisor.
"That was in 1987 and I've been here ever since."
Since then he has moved from Scheduling to Surveying, Planning, then front line Supervision, and then onto the docks.
"Originally when I was told I'd been moved to the dock group to fill in for a guy who was off sick, I didn't want to go since I spent so much time at Cockatoo Island working on the docks," he chuckles. "It was only for three weeks but I said no. Anyway, they told me I was moving regardless, and the three weeks became… Well that was 1989 and I'm still here. In that time, control of the work transferred from Defence to ADI, then Thompson Transfield and then to Thales. So, I've been here through all of those organisational and cultural changes." 
When he's asked what's kept him here for so long he sits back in his chair and smiles.
"You know I was asked this exact question last night, and I answered 'Boats and Ships'. Ships are my passion more so than smaller pleasure craft, even though I own one myself. For holidays I still go cruising because I just can't get enough of ships. The Island is close by to home and I can see the ships come in and out from there which is a big tick in the box for me. 
"The people I work with, they are a huge part of my life. I really enjoy liaising with the customers we work with here and we have proved time and time again just how good Thales is at this type of work."
A Shift in Focus
Brad says that a few years back he began to shift his focus to more of a teacher, or mentor role.
He explained how in the 90's, he "inherited a lot of disciplines" over the years and was eventually "running the dock group (and all its disciplines)" by himself and three supervisors. "To put it in context, back in the DoD days we had twelve supervisors and two managers."
One of the main hurdles Brad has had to overcome in this transition has been getting used to the fact that he can rely on the next generation of employees and he doesn't need to do it all himself.
"I have a real passion for what I do," he says emphatically. "Clearly, that's why I'm still here. But I've taken a step back a bit from front line, in the last four to five years, and taken on more of a role of teaching. I'm enjoying it, although it has its challenges.
"I am able to teach people, like Chris Campbell, who can bring the ships in and out and that helps a lot."
Brad says the prep work for bringing a ship in to the dry dock (Captain Cook Graving Dock as it is formally known) begins six to eights weeks prior to its arrival. He studies the ships drawings with the Naval Architect (NA) to analyse every aspect of the ship, then moves on to the dock where he plans the timber blocks layout so it can "sit down" in the right position.
Then comes to docking day where the plan is executed. A successful docking day relies on many different disciplines (e.g. electricians, shipwrights, fitters…) which all play a role for the completion of the various tasks involved to dock a vessel. The size of a vessel dictates the amount of people required to line handle a vessel in to the dock. 
"It's that night, the night before the docking that I have a sleepless night," he says. "I run through all the contingencies if certain things go wrong. It's interesting because we've done this for so long and done a good job of it it's easy for other people to forget just how wrong things can go. One miscalculation, one wrong judgement call, or one piece of information not communicated and the results could damage the company's reputation and the vessel."
Communication throughout the day is vital; liaising with pilots, tug masters and dockyard line handlers, as it contributes to the manoeuvring of a vessel inside the dock walls by pulling on ropes at different intervals. Overall, it takes plenty of planning and a whole lot of trust built up over time for precise work.
"But like I said, we do a good job and we've done so for a long, long time now. So, our customers trust us to get the job done safely and efficiently." 
When I ask him about his scariest moment there at the dock Brad smiles and shakes his head, obviously recalling a memory from the past.
"The scariest one I've had wasn't here on Garden Island. It was on my first time in the boatshed, when I was 12, to bring a vessel to the slip. It was a twenty-four-footer, so no toy," he laughs. "I had to go out to the mooring buoy to slip the mooring line but I didn't account for the wind, tide and the engine not starting but eventually it started so I could bring the vessel in. I learnt a lot on that day and those lessons have helped me throughout my career." 
Three Life Tips from the Dockmaster
Believe and trust in your own decisions
Keep developing your own moral level, how you see the world and how the world sees you
Never stop challenging yourself. 
All three of these are intertwined and directly impact each other. If you can do these things, you'll be a happy person no doubt.