Faces of Thales - Joe Aloisio
Speaking with Joe Aloisio for this Faces of Thales interview, it's obvious he is driven by three primary things: love for his family and culture, the desire to keep challenging himself and the importance of believing in yourself. It's these three values, along with Joe's jovial attitude and sense of humour, that has served him well throughout his life and career. Read more about our Cairns based Subcontracts Administrator below.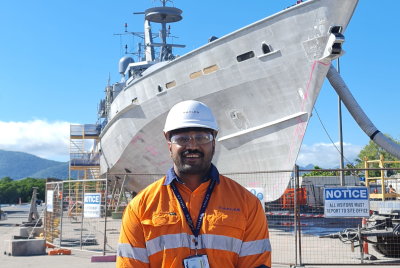 Joe, whose birth name is Iosefo after his Grandfather, was born in Wellington, New Zealand however, his family hails from the Pacific Islands; Tokelau and Fiji to be exact. His parents made the move to Sydney, Australia at the age of 6 however, uncomfortable with the Sydney pace, when Joe was 10, the family chose to resettle in Townsville; where a number of his family were already calling the Sunshine State home. 
"In Townsville, we were always surrounded by family, which is a really important thing in our culture; I believe it is the sense of support and respect towards our elders. You'd always see big feeds, big smiles and singing and dancing. We grew up in housing commission - we didn't have a lot of material things but we had lots of love and support" Joe recalls.
As a child, Joe's dad worked a number of casual jobs and then settled into the Meat Works and Joe's mum looked after the family and the house, or was 'living the mum life' as Joe terms it. 'Living the mum life' sounds like a big task indeed, as Joe is the eldest of seven kids; noting it was this position in the family that influenced his deep sense of responsibility. 
"Being the eldest child, there is always a level of responsibility that you have for your family. This, combined with our Christian values and the importance of learning and developing our Tokelaun culture, really shaped my values from a young age."
Joe went to an all-boys school in Townsville and looks back on that time fondly, remembering the close-knit group of friends that he had. "All of us Islander boys sat together and had our fish and taro lunches. We treated everyone with respect. We weren't the meatheads or the bullies; we were the boys that had guitars and liked to sing."
It was through his time at school that Joe saw how hard his parents worked for their family; impressing upon Joe and his six siblings the importance of both 'pushing hard', but balancing this with the 'Islander life and culture.'  It's this latter side of life balance, and staying true to his culture, that has Joe fondly recalling the time he has asked his mum, "what was for lunch?" to which his Dad responded "take a coconut to school for lunch, you have fresh juice and then open it up you have fresh food."
Joe looks back and knows his parents did everything to provide the best opportunities to help lift their family and the community. Joe acknowledges it wouldn't have been easy to say, "take a coconut to school," but knew it came from a good place. 
When the time came to finish school, Joe took a path that even he was surprised by as he'd always grown up thinking he would become a tradie.
"I was doing work experience as a boilermaker, electrician, fitter and turner but none of that felt right, so I took a completely different path and went to Uni instead and did a Bachelor of Law."
Joe insists he isn't 'academically smart' but believes the most important elements of success is applying yourself and challenging yourself (alongside a few hours of intense cramming for exams). He believes with this approach you can achieve anything you put your mind to. 
Joe's proudest moment at university came during the graduation ceremony when he looked over to his parents. 
"I remember seeing dad get emotional and I was just really proud. I was the first one in the family to go to university, so to hear how he spoke about my graduation, and what it meant to the community and to the kids in the family, that was something special." 
It was while Joe was at university that he got his first taste of the Australian Army Reserves. Joe was looking for a part time job while studying and after realising you could get paid to do good work and get fit, Joe was sold.
"I learnt a lot with the Army Reserves and had a lot of great experiences; it really helped open up my communication and leadership skills. I would really recommend the reserves to anyone that is looking to challenge themselves, meet new friends and develop skills that apply to everyday living."
After finishing law school, and at the time as a Business Development Manager (BDM) for a resourcing company, Joe moved to Brisbane to seek further growth in his career; obtaining a position as Subcontractor Specialist. He gained experience in contract management, compliance and managing supply chain vendors but after a while realised that life in Brisbane wasn't the life Joe was looking for. 
"I struggled to transition from the BDM environment, which is chasing work, to the post execution position such as the Subcontractor Specialist; managing service level agreements. Couple this with the long drives from Hamilton, Amberly Barracks through to Gallipoli Barracks. I wasn't at my best mentally, physically and spiritually."
Then, Joe spotted an opportunity with, you guessed it, Thales. 
After seeing a Contracts Administrator role in Darwin with Thales, Joe jumped straight on to Google to find out more on this company called "Thales." After he saw a picture of a satellite on the Thales website and thought 'Well, this looks like they know what they're doing, that's good enough for me,' Joe promptly applied for the role. 
Joe laughs when remembering his interview for the role with Thales, saying that after the formal questions he was asked who he follows in the Rugby League. When he replied 'North Queensland Cowboys' he was then immediately asked 'Do you have a tattoo of Jonathan Thurston on your back?'
"I remember not knowing whether to take that seriously, but I did get an instant feeling that it would be a great place to work. How could it not be if you do your job well but are also able to have a laugh?" Joe says. 
He soon packed up his Brisbane life and moved to Darwin where he worked on the Armidale Class Patrol Boat ISS Program 2017 for 3 years. Joe knew that this would be a great move to get his mental, physical and spiritual strength back. 
Hearing Joe speak about his time in Darwin, it's evident it was a valuable experience and he immensely enjoyed working with the Thales team, playing rugby with Pirates Rugby Union and being in the Army Reserves. However, before long, another opportunity arose that was just too good to refuse. 
A North Queenslander at heart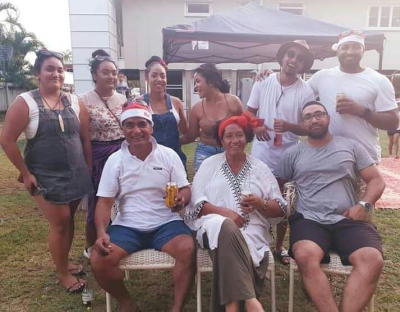 A strong believer in taking opportunities as they present themselves, when there was a call out for people to support the 60-monthly maintenance cycles of the Armidale Class Patrol Boat in Cairns, Joe could not let this one slip. It's at this point he gives a nod to Greg Gocher, Regional Production Manager, for helping to make this happen. 
"Greg really helped me get to Cairns. Not only did he help me get back to where my family is, but he's definitely one of my mentors. I've seen his leadership skills and his big picture thinking – I like that type of leadership.'   
As a Subcontracts Administrator, Joe works closely with local vendors who are critical in enabling Thales to deliver mission ready and seaworthy vessels on time for the Royal Australian Navy. The work done in Cairns by Defence, Industry and Small and Medium Australian Enterprises is something that closely aligns with one of Joe's values; working within a team. 
So, after a year working with Thales in Cairns, how is Joe settling in?   
"Good, really good. I am a father to be! Things will be changing that's for sure for both my partner and I - come October, blessing from the man upstairs, that we will have a healthy baby boy."
"There's a great team in Cairns and a great work life balance here. I play footy, I go fishing, I still do my reserves work and I'm also back closer to my family – it's turned out great."
A particularly meaningful experience for Joe also came through the Army Reserves which, 15 years later, Joe is still an active member. 
In March 2020, while working in Cairns, Joe was deployed on Operation Resolute; assisting Border Force and local police helping to patrol the Northern Islands in the area and monitor sentry posts. More than an enforcement role, a critical component of the deployment was community engagement; building relationships with the locals through, as Joe says matter-of-factly, 'yarning with the kids and their parents; talking about why we were there and also a little about fishing.'  
Joe Aloisio is many things: a fisherman, a staunch All Blacks supporter, a chess aficionado, an 'almost contestant' on the show Australian Survivor, and a fan of 'talking a lot of Island slang at work.' It's these attributes, coupled with his sense of responsibility, desire to be challenged and deep commitment to his family and faith, that makes Joe a valued part of both his team in Cairns and the broader Thales community.  
Some important takeaways from Joe
Family is everything – The love and support your family give you is priceless. Joe is very close with his family, so much so, that he tells me that his mum has added him on Snapchat.
Time waits for noone – This is something Joe's father instilled in him from a young man. Take chances, take opportunities, live.  This advice nicely compliments his mum's guidance of 'do what makes you happy.'
Manifest your beliefs and goals and believe in yourself – Joe's story is testament to his strong sense of self belief. Anything you put your mind to, you can achieve it – it's the Law of Attraction.  
Find a good mentor – Joe has had many mentors in life in his family, the church, through Defence and at Thales. Each have brought something unique and valuable to his life.