A look back at our RAP: Reflecting on our 2019 – 2021 Reconciliation Action Plan
In 2006, Prime Minister John Howard and Professor Mick Dodson launched the Reconciliation Action Plan (RAP) Program which was to be administered by Reconciliation Australia. 
Through the program, organisations develop a business plan that documents the actions they will take to contribute to Reconciliation in Australia. 
The practical steps outlined in the RAP, aim to help build strong relationships and enhanced respect between indigenous and non-indigenous Australians. 
Our RAP formalises our commitment to create meaningful relationships, enhancing respect and promoting sustainable opportunities for Aboriginal and Torres Strait Islander peoples, communities and businesses. 
We've captured some highlights of the past two years below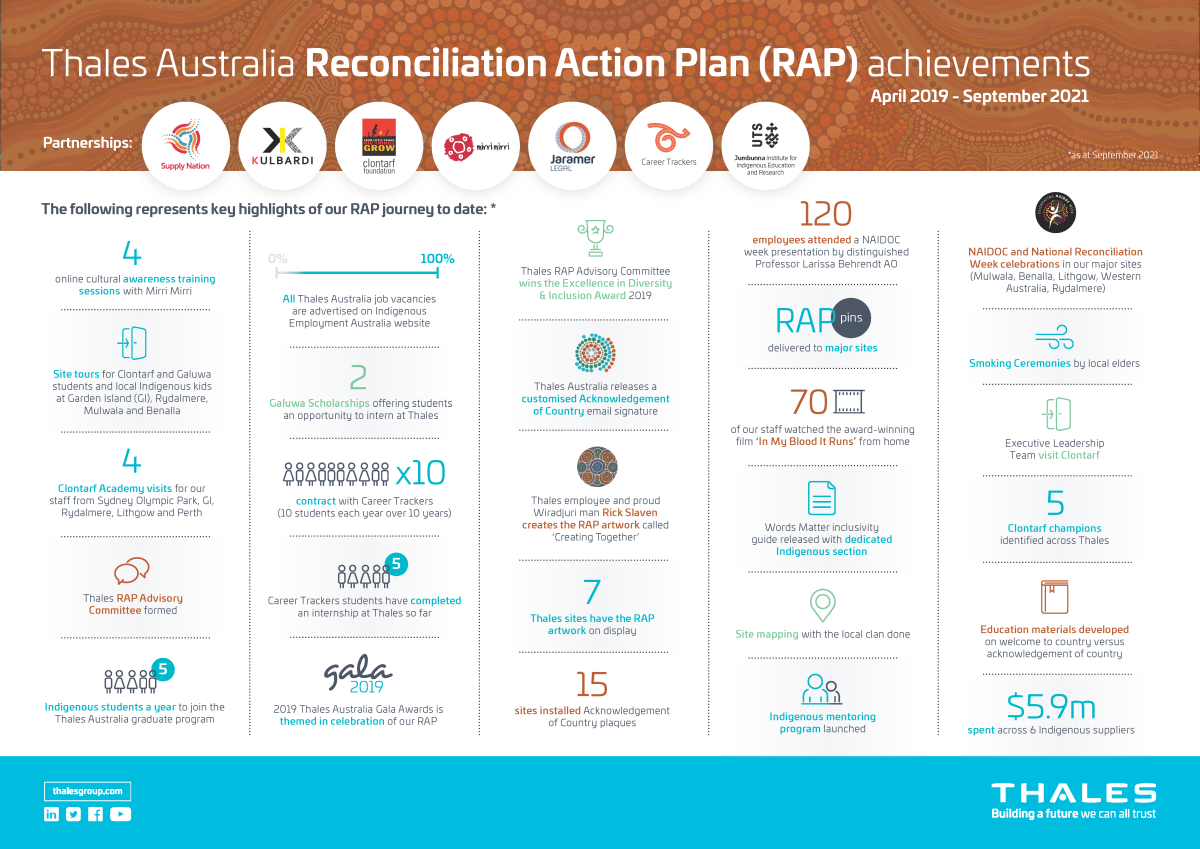 Thales Australia's Vice President Legal & Contracts and RAP sponsor, James Couche says he is proud to be leading such an important project for Thales Australia. 
"Our RAP is about turning good intentions into real actions by providing practical ways forward together based on respect, relationship building and creating opportunities."
Did you know the artwork for our RAP was created by one of our very own employees, Rick Slaven? A proud Wiradjuri man and descendent of Diana Mudgee, Rick has worked for Thales for 30 years at our Lithgow site. Entitled 'Creating Together,' Rick has created a piece which is truly representative of our multicultural DNA and our national and global footprint. 
If you'd like to read the Thales Australia 2019 – 2021 RAP, please visit our website, here.