Mine Counter Measures – The future is now
Thales Australia has recently presented the world's most advanced Mine Counter Measure (MCM) Mission Management Systems to the Commonwealth.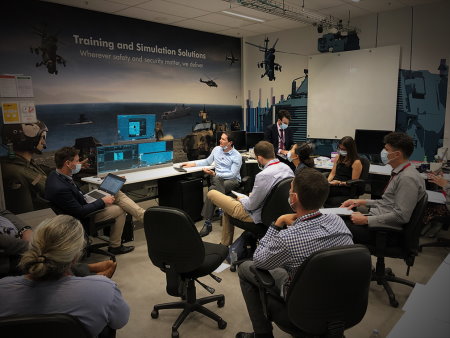 Hosted at Thales' Rydalmere facility in Sydney's western suburbs, the visit included a demonstration of M-Cube, the MCM Mission Management System, combined with the Mission Analysis tool, MiMap. The core design of both MiMap and M-Cube reduces the cognitive load on Commanders and Operators, allowing them to deliver effective, efficient decision making within a mine threat environment. Together, these systems are now in use with two of the most proficient MCM Navies in the world, the UK's Royal Navy and the French Marine Nationale.
M-Cube – a dedicated MCM mission planning and mission execution system tool, receives real-time marine environmental data, mission objectives and integrated artificial intelligence to assist in goal-based planning providing the end user a complete view of the operating area.
MiMap – a mission analysis system, critical in optimising and accelerating any MCM mission, takes the captured information from the mission assets and analyses the synthetic aperture and side scan sonar data generated by towed sonar or autonomous underwater vehicles (AUV). MiMap then collates this information and provides end users with a clear picture of the underwater environment to aid in the detection, classification, and localisation of any potential threat. Taking the load from the operator to process the huge volumes of data generated by multiple autonomous vehicles, both M-Cube and MiMap work together to simplify the information presented, ultimately reducing the cognitive load, and in turn, increasing the rate of threat clearance.
Complementing these two systems is Thales' SONIA product – a modelling platform that takes information from the mission planning data and environmental conditions entered into M-Cube and provides commanders with a highly accurate simulation of likely mission outcomes. Planning can then be adjusted in M-Cube again before mission execution – a critical element in reducing risk.
"This really is the most capable and agile Mine Counter Measures C2 system in the world, with the potential to provide a significant technological advantage to the user," says Thales' Underwater Systems Business Development Manager and former Royal Australian Navy Mine Warfare and Clearance Diving Officer, Gavin Henry. 
"Both systems take the complexity out of what is already an incredibly challenging mission environment, and is only going to get more so with the advent of autonomous capability. M-Cube and MiMap are also at the core of the French/UK Maritime Mine Countermeasures Program which has been successfully tested and demonstrated at sea."   
"With all these systems being built around an open, generic architecture, functions can be added, updated and improved as technology advances and threat environments change," said Tim Cain, Thales Underwater Systems Technical Director. "Additional software applications will be developed to suit Australia's unique operating and strategic environments and Navy's assets." 
"If our partners within defence, academia or industry develop enhanced MCM vehicle assets or MCM software applications these can be plugged in and utilised – ensuring both M-Cube and MiMap are constantly evolving under sovereign control."