Pioneering a pathway in STEM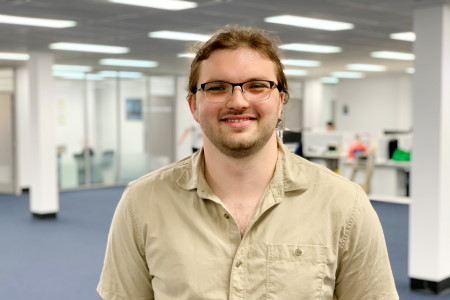 Meet 22-year Ben Piper, our CareerTrackers intern at Thales Australia. Read more about what drew this curious Mechanical/Mechatronics engineering university student to Thales and why he thinks there's a gap in Indigenous people in Science Technology Engineering and Mathematics (STEM).
It seems like a match made in heaven- a bright and inquisitive engineering student from The University of Newcastle with ambitions to live and work in France one day seeks an internship at a company with a broad scope of works. On the other side, Thales, through its Reconciliation Action Plan, wants to enhance opportunities for Aboriginal and Torres Strait Islander peoples and make a real difference in the locations we operate in. Enter CareerTrackers - a national non-profit linking young Indigenous adults with employers to participate in internships with the goal of fostering a prosperous professional future.
In case you're wondering what Mechatronics entails, Ben explains it perfectly. "It's the link between mechanical and electrical, robotics is what mechatronics is all about." It was an incident in Ben's youth resulting in reconstructive surgery that initially sparked his curiosity about prosthetics and robotics, and ultimately inspired his pathway to study mechanical and mechatronics engineering. Although the desire to help others was an initial motivator and is still the end goal, Ben's more immediate plans revolve around forging a career as a project manager and satisfying his travel bug.
"Part of what drew me to Thales was the prospect of a multinational and the possibility to work overseas." Ironically, Ben initially had no desire to travel abroad until his partner convinced him to join her on a month-long trip to Europe. The mix of foreign cultures, languages and ancient history fuelled this budding engineer's love of learning. He's since travelled to Tokyo and hopes to one day live and work in France or Japan, and is learning both languages in anticipation.
Another culture Ben is keen to explore further are his Indigenous roots. Born and raised in Grafton, Ben belongs to a family of six and both his parents grew up in Dubbo. His father is Wiradjuri and they are direct descendants of Diana Mudgee – an inspirational Aboriginal woman who held title to a considerable amount of land in a time when it was unusual for a woman to do so. Ben's partner is Kamilaroi, an Indigenous Australian people whose lands extend from New South Wales to southern Queensland. "It's hard with uni and work but we both definitely plan to get more into our Indigenous culture in the future," he says.
Ben and his partner (who is a history teacher) both offered to tutor Indigenous students at their university with vastly different outcomes. While Ben's partner managed to find seven candidates in the fields of history and teaching, Ben was unsuccessful in connecting with an Indigenous engineer. This experience made him realise "the amount of Indigenous people within STEM is quite low so it would be good to further that" through initiatives such as the Thales and CareerTrackers' partnership.
Ben's approaching the final days of an 11 week stint at Thales and says he's learnt a lot about the company he had no previous knowledge about before his internship - including how to pronounce its name – "I thought it was 'Tails'" he says laughing. During his internship, Ben has been embedded in the Integrated Logistics Support (ILS) team responsible for optimising the capability lifecycle of systems from the commissioning phase onwards to ensure they last longer and require less support, thereby reducing costs and increasing return on investments.
I was asked to look at how the current workflow of completing tasks can be improved and explain from start to finish the purpose of each task so that any newcomer to the program can understand how everything comes together.
Without any prior exposure to the private sector, Defence or projects, Ben relished in the learning opportunity by reading through documents and speaking to many people from across the business to gather the information required to prepare his report. He says the task helped him to understand the relationships within Thales and with our key customer, the Commonwealth.
What I have done, and what everyone should do during an internship, is be a sponge of information. There's a wealth of experience here at Thales Newcastle and a lot of knowledge I can gain. It was a good learning experience and definitely what I was hoping for.
Despite tv shows portraying interns as doing mundane tasks such as buying coffee or photocopying, Ben says his typical day in the office is no different to any other engineer's. He's appreciative his mentor, ILS Engineer Annie Chayko, took him under her wing and shared her expertise while giving him the autonomy to make his own mark. "The work I've done isn't me echoing what Annie wants: it's my report and her review."
Ben's also grateful his future aspirations and personal interest in project management were considered by ILS manager Guna Sockalingam, who asked him to deliver a presentation to the team about the topic and how it can improve their function. Ben delved into e-learning videos and Chorus 2.0 to complete the task and says producing such deliverables was the highlight of his internship because it's a chance to give back to the organisation that taught him valuable skills he can apply in his fifth and final year at uni.
I'll definitely put into practice what I've learnt here – whether it's project management by treating the course as a project or using ILS methodology when I design and build a powered walking robot as part of the final project for my Honours degree.
Ben plans to return to Thales after graduating. We wish Ben all the best with his studies and hope to see him back again soon!