Meet our CareerTrackers intern, Michaela
This year marks our second year of partnership with CareerTrackers, a national non-profit linking young Aboriginal and Torres Strait Islander adults with employers to participate in internships. This week we'd like to introduce you to one of our brilliant Career Trackers, Michaela who is working in our Legal and Contracts team.
Michaela, Legal & Contracts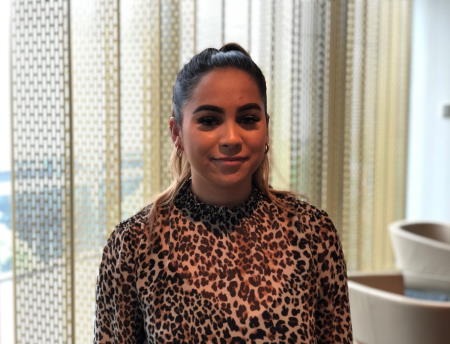 Hailing from sunny Darwin, Michaela's family moved to Sydney when she was nine years old and now reside in Camden, a suburb located on the city's fringe. She jokes that it took them a while to acclimatise to Sydney's cooler climate but now when they head back up north, something they try to do each year, they struggle with the relentless heat. 
Michaela's Aboriginal heritage comes from her father, who originates from the Tiwi Islands, about 80km north of Darwin, and says she first learnt about CareerTrackers in her final year of high school. She signed up without giving it too much thought and CareerTrackers reached out to her after she began university. "I went to an information session and remember thinking 'I don't think I'll get this amazing opportunity otherwise.'"
Fast forward to now and Michaela is in her second year of completing a Bachelor of Law/Bachelor of Psychology at the University of Wollongong and is in the final days of her internship at Thales. Positioned within the Legal & Contracts team based at Sydney Olympic Park, Michaela's days are filled with writing memos for legislation and shadowing her colleagues – even accompanying Vice President Legal & Contracts James Couche to meetings. Although she says she didn't know much about Thales beforehand, "I was immediately intrigued because of the defence and security aspects, which I find interesting." 
A recent visit to our Garden Island site offered the opportunity to see a Defence establishment first hand and Michaela credits this experience as the highlight of her internship. "I really enjoyed seeing the ships and chatting with people to get a grasp of what they do and hearing their career advice." As Michaela points out, there are many career pathways available with a Law degree and, while she hasn't landed on which direction she'll head in, her time at Thales has been invaluable. Just before commencing, she'd completed a contracts subject and therefore being able to see it in a practical sense has delivered an improved learning experience. 
Another pleasant surprise has been the type of work she's been engaged in, such as drafting a guide to building code legislation. "The work given to me is interesting. Thales is really valuing my opinion and the work I'm doing, so I feel proactive. Everyone has been really welcoming too." 
With another internship on the horizon in winter, Michaela hopes she can return to Thales and continue learning more about our business. Either way, she's extremely grateful for her CareerTrackers internship. "I 100% recommend it. What I'm getting out of this is something that'll help me in the future and its actual, proper work experience. I've suggested to CareerTrackers that it'd be amazing to take their program out to Darwin, where people would actually thrive with this same opportunity." 
We agree Michaela and hope to welcome a CareerTrackers intern at our Darwin site in the future!