Our business success also depends on how much scope our employees have to broaden their experience by moving around between jobs and locations. We offer a broad range of training opportunities to enhance opportunities for job mobility throughout our many businesses and locations.
annual transfers (between jobs and locations)
Underpinning our professional development policy is a full array of training programmes provided by Thales's in-house university. Clearly defined processes are in place to ensure that each Thales manager meets regularly with individual employees to review their career aspirations and professional development prospects.
We believe that teamwork is a key factor in our growth, so we encourage collaboration in everything we do and constantly look for new ways for employees to interact.
To foster innovation and individual achievement, we expect our employees to be as creative and flexible as possible in the way they organise their work. Every year, Thales awards a prize for the most enterprising new project proposed by an employee.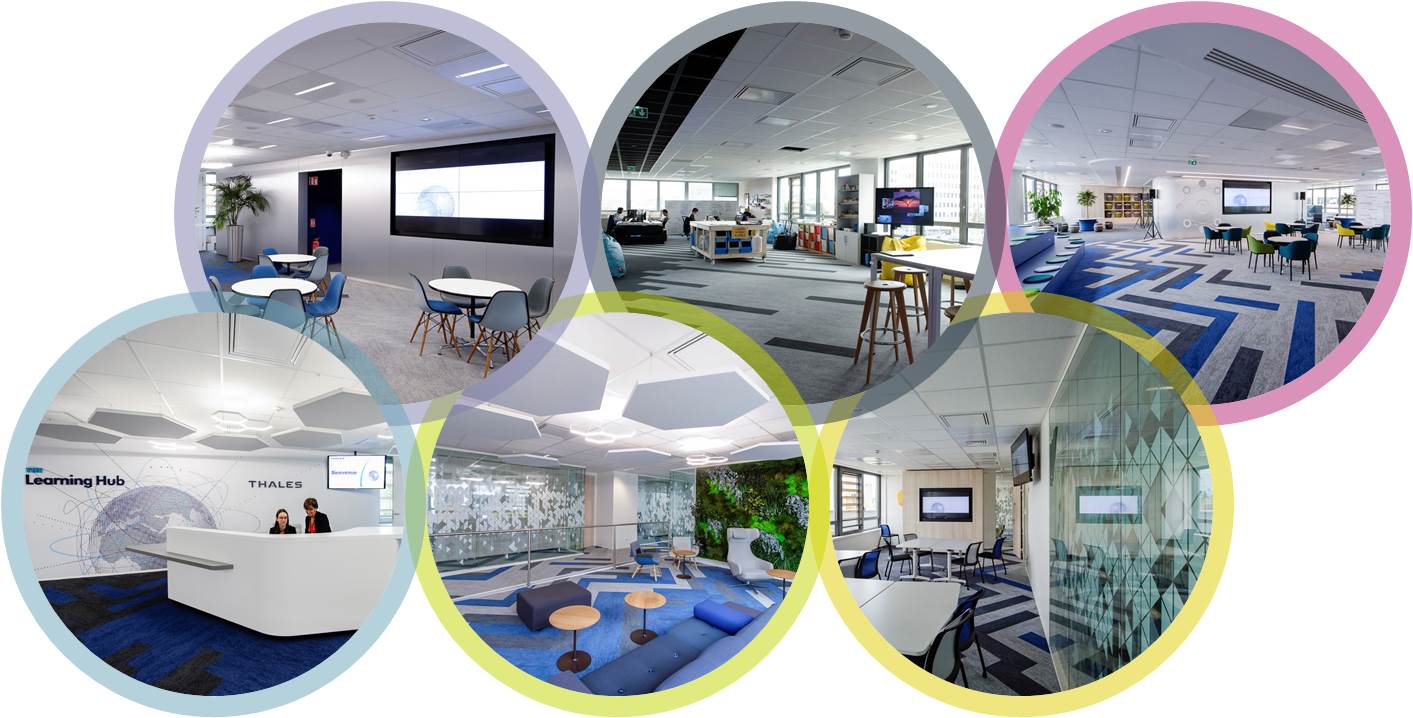 Thales Learning Hub and Talent & Culture teams
At Thales we are committed to giving all employees opportunities to be their best. Established over 30 years ago, Thales Learning Hub – formerly Thales University – is Thales's in-house learning center of excellence supporting the Group's employees worldwide at all key stages of their career. From initial induction to advanced professional development, enabling mobility and promotion throughout the organization.
The learning & development offer – designed by Talent & Culture teams and delivered in 11 Thales Learning Hub locations around the world – focuses on Thales's strategic and business challenges. It is reviewed and updated each year in close relationship with sponsors and operational managers to stay aligned with the changes taking place within the Group and its markets.
The offer is organized around four key areas, all embracing today's digital transformation stakes in coordination with Thales Digital Academy:
•    Leadership & Change management – new culture and capabilities, inclusive mindset, executive programmes, coaching, mentoring, etc…
•    Business Performance – Marketing & Sales, Bid & Project Management, Communications…
•    Operational Excellence  – Software, Systems, and Hardware Engineering, innovation, Thales's 4 digital technologies big data, AI, Cybersecurity, IoT
•    Support Functions's Transformation – Procurement, Quality & Customer Satisfaction, Legal, Finance and Human Resources.
The learning journey combines a wide array of learning methods including both Thales tailor-made programmes, facilitated by Thales senior managers or experts, as well as best in-class market solutions.  Special focus is given today to developing and delivering an innovative and disruptive digital learning approach, thanks to a dedicated Learning Lab.  From blended to 100% digital and immersive learning, involving videos, virtual classes, serious games, experimentation, design thinking driven customized workshops, co-development, etc. Collaborative programmes across job families foster teamwork and meet the operational needs, just-in-time and on-the-job.
Throughout their career path in the Group, employees can benefit from the support of learning advisors to discuss opportunities to move to new roles, change job families and develop their skills to become managers or technical experts.
Our goal:
Deliver a global world-class offer for a unique employee experience,
whilst boosting individual and collective performance to meet the
Group's strategic ambitions.
Thales Learning Hub premises are based in France, the UK, Germany, the Netherlands, Italy, USA and Canada, UAE, Australia, and Singapore.
Throughout their careers, employees can talk to specialised advisers and discuss opportunities to move to new posts, change job families, develop their skills and become managers or technical experts. SimLead, Design Center and e-learning are among the methods used to plot fulfilling career paths for Thales employees.