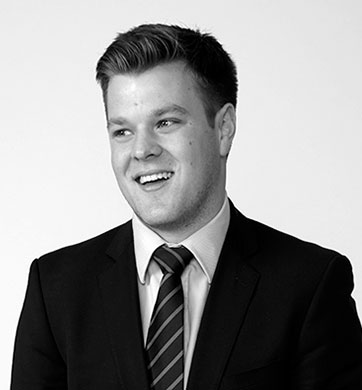 Transportation Systems / Sales and Bid Management
My first graduate placement was in working in Risk Management & Compliance at Thales Air Defence in Belfast. It was an incredible experience which gave me an opportunity to live and work somewhere completely new. I worked in export control supporting overseas sales prospects in the military sector. My second placement took me to London, working in Bid Management as a Proposal Manager in the transport sector. This was a contrasting experience which gave me a good understanding of the scale of the organisation and how Thales operates in both the civil and military markets. My final rotation is also in London, in the Sales & Marketing function where I've been working closely with customers to clarify requirements and best position Thales to secure new business.
Since joining Thales, I've learnt that it is essential to always look to grow, maintain and develop your network. It sounds clichéd but to be successful in business, it's all about the people you know and building long-term professional relationships. There are some incredibly intelligent people working across Thales, and I think it's important to try to learn from these people and develop the 'softer' interpersonal skills in the process. The ability to do so will form the foundation of a successful career in any area.
I really appreciate being given the freedom and responsibility to express myself whilst getting on with the job. This stems from having a good relationship with my manager and earning the trust of senior management to deliver. The people who work at Thales are diverse, each having their own areas of expertise and each playing their part in meeting an objective. In my function there is a genuine team spirit which is something I find great about the organisation. Solving and delivering complex customer requirements takes teamwork and innovative solutions. As a graduate you are encouraged to bring fresh ideas and challenge the norm.
Working at Thales is a fantastic opportunity to develop, explore and challenge your ambition. The scale of the organisation, the international exposure and the range of areas in which you can progress your career is something that excites me. Since joining Thales, I've worked on defence exports of military products, multi-million pound civil infrastructure projects and gained exposure to how a large multi-national organisation leverages its capabilities to develop existing business and new prospects. If you like variety and want a broad experience as the foundation of your career then Thales is supportive of that. Equally, if you already have a good idea of the direction you want to go then, in my experience, Thales will help you get where you want to go.