Meet our CareerTrackers intern, Ted
This year marks our second year of partnership with CareerTrackers, a national non-profit linking young Aboriginal and Torres Strait Islander adults with employers to participate in internships. This week we'd like to introduce you to one of our brilliant Career Trackers, Ted who is working in Digital Systems.
Ted, Digital Systems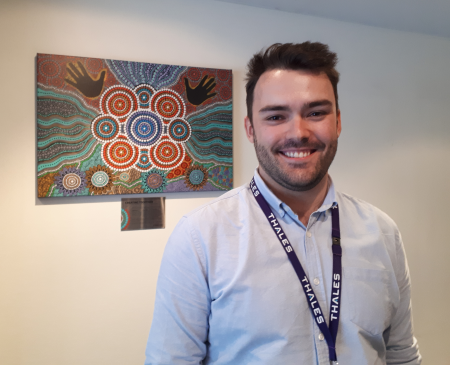 Ted grew up in the small rural town of Wynyard in north-west Tasmania and moved to the bright lights of Sydney in 2019 with his partner, who is pursuing a degree in medicine. He's currently in his third year of a Bachelor of Engineering (sub majoring in biomedical engineering) at the Western Sydney University's Penrith campus and he only recently discovered his indigenous heritage that would lead him to CareerTrackers. 
"The Aboriginal linkage is on mum's side in Tasmania. When we looked into our family ancestry, we discovered our indigenous ancestor originated from Gun Carriage Island, which was an old sealing community back in the 1800's. We only found out about it five years ago so growing up I didn't identify as indigenous." 
Ted's indigenous advisor at university had a daughter in the CareerTrackers program and suggested he connect with them. With ambitions to eventually work in the space industry, it was almost written in the stars he'd land his very first internship at Thales. "I didn't have a specific company in mind but expressed I was very interested in aerospace so CareerTrackers certainly answered my request." 
Working in the Ground Transportation Systems area of our Digital Systems business in Rydalmere, a typical day for Ted involves creating documentation for an upcoming Sydney Metro Southwest rail project deadline. "I work on my own a fair bit but I'll usually be assigned to a specific station and bring up the engineering diagrams to run through all the cable schedules and determine how much cable needs to be ordered for the station. I'll also look at where the cables will be routed and create diagrams to show the other engineers where they'll go," he explains. Ted credits his mentor and fellow project engineer Angela for showing him the ropes during what was a chaotic period of looming deadlines for the project.
What's surprised Ted so far is the sheer breadth of Thales Australia – the number of departments, sites and projects underway. He's also gained an insight into what an engineering company does on a day-to-day basis. "It's been very interesting and a good learning experience so far." 
When he's not studying or working, Ted is busy learning about innovative technologies to help his university solar car team prepare for a biennial race from Darwin to Adelaide in October. He positioned within the chassis team responsible for the mechanics. "It's a student run team and we design the cars and get them manufactured. Usually the winning car isn't the fastest, it's the most reliable!". 
Ted's fingers are crossed he'll return a winner and also make his way back to Thales for another internship before deciding on what to do after university. "I've seen all the opportunities available since working here so am very open to new experiences." 
If the planets align Ted may even get the chance to help Thales Australia deliver space-based technology to our customers but, in any case, he highly recommends the CareerTrackers internship experience. "It's been very valuable for my career I'd say!"