Thales supports Red Cross learning hubs in Austria with computer notebooks
Thales is committed to make education and professional development accessible to everyone through its endowment Fund, Thales Solidarity. The partnership of Thales with the Learning Hubs of Red Cross supports those children who's access to the digital world is not a matter of course and who require our attention especially in times of pandemic in order to keep pace.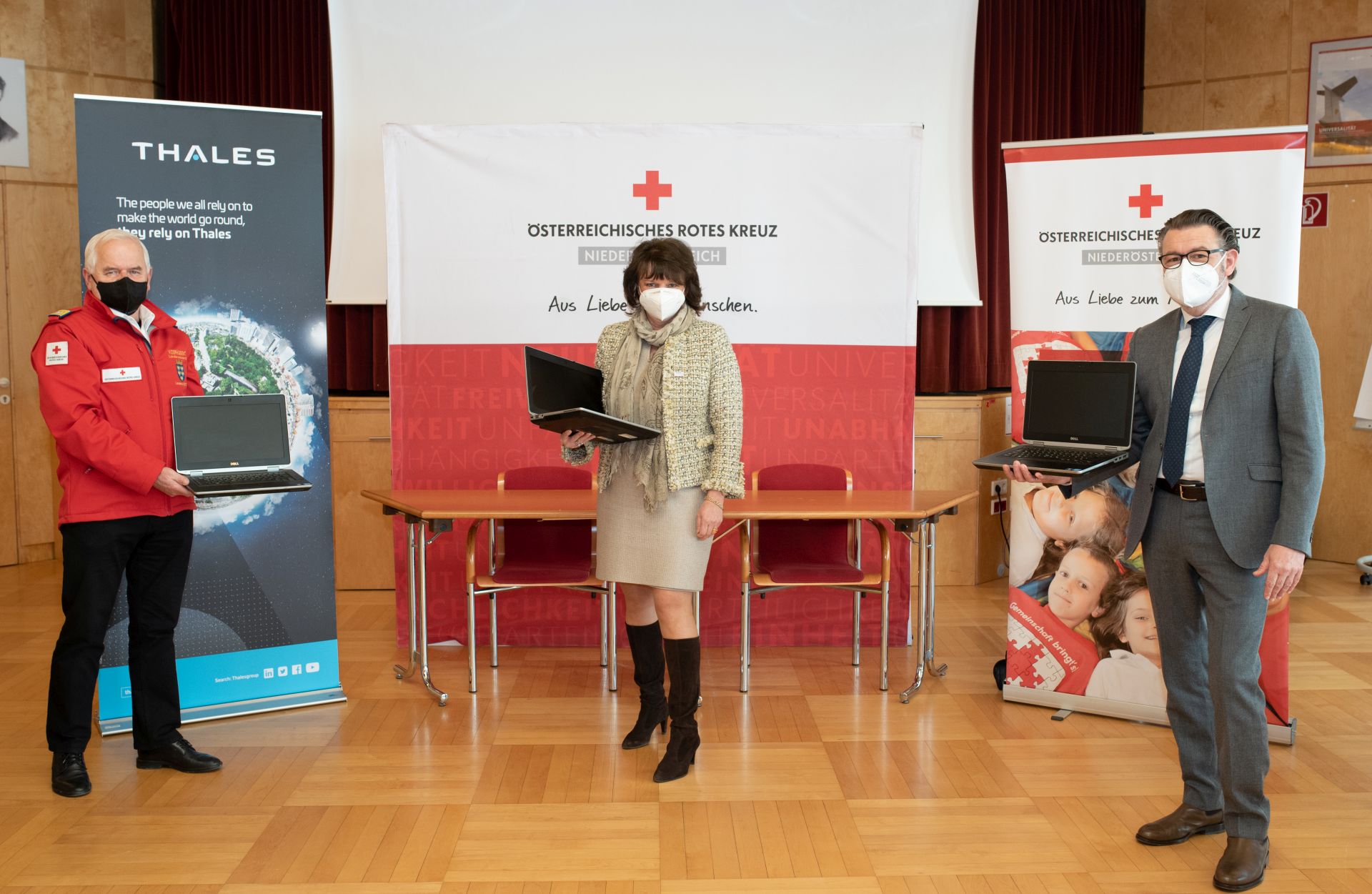 Thales provides 50 computer notebooks to the Red Cross learning hubs in the presence of Red Cross education ambassador Karin Meier-Martetschläger and Vice President Leopold Rötzer from Red Cross Lower Austria. The learning hubs as well have been converted to distance learning in the recent months – the computer notebooks are therefore an important contribution, that children can get continued support.
Due to the COVID-19 pandemic, the digitalisation of schools was massively boosted. Home-schooling became a must - and classes were moved home for many weeks. Today's technology offers many advantages, since it would not be possible to hold lessons in that way without internet connection, computer notebooks and software. At the same time, however, this creates another challenge: Children who do not have the necessary equipment - and in many cases have been socially disadvantaged beforehand - face significant problems.
Therefore, Thales provides 50 computer notebooks to facilitate access to the digital world and to ensure a prosper educational path for the children of the Red Cross Learning Hubs.
 " Digitalisation plays an essential role in education but also for the professions of the future. We therefore want to support by facilitating and easing access to education." Hannes Boyer, CEO at Thales in Austria
" We are very pleased to be able to give the children even better support. At this point we would like to thank you very much for the kind donation." Vice President Leopold Rötzer, Red Cross Lower Austria.
About the Red Cross learning hubs
Education is the prerequisite for equal participation in social life. In order to provide every child in Austria with a better education and free tutoring, the Red Cross has built learning hubs where children between 6 and 15 years of age are looked after free of charge and supported in learning. The focus of knowledge transfer in the learning hubs in Lower Austria is not only on increasing school performance, but above all on imparting social and intercultural skills.