Running a lean and clean PCB manufacturing machine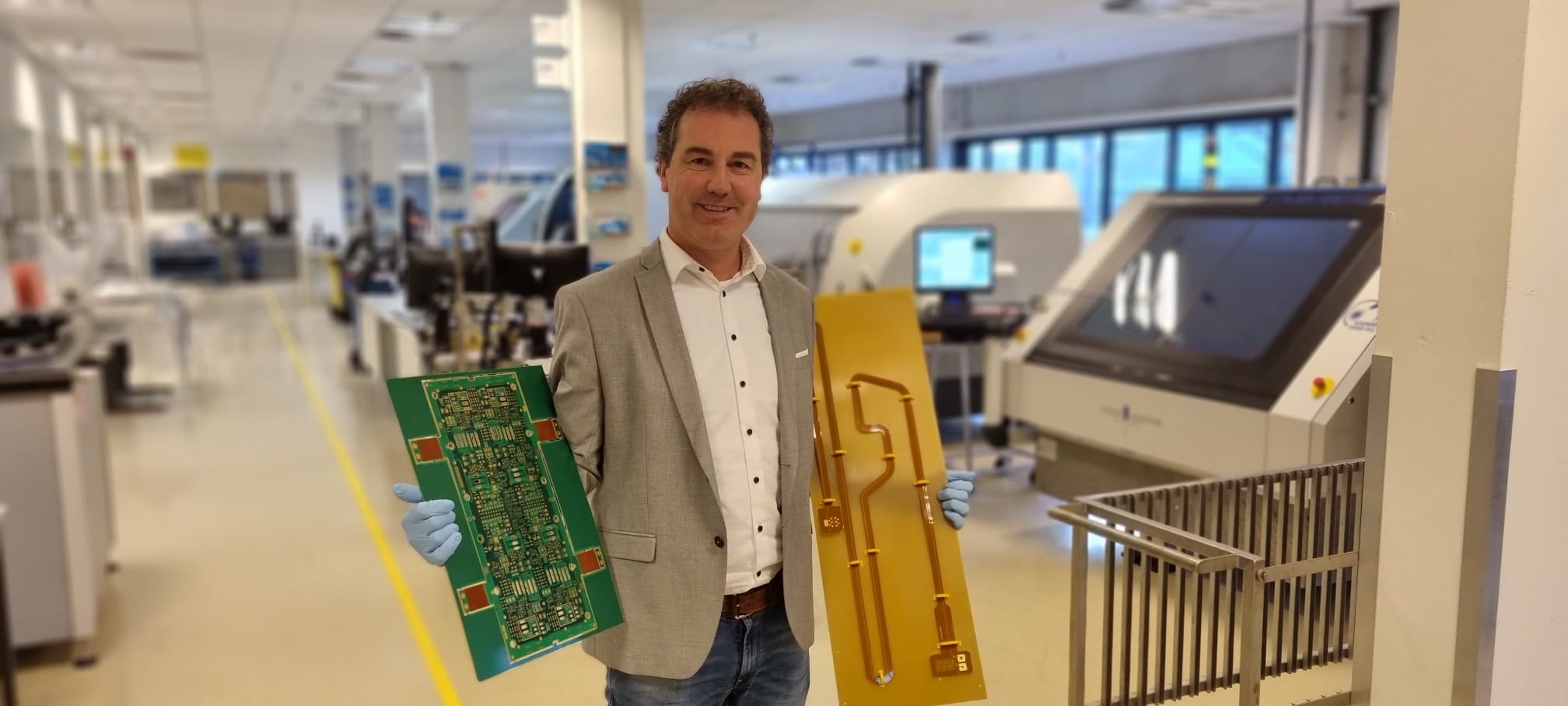 Panels that are over 10 meters long, that light up on request or that bend effortlessly – Thales' Group Competence Center Printed Circuit Boards produces PCBs in all shapes and sizes. Tobi Oude Breuil explains how his team meets the high standards of customers like Airbus and ASML.
"We're one of the few printed circuit board production facilities left in the Netherlands," says Tobi Oude Breuil, general manager of Thales' Group Competence Center Printed Circuit Boards (GCC-PCB). "Twenty years ago, there were more than a dozen, but for the obvious low-cost considerations, this capability has all but moved to the Far East. We're still here thanks to our focus on 100 percent quality and our industrialization capability, both of which are resonating very well in markets like aerospace, defence and high tech, with customers like Airbus, ASML and Thales itself."
Specializing in low volume, high complexity, the GCC-PCB produces customized board designs in all shapes and sizes. They consist of a substrate with metal foils, conductive pathways and patterns. On these bare boards, external assembly partners then place the electronic components. The resulting PCBAs, printed circuit board assemblies, as they're called, go back to the customer, where they're further integrated to form the backbone of some of the world's most advanced systems.
Road markings and robot arms
Oude Breuil joined the GCC-PCB as general manager two years ago, coming from Thales' IT department. "At that time, the center wasn't doing a lot of work for the Thales Group," he recalls. "We've managed to change that and attract more and more business from our international sister organizations, especially the defence and space divisions in France, the UK and also Belgium. We're well underway to a more balanced portfolio of doing two-thirds for Thales in the Netherlands and one-third for the Group and external clients."
"For Thales in the Netherlands, we produce the PCBs for the radar panels," Oude Breuil goes on to illustrate. "Not just the little ones for the individual transceivers but also the big ones on which the antenna elements are integrated. We're able to manufacture boards that are 10 meters long. With the new machines we bought this year, we can even go as long as we want – in theory, there's no upper limit on the length anymore."
"Together with a nearby startup, Hengelo-based Xcite Solutions, we've created electro-luminescent PCB technology," gives Oude Breuil another example. "The boards get a coating that lights up when it encounters an electric current. This development is still in a pilot phase, but Xcite already has a couple of interesting applications in mind, one of them being road markings."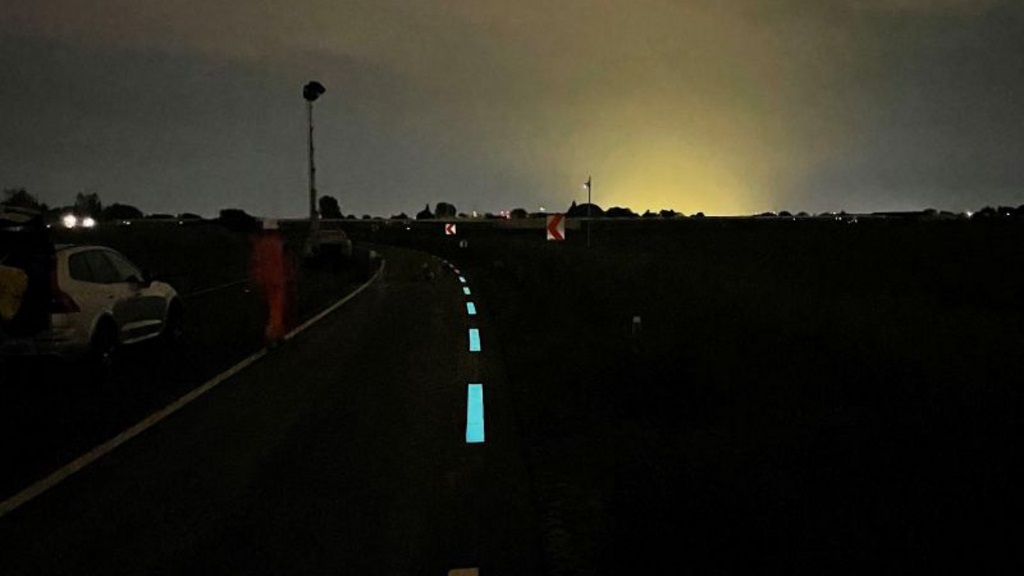 The center also makes its fair share of flexible PCBs. These can be used to replace wiring. "We provide flexible circuit boards to connect the foldable solar panels on the space satellites of Airbus, for instance. PCBs are much lighter than cables and wires, take up much less space and can be more durable. Inside ASML's wafer scanners, our flexible boards are being used in the robot arm to make it move and enable it to bend for much longer before any parts need replacing."
Manufacturing lines
To create the board designs, there's extensive collaboration between the GCC-PCB and its clients. "Our board specialists closely work together with our customers' engineers to tweak a design so that it can be industrialized," Oude Breuil elaborates. "In this process, we align their wishes with what we know is technically possible. Sometimes they want more, in which case we dive in together to see how far we can push the boundary. This is all still modeling, using electronic design data and CAD drawings."
Once the design meets the approval of all parties, it's transferred to the manufacturing floor. "We have a prototype line and a production line," explains Oude Breuil. "We start by making a prototype, which is extensively tested by the client. This usually leads to some more design tweaks and some more protos. When everybody is happy, we commence series production – small series, typically a couple of hundred PCBs a year."
Both manufacturing lines consist of four work cells. "In the first cell, a photosensitive film is applied to a copper laminate. Then, using direct imaging, parts of the photosensitive film on the board are exposed. After development, the unexposed parts are etched away, leaving the desired pattern of copper traces and pads. These steps are repeated to create up to a dozen inner layers, which are pressed together. In the second cell, the pressed inner layers are interconnected by drilling holes and plating these with copper. In the third cell, the outside pattern is covered in a green coating, the solder mask, to confine the soldering paste to the solder pads during component assembly. The pads on the surface remain accessible. In the fourth cell, the finished boards undergo a final inspection."
"Each PCB is thoroughly inspected, not only at the end of the line but also along the way," Oude Breuil points out. "Every layer is automatically optically checked to see if the patterns match the CAD design. Nothing goes out the door without a 100 percent quality stamp. This is one of the reasons why our customers value working with us."
Clean and green
Next to this focus on quality, another key selling point is the center's cleanliness. "Many PCB factories are very messy. We run a very tight and tidy ship," notes Oude Breuil, smilingly. "We work according to the 5S model: sort, straighten, shine, standardize, sustain. Every Friday afternoon, we organize a maintenance session to keep our machinery spick-and-span. This really pays off. It helps to meet our delivery dates and keep our yield up – unplanned downtime is more expensive than these few hours of extra maintenance – and it helps to reel in customers. When people visit us, they're amazed by how clean our facility is."
Oude Breuil is also striving to run a green ship. "We have a lot of machines, most of which are operational from six in the morning to midnight. We have a lot of chemical baths that require heating. We have five cleanrooms that need to be optimally conditioned. Within Thales Netherlands, we're probably one of the biggest energy consumers. We're working hard to reduce our carbon footprint. We want to completely turn off the gas and switch to heat pumps. That's looking very promising. And when buying new machines, we look closely at their energy consumption."
The GCC-PCB still has quite a lot of legacy equipment in (occasional) use. "We have thousands of designs in our portfolio, some decades old. Navy vessels, for example, can remain in commission for forty years or even longer. On occasion, we're asked to supply a replacement for one of the early boards. Such older designs require equally old production techniques, like conventional exposure for transferring the PCB patterns onto the copper. Customers really appreciate it that they can still turn to us with these special requests."
In Hengelo, a team of almost seventy is ready to attend to their every need. "Fifty of them work in production and about a dozen in process and product engineering. Our process engineers closely follow the latest developments in the field and apply that knowledge to further optimize our manufacturing lines. Our product engineers closely work with our customers to optimize their designs. Like the boards we produce, the team is a mix of all shapes and sizes, young and old, male and female, theoretical and hands-on – coming from a desk job in an office environment, that's really refreshing for me."
Want to learn more about what it feels like to work at Thales? Looking for a job at a true high-tech company in the Netherlands? Click here for our current job openings!