Rising star, Samara Buchanan takes her place on the Shipbuilding Enterprise for Growth Shadow Board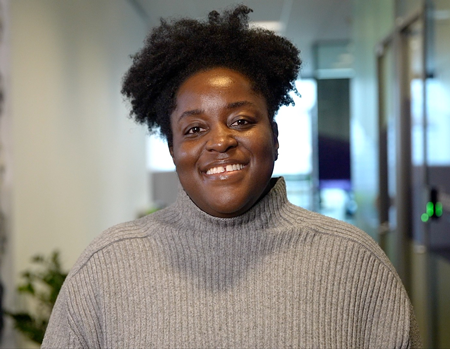 Thales Marketing Manager, Maritime, Samara Buchanan has been appointed to the Shipbuilding Enterprise for Growth Shadow Board (SEG).
Samara was awarded a place following a competitive application process, which looked for a broad representation of aspiring leaders across industry and academia. Her appointment is a reflection of her deep understanding of the sector, gained over the last seven years in her roles as market analyst and marketing manager. As well as her passion for driving positive change in the maritime industry.
As the main interface between industry and government, the SEG was formed to implement the National Shipbuilding Strategy refresh. Made up of senior government and industry leaders, it identifies actions to improve productivity and competitiveness through technology, innovation and the supply chain. The Shadow Board exists to give the SEG insight, ideas and feedback on proposed policy and strategic decision-making; making sure they're considering a wide range of perspectives, beyond their own. 
Championing diversity
Crucially, it also has a role to play in developing the next generation of talent and promoting more diversity and inclusion in the maritime sector. Something that the National Shipbuilding Office (NSO) is very serious about. That makes it both a personal and professional achievement for Samara, who's fired up about the issue of diversity in the sector. 
"I want to be part of something where I can advocate for policy and for changes in the market, especially where I think that they will have implications for marginalised groups. I want to help create a sector and a world where we reflect the reality of the UK in 2023."
A direct line to customers
Samara's looking forward to applying her skills in creative and strategic thinking to the complex questions the board is trying to answer. Samara is particularly excited about the opportunity to speak directly to SMEs, suppliers, academics and stakeholders and getting their insights into hot button issues and where they need support.
Rear Admiral Rex Cox, CEO of the NSO and Co-Chair of the SEG said: "I am really excited that we have selected the Shadow Board who come from a broad range of backgrounds and who will provide advice, insights and constructive challenge to help inform our thinking on the SEG. It allows us to engage with the future industry senior leaders and draw on their broad range of interests and experience. It is an excellent way of amplifying different voices from across the sector and I am grateful to leading companies like Thales for recognising the importance of this and supporting their employees to work with us."
Samara's commitment to the SEG Shadow Board will continue for 12 months, but could extend to two years as the SEG works towards a globally successful, innovative and sustainable shipbuilding enterprise for the UK.