Thales in the UK opens the door to future talent at Apprenticeship Insight Evening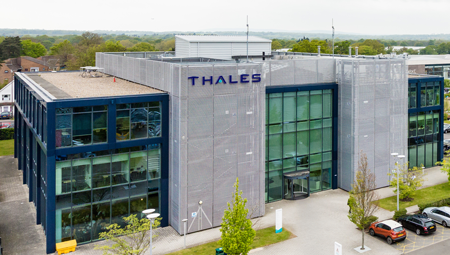 The talent of the future braved a wet and wintry Sussex night to learn more about the opportunities on offer through Thales in the UK apprenticeships.
Determined to play its part in closing the UK's engineering skills gap and help the UK government achieve its ambition of becoming a 'science and technology superpower' by 2030, Thales hosted an Apprenticeship Insight event at the Thales Crawley site on the evening of 7 December.
The 16 January application deadline looms for programmes starting in September and this event was to encourage young talent to look at STEM (science, technology, engineering and mathematics) as a future career option.
Despite the weather, the event sold out, with more than 150 people attending from the local community, including students, parents and teachers. They all had the opportunity to talk first hand with current apprentices and our HR team to understand the different stages of the application process and even experience our game based assessment tool to get a taste of what the process would be like.
We also had representatives from our Thales Social Value team and Early Careers Committee, who gave a glimpse in to other opportunities they could get involved with at Thales, such as volunteering.
Event organiser Ronnie Curtis is Thales's Early Careers Talent Acquisition Coordinator. She said: "We're delighted we had such a busy atmosphere all evening and we've had some great feedback, including a number of apprenticeship applications from people who attended."
A flavour of Thales
The insight evening gave visitors a chance to see the Thales offices and meet senior leadership and current apprentices, hearing first-hand what it's like to work at Thales, including social aspects. 
Visitors also had hands-on experience with 3D headsets and saw a demonstration about the work of COREF (Connected Reconfigurable Factory), Thales's digitally linked innovation hub based in Crawley.
Apprenticeships for all ages
At our Thales Crawley site, we have programmes ranging from Level 3 apprenticeships to Level 6 degree apprenticeships, lasting anything from 15 months to four years; they are open to people of all ages. They cover a variety of disciplines including project planning and controls, hardware and software engineering, systems engineering, data and digital, procurement and human resources.
Ronnie highlighted the benefits of apprenticeships: "Courses are fully funded, so there's no student debt, and apprentices earn while they learn. And at the end of the scheme, they are all offered a job with us."
Erin Beeson, recently started training as a data analyst apprentice. "I attended a similar Thales event when I was in school, and it gave me a lot of good information and advice," she said. "It was the perfect step for me after my A-levels and offered an alternative to going to university. 
"I'm being professionally trained for a job that I enjoy, but I'm also working for my qualifications at the same time and there are options to get your degree as well".
Investing in the future
Ronnie also coordinates Early Careers events nationwide, reaching out to school leavers and university students to promote awareness and greater diversity among potential applicants.
"These events are an investment in our future, but they also let people see how exciting a career in engineering can be," said Ronnie.