Thales is recognised as a key partner for aerospace solutions serving a wide range of customers.
Highlights
Across 2016 Thales has consolidated its position as the avionics component supplier of choice in China. The Group has signed contracts to equip avionics components on over 400 Boeing and Airbus, mainly single aisle aircraft, across multiple Chinese airlines.
In 2016, Thales has been selected by Hainan Airlines to equip A330 fleet with Thales's latest AVANT IFE systems.
In 2016, Thales and its joint venture BEST in China have signed a contract to automate the terminal manoeuvring area, area control space and operations at Beijing Capital International Airport and the new Beijing Daxing International Airport.
The TopDeck helicopter avionics suite is onboard the Sikorsky S-76D. Over 40 are flying in China.
Across 2016, Thales has consolidated its position as the Head-Up-Display (HUD) provider of choice in China. The Thales HUD system has been selected on over 130 aircraft across the year.
Thales provides its customers with a full range of equipment, on board electronics, avionic suites and flight control systems, navigation, communication and surveillance designed both for aircraft and helicopters. Today, Thales is a first-tier partner of the world's leading manufacturers, including Airbus, ATR, Boeing, Bombardier, Gulfstream and Sukhoi. Thales provides its avionics solutions to Air China, China Southern, China Eastern, HNA Aviation companies and other regional airliners. If you fly in China, Thales is involved.
Thales brings expertise around Air Traffic Management (ATM), where the group ranks as undisputed world leader. The Group's mission is to bring solutions and services - both in the air and on the ground - to support air traffic controllers, airports and civil aviation authorities in meeting the challenges of growth, safety, economic and environmental performance, security and passenger comfort.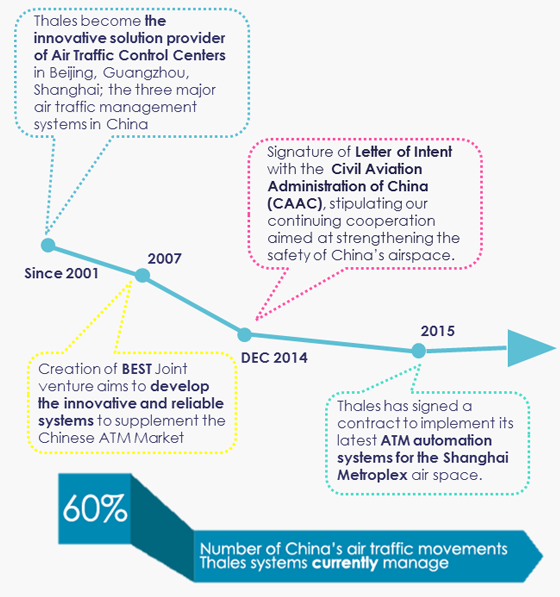 The Group also offers a comprehensive and technically advanced range of navigation solutions, using ground based conventional and satellite air navigation equipment, trusted by over 170 countries worldwide. To offer a unique global surveillance capability, Thales combines radar and non-radar technologies to provide its customers with the most adapted surveillance solution. In December 2014, Thales signed a contract to supply civil radars across China mainland.
The group also offers innovative cabin systems - From In-Flight Entertainment (IFE) to connectivity systems (IFEC) - to make flying a more enjoyable experience for passengers. In China, Thales is a leader in the IFE field with 65% market share on wide-body aircraft. In 2013 Thales and CETC Avionics signed an agreement to jointly develop equipment (IFE) for the future COMAC C919. In 2014, China Southern took delivery of the first Boeing 777-300ER aircraft equipped with a new generation Thales TopSeries AVANT In-Flight Entertainment and Connectivity (IFEC) system, making China Southern the launch customer for the world's most advanced Thales passenger system.
---