Thales develops, manufactures and provides a full range of solutions from early warning to threat neutralisation, at all levels from very short-range systems to extended air defence. We work with our customers to address evolving threats and developing solutions to ensure timely decision-making and effective responses to protect military forces, key assets and citizens.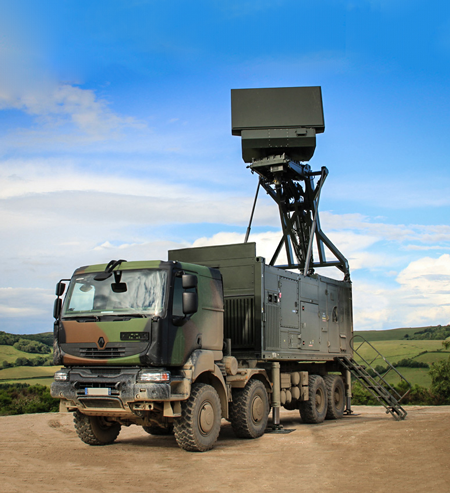 Thales has invested significantly in innovative Air Defence and Surface Attack systems that are capable of handling todays and tomorrows threats.
Detect
GROUNDMaster Radar
The GROUNDMaster radars are a family of versatile multirole air defence radars, dedicated to the protection of key assets and forces deployed in remote theatres.
Coordinate
CONTROLView Weapon Coordination
Comprising highly automated weapon systems and tactical Air Defence radars, Thales CONTROLView coordinates various weapon system and is able to manage simultaneous multiple engagements.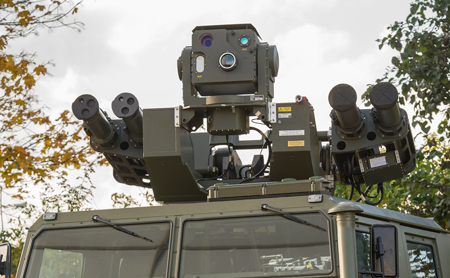 RAPIDRanger
RAPIDRanger is a unique, vehicle based highly automated system capable of delivery a rapid reaction to threats from the air or the ground. The extremely versatile system can be integrated into a networked enabled force structure and be coordinated with early warning Command and Control (C2) systems and is capable of integrating and firing a range of missiles including Thales STARStreak and LMM.
The RAPIDRanger system can be fitted to many types wheeled or tracked vehicles and is designed to include day and low light and Thernal Imager cameras, Automatic Target Tracker (ATT) and 360˚ surveillance sensor providing RAPIDRanger with completely autonomous system operation.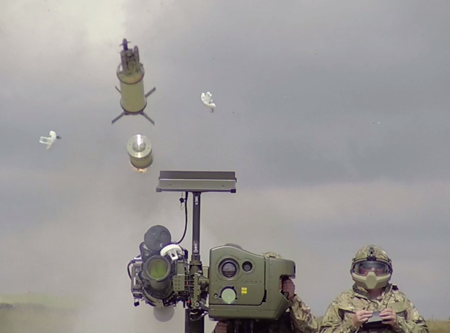 Lightweight Multiple Launcher – Next Generation
The Lightweight Multiple Launcher - Next Generation (LMLNG) system is extremely flexible and is designed to suit a wide range of missions from lightweight rapid reaction roles to air droppable operations.  It can be used on a tripod or vehicle mount and support swift deployment of STARStreak or the Lightweight multirole missile (LMM).
The LMLNG employs two missile enabling targets to be engaged in quick succession. The LMLNG provides 24hr capability based on TV and Thermal Imaging cameras and a stablised Laser guidance system allows nightly accurate target engagement using either manual or Automatic Target Tracking (ATT) modes.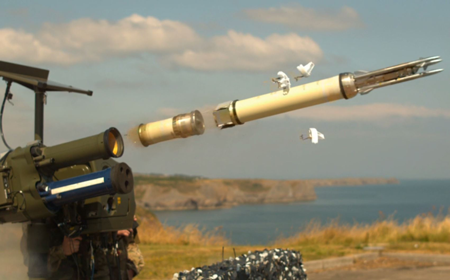 STARStreak – the fastest high velocity missile in the world
The STARStreak system, which is in service with the British Army and Royal Marines, provides the UK with its VSHORAD capability.
The STARStreak High Velocity Missile (HVM) is designed to provide close air defence against conventional air threats such as fixed-wing fighters and late unmasking targets, such as attack helicopters.
STARStreaks Mach 3 velocity makes it most effective when dealing with targets with short exposure times. The laser beam riding guidance, which is immune to all known countermeasures, enables precision guidance of the three hittiles to the smallest of targets. The STARStreak hittiles are designed to defeat both heavily armoured and light skin targets. The kinetic energy and fragmenting warhead maximise lethality.
STARStreak is capable of being launched from either automatic fire control systems such as RAPIDRanger or the LMLNG.
Thales in the UK ensures that a specified level of availability of the Starstreak HVM system and associated equipment is provided to the UK Armed Forces whenever and wherever it is required for the length of its time in service. (See ADAPT)
You can read more about STARStreak here.
Lightweight Multirole Missile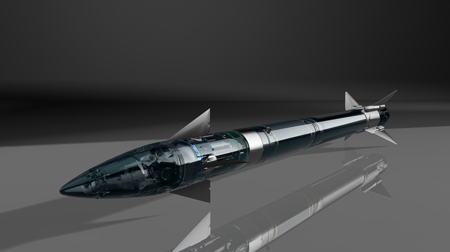 As a result of evolving threats proving more mobile, Thales identified the need for multi-role lightweight weapon systems that can be used from a variety of platforms and provide accurate targeting against the full spectrum of potential threats.
LMM is a lightweight low cost, multirole, missile, designed to be fired from tactical platforms, including fixed or rotary winged Unmanned Air Vehicles (UAV) and surface platforms on land and sea, against a wide range of surface threats in asymmetric littoral operations.
You can find out more about LMM here.
Fury
The growing need for long endurance airborne observation, combined with immediate and effective target engagement, requires new weapon types. Fury delivers the proportional lethality required of high tempo Armed ISTAR and Close Air Support missions.
Fury, an unpowered air dropped munition, is the latest variant in Lightweight Multirole Missile (LMM) family of precision strike weapons from Thales.
Installed on light to medium airborne platforms, including Tactical and MALE (medium altitude, long endurance) unmanned aerial vehicle (UAVs), any rotary wing and low cost tactical fixed wing aircraft, Fury provides a highly effective precision strike weapon against both conventional and asymmetric threats.