Organisations all over the world are wrestling with the opportunity and threat offered by new digital technologies such as Connectivity and IoT (Internet of Things), Big Data, Autonomy and Artificial Intelligence to improve their performance and deliver new products and services – to digitally transform their businesses.
The way Thales sees it, no organisation should embark on this digital transformation journey without a trusted digital platform in place to manage data and risk. That's what Digital Trust is all about. By analysing the future of multiple markets, and mapping the trajectory of technological and digital change, Thales has developed an unrivalled understanding of what's on the horizon for customers, and has invested in developing future-proof and resilient products and services that, combined with our cyber-security consulting capability, will help those customers succeed.
Thales has taken three key areas of capability and expertise: cybersecurity consultancy, secure communications products and technology, and operational control services and brought them together as the Digital Trust platform T-Sure. This platform enables clients to undertake digital transformation projects confident that their security and safety risks will be managed in a future proof and resilient manner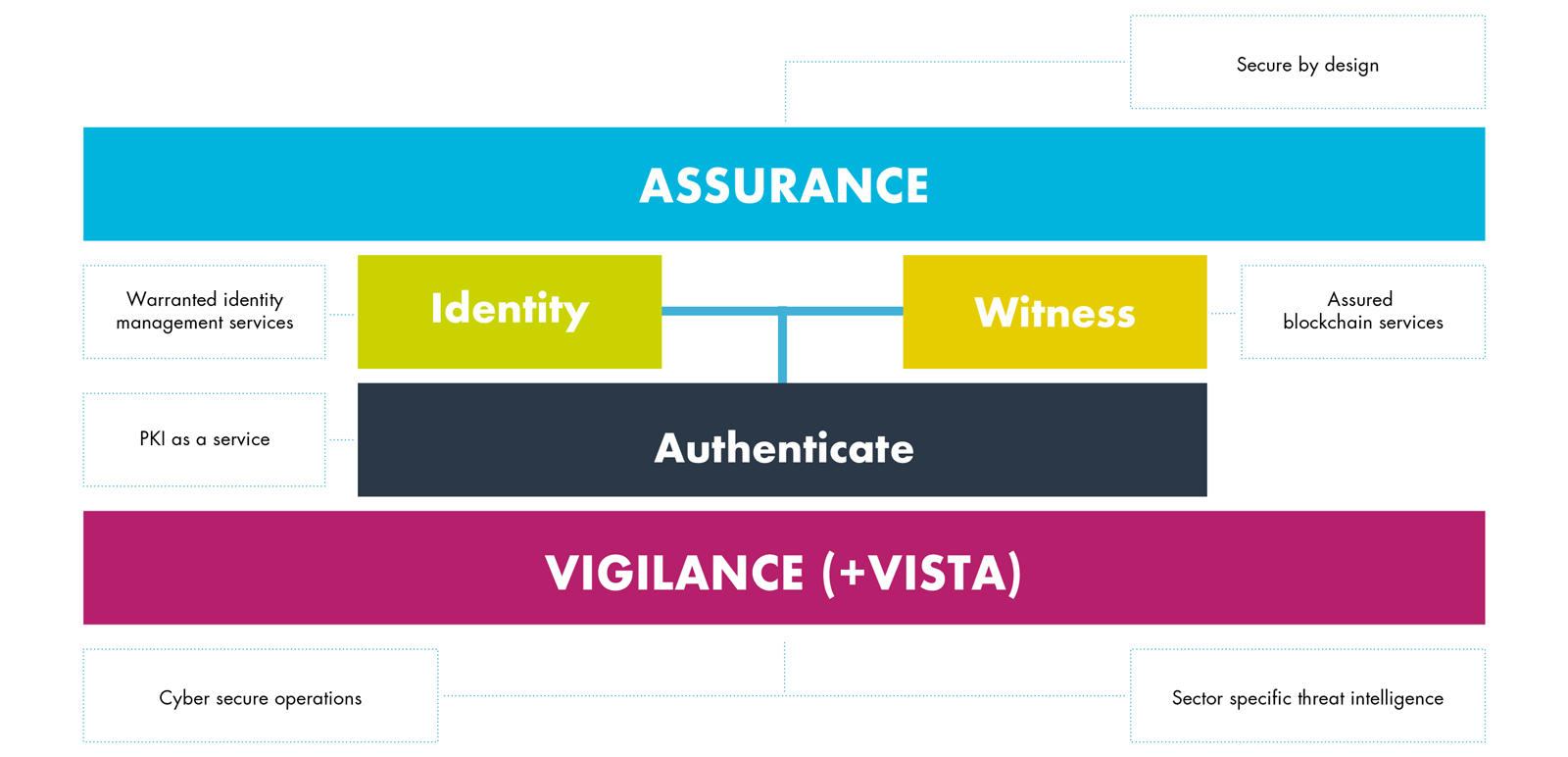 T-Sure Assurance

Digital Security by Design: upfront consultancy based on a proven methodology that identifies the risks and opportunities that they will face in employing the new digital technologies in their transformation plans which delivers recommendations as to how to enable these to be mitigated or exploited by deploying security products and services.

T-Sure Identity

Warranted Identity Management Service: proven technology that uniquely identifies devices and their attributes, enables them become part of a trusted system or assembly and securely manages them over their lifecycle together with the transmission of the data that they create over any (untrusted) bearer to trusted members of defined communities.

T-Sure Witness

Assured Blockchain Services: Addressing the design, confidentiality, hosting and secure end point/user identity challenges surrounding blockchain implementations in order to unlock the full business benefit of using them to store and share immutable information.

T-Sure Authenticate

PKI as a Service: a range of Public Key Infrastructure (PKI) services, with offerings for either customers who already have PKI, who plan on deploying a new PKI, or who want to purchase a fully managed PKI as a service. This enables development, distribution and control of cryptographic keys to give specific user groups or individuals exchange information securely.

T-Sure Vigilance

Secure Operations Control: protective monitoring, security incident response and investigation enabling real time oversight and control of secure data transactions. This supported by T-Sure Vista a sector specific combined threat intelligence platform.
The T-Sure Digital Trust platform brings these capabilities together to support customers in four key areas:
From across Thales, customers have access to world-leading cyber consulting, products and technology together with live service expertise.
Connectivity and IoT (Internet of Things)
Big data and Analytics
Autonomy
Artificial Intelligence
 

As Digital Trust continues to develop and expand, it is proving a highly effective solution for clients across a wider range of sectors. Thales is renowned for its High Assurance security capability particularly applied the Defence and National Security sectors. The T-Sure platform enables this defence-grade communications and data security capabilities to be made available to commercial markets, where the drive for digital transformation is well underway. Ultimately, as the world becomes more interconnected, commercial markets are waking up to an increasing need for equivalent security and support to maintain their growth and success.
---
More than security and support
T-Sure is about far more than providing that security and support. It's also about harnessing the emerging value of data in increasingly efficient and secure ways. In other words, it's not just about preventing the negative effects of hacking or data loss, it's also about providing ways to use data (and metadata) to inform and enhance business and operations. Commercial markets are already wise to the value of data, and T-Sure from Thales makes this value more accessible to a wider range of sectors and customers.
---
T-Sure and Digital Trust in action
For example, as part of Thales T-Sure, Digital Trust has enabled the introduction of an 'identifier' to Williams' car batteries that will power a new prestige electric sports car. This introduction will be supported by T-Sure Identity a Warranted Identity Management Service that will uniquely identify the battery and its characteristics, protect it at rest and secure and control the data it transmits. This will protect the data from being hacked, enable software updates over the air, detailed diagnostics, and – crucially – separate data into categories for different user profiles. In simple terms, as well as providing a unique and unhackable identifier, Thales can monitor and control communications to and from that battery, and control who has access to specific aspects of the data it produces.
Taking this a step further, T-Sure can be used to secure, monitor and manage batteries in electric cars, gathering and sharing specific data to specific users to aid security, support continuous improvements and deliver driver aids. For example, offering accurate re-charging schedules based on driver behaviour and climactic conditions, and direction to nearby charging stations.
---
Security and opportunity in one package
This scenario highlights how T-Sure is providing security alongside opportunity. Because meta data produced by the secure transmission of data over unsecured networks can be separated and allocated securely to distinct user groups, the value of the overall data is greatly enhanced. This is something commercial markets are increasingly keen to use to their competitive advantage. T-Sure Thales is one of few providers that can fully support the opportunities that data presents.
---
Creating data communities
Thales is leading the way in identifying and implementing digital transformation opportunities. This entails designing 'architectures' that support flexible and rapid deployment of tailored services to a wide range of devices – and across diverse, trusted communities.
The beauty of this kind of capability is that data security is achieved at source with advanced cryptography, so there's no issue with how securely that data transmits – it's useless to anyone that intercepts or tries to hack it.
---
Enabling meaningful digital transformations
Rather than use scare tactics and portray barriers for ambitious businesses to overcome, Thales modular T-Sure platform and services are designed to help customers identify and utilise the aspects of digital technology that will most benefit their growth and success. It's designed to bring defence and government-grade data-security expertise into the wider world, and help businesses and organisations do things they couldn't before. That could be conquering new markets, developing better products and services, protecting data in more efficient and secure ways, or using that data in more beneficial ways.
Whichever it is, Digital Trust is about breaking down the barriers to make those things happen, with utmost confidence.
 
Confidence that their digital security and safety risks will be managed in a future proof and resilient manner

Leading the way in identifying and implementing digital transformation opportunities

Key areas of expertise that make up T-Sure Digital Trust platform: cybersecurity consultancy, secure communications products, and operational control services