In Defence, governments rely on Thales to protect citizens, and make the world safer. We are trusted at the highest levels to help armed forces prepare for, achieve and maintain tactical superiority and strategic independence over any form of threat.
 
From designing smart sensors and advanced defence systems, developing collaborative combat, to connecting and equipping soldiers on the digital battlefield, our systems deliver information superiority and give joint forces mastery of action whenever they face their decisive moments.
 
Through working together, we enable you to perform at your best. 
Eyes in the sky: saving lives with air surveillance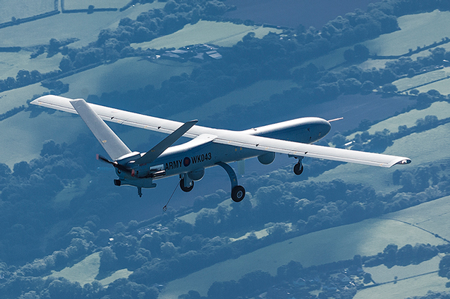 What do you do if you urgently need game-changing capabilities but there's not enough time to acquire them? That was the challenge faced by the British army in Afghanistan. With lives at stake, they  turned to long-standing supplier, Thales, for help with getting 'eyes in the sky'.
The army uses Unmanned Air Vehicles (UAVs) for what it refers to as 'ISR' - Intelligence, Surveillance and Reconnaissance. They've been around in various forms for many years, but today's UAVs are packed with sophisticated radar, night vision, satellite comms and high-resolution video, and can loiter over the subject of interest for hours, undetected.
The information that UAVs can capture is invaluable. It's used not just on the battlefield, but for civilian applications such as search and rescue, and for combatting smuggling, piracy and poaching.
Even for a small fleet however, building infrastructure, developing training and managing the logistics and maintenance is not only expensive but prohibitively time consuming.
It was this lack of time that prompted the British Army to publish an Urgent Operational Requirement for  supporting ground forces in Iraq and, later, in Afghanistan – a requirement to which Thales immediately responded.
Simply saving lives
The answer, Project Lydian, was both novel and beguilingly simple. Thales offered to supply and support unmanned air vehicles for a fixed hourly rate, creating an immediate and affordable air surveillance capability.
For the Army, it was a winning formula. There was nothing to buy and nothing to maintain. It gained 24/7 ISR coverage of whatever targets it chose, with much of the risk passed to Thales. The project was so successful that it eventually clocked up more than 100,000 flying hours.
ISR as a Service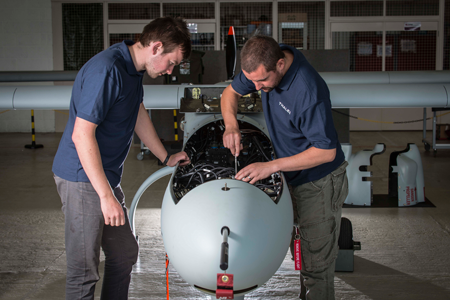 One of the benefits of ISR as a Service is that it can incorporate the technology of the customer's choice. That could be existing equipment, or perhaps specialist technology that Thales can help to procure. A Service also substantially reduces capital expenditure and removes the need for the customer to fund updates.
It can also be deployed rapidly, even if the customer has little or no infrastructure in place; the first UAV can be in the air and acquiring data within a few weeks. A fully managed service with expert mission support can be up and running in around six months.
Thales has taken the lessons it learned from Project Lydian and developed Watchkeeper, a new aircraft with superior multi- sensor technology. Watchkeeper takes off and lands automatically, is fully autonomous and can fly at 16,000 feet, gathering intelligence for 16+ hours at a time.
The British Army has ordered dozens of Watchkeeper aircraft and Thales is providing the requisite maintenance, training and technical support. In an unconnected operation, Thales is using a larger platform, with an even greater range, to provide a fully managed ISR Service for a large multi-national operation in Africa.
Clearly, providing support in war zones is not without danger. These bases do get attacked. But the people that we depend on to keep us all safe know that they can rely on Thales for putting eyes in the sky, whatever it takes.
Reducing cost, not capability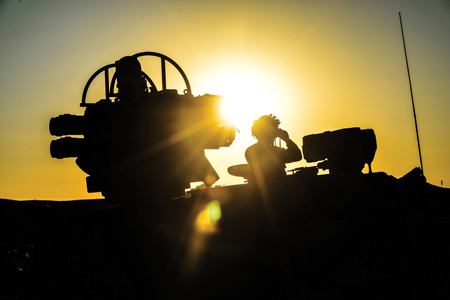 We can all be rightly proud of our armed forces. Efficient, versatile and responsive, we rely on them to protect our national interests, day in, day out. But, for years, all branches of our military have been – and continue to be – under relentless pressure to reduce costs. Thales is easing that burden.
The story starts way back in 2008, when the Ministry of Defence (MOD) set up the Air Defence Availability Project (ADAPT) to evaluate the potential of 'full availability' contracts as a means of reducing costs without sacrificing capabilities. Specifically, ADAPT considered the High Velocity Missile systems in service with the UK Armed Forces worldwide including 12 Regiment Royal Artillery and the Royal Marines.
The regiment plays a vital role in the army, providing close air defence protection for Armoured Infantry Brigades, as well as maintaining a shoulder-launched and lightweight multiple launcher capability to 16 Air Assault Brigade, which is capable of deploying worldwide at extremely short notice.
At the time, the Ministry of Defence had a large number of short term contracts for keeping the multiple components of each missile system – including the vehicles they're mounted on – at a state of readiness, adding complexity and cost to an important part of the UK's defence capability.
Cutting the cost of complexity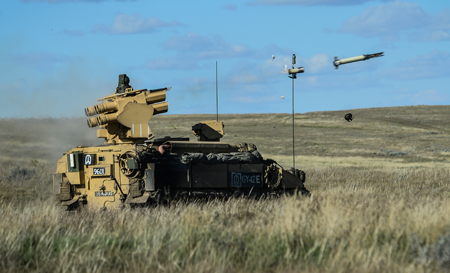 ADAPT's goal was to transfer the risk and simplify everything by giving a single supplier responsibility for equipment maintenance, modification services, technical support, safety and environmental management services, and obsolescence management - while guaranteeing 100% availability during peace time and 85% availability on operations -  for a fixed annual fee.
The contract covers all aspects of the vehicle- and shoulder-launched missile systems, including armoured tracked vehicles, all the hardware, cabling and control systems – everything, in fact, except the missiles. All the army has to do is turn up, take delivery of the equipment, and take it on exercise. When the exercise is over, the equipment is returned to Thales for servicing and restoring to readiness.
When the MOD awarded the contract to Thales it immediately realised savings of more than £100 million pounds over the course of the contract.
The friends next door
To make things easy and to ensure a close customer relationship, Thales took over a building next door to the regiment's south coast headquarters on Thorney Island, and refurbished it to a commercially acceptable standard.
The decision to collocate with the regiment was an important one. By removing the physical distance that usually exists in a supplier/customer relationship, Thales's team can work closely with the regiment, engaging in a daily dialogue with far greater clarity than would otherwise normally happen with a more distant relationship.
Thales's service, which includes the management of seven major suppliers and more than twenty lower tier providers, has been so effective that the MOD plans to extend the life of the equipment.
Defence in the UK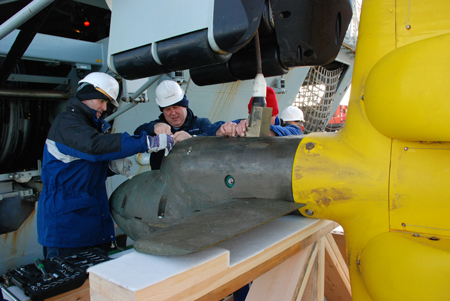 Supporting the Royal Navy - anytime, anywhere, whatever it takes
We all rely on the Royal Navy not just for security at sea but for providing humanitarian assistance, preventing conflict, protecting our economy and promoting international relations right around the world.
And while we're relying on the Royal Navy, the Royal Navy is relying on Thales.
The ships and submarines of our navy are equipped with some of the world's most advanced systems, sensors and electronic warfare equipment. It's what helps to give the Royal Navy a vital technological edge.
If something goes wrong, lives can be at stake. That means whatever the problem, wherever the ship or submarine happens to be, it needs fixing quickly. And that's where Thales comes in.
In 2013, the Royal Navy set up the Sensors Support Optimisation Project (SSOP), awarding Thales a 10-year, £600 million contract to provide in-service support for its major sensor systems. The contract, which builds on the successful Contractor Logistics Support contract –won by Thales in 2003 - is expected to deliver savings of around £140 million.
A century of support and teamwork
Although Thales manufactures and supports some of the world's most sophisticated maritime sensor technology, the history of its ever-deepening relationship with the Royal Navy can be traced right the way back to 1917, when it began equipping the navy's submarines with periscopes.
Today, almost every single submarine and surface ship - including the new Queen Elizabeth-class aircraft carriers - are reliant on Thales for various combinations of sonar, radar, communications, electro-optical systems and electronic warfare technology.
The sheer variety and complexity of such systems, which can be in service for twenty years or more, with regular upgrades, means that Thales has to work very closely with the MoD to manage its extensive inventory of spares, making sure that it is sufficient for every eventuality but not so large that it becomes uneconomical.
Single-point efficiency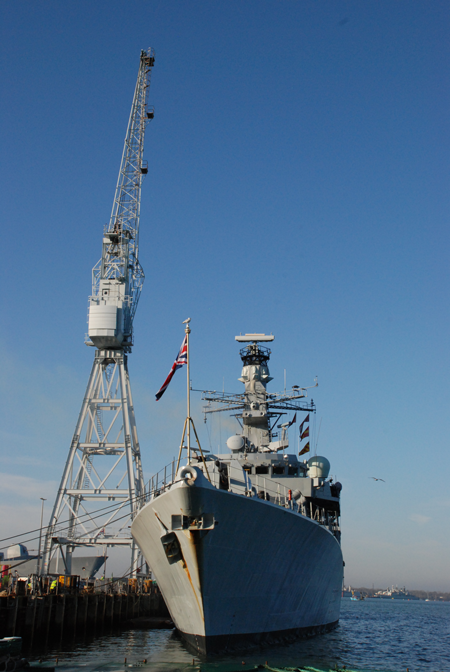 Thales has a team that is co-located with staff from the Ministry of Defence, at Abbey Wood in Bristol. It is this facility which also gives single-point access to Thales's rapid response 'level three' support service.
Level three support is required when neither the user of the equipment (level one) or a third-party dockside contractor (level two) can fix the problem. When this happens, Thales personnel in Abbey Wood are requested to provide assistance. This assistance could be in the form of advice, but routinely requires dispatching an engineer to the ship or submarine, wherever it is in the world, at a moment's notice.
Although the calls for support are routed through a single point of contact, SSOP is still run in a way which maximises customer contact. From 2003, Thales has stationed its technology experts at naval bases in Devonport, Faslane, Portsmouth and Bahrain, literally giving naval personnel the opportunity to leave the ship and walk over to the Thales waterfront office for almost immediate consultation. Customer relationships don't get much closer than that.
In fact, teamwork is something that Thales takes as seriously as the Royal Navy. And their shared approach to solving problems - especially when the pressure is on - is just as easy to sum up: 'whatever it takes'.