In transport, countries, cities, and transport operators rely on Thales to help them adapt to rapid urbanisation and the change in the way people travel – locally, between cities and across continents. Our expertise in signalling, communications, security and services gives people and goods the connected journey they deserve to move safely and efficiently.
 
Thales in the UK has been delivering a range of service solutions for transport network operators for over 50 years. Developing a real understanding of how to help our customers, we work in collaborative partnership to develop and deliver services that enable them to realise faster, better, greater journeys for their customers.
 
Britain's trains: who can you trust?
You're at the station on time but your train has been delayed. At least, that's what it says on the departure board. Can you trust it? Should you phone ahead to say you'll be late? Well, yes. These days, train information is reliable and up-to-the-minute accurate. But it wasn't always so.
The truth is that, way back in 2003, train operating companies were struggling to keep their passengers informed about departures, delays and cancellations. All too often, routine journeys were beset with uncertainty and frustration, and passengers were reluctant to trust the information they were given. So what was the problem?
Quite simply, the systems to reliably capture and display such information from 20 or so independent operators in the complex, interconnected world of rail transport just didn't exist back then. But that was about to change forever.
Determined to up their game, the train operators tasked their unifying body, the Association of Train Operating Companies (now the Rail Delivery Group or 'RDG') to create a centralised information system that they could all contribute to, and draw from. Following a successful pilot project, it went out to tender.
Project Darwin
Although Thales was, at that time, a relative newcomer, the vision and enthusiasm of its team helped to secure the contract and Project Darwin was born. Project Darwin was the start of something that would evolve into the backend system which now feeds real-time information not just to the stations' departure boards, but to a wide and growing range of web sites and apps. Darwin has become a 'single source of truth' that everyone can rely on.
Serving more than 2,000 stations, Darwin collects information from 'train describers' on track relays. Whenever a train passes one of these sensors, the information is collected and fed into a central system. This allows the arrival time to be accurately forecasted, with increasing certainty as the train gets closer to its destination.
If the train stops or slows down, the systems flags it as 'uncertain' and an update is posted on to the live departure boards. If an operator needs to cancel a train it passes an instruction to Darwin and the departure boards are updated in seconds.
With the rise in travel apps and web sites and a growing expectation of accurate information on-demand, the eminently scalable Darwin engine is now more important than ever. Five years ago, it responded to a whopping 1.3 billion requests for information in just 12 months.
Last year there were 5.8 billion requests - an astonishing number, given that Thales continues to maintain the service at 99.99% availability.
 
Empowering National Rail Enquiries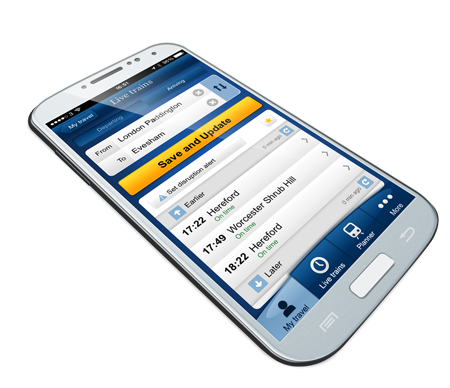 As well as providing real-time information to a wealth of apps, web sites and live departure boards across the country, Darwin feeds into another system supported by Thales: National Rail Enquiries' Online Journey Planner.
Online Journey Planner is far more than a virtual departure board. It is the definitive source of customer information for all passenger rail services on the National Rail network in England, Wales and Scotland.
As well as real-time updates on delays and cancellations, the service offers step-by-step detailed journey planning from anywhere to anywhere, fares information (including cheapest tickets), ticket sales, and a great deal more. Last year, the service handled more than 1.5 billion requests.
Today, Thales continues to work with the Rail Delivery Group and there is no longer any uncertainty and or ambiguity. Thales does whatever it takes to keep RDG supplied with the timely and accurate information that its customers can truly rely on.
 
Transportation in the UK