Complete trust in digital flight avionics is vital to meeting the complex challenges of aviation's accelerating technological revolution. 
The digital transformation envisaged by the Future Flight Challenge is redefining expectations around connectivity, communication and control. Across civil and military air platforms, manned and unmanned, digital data drives everything – and the safety, effectiveness and efficiency of every mission depends on it. 
This means users must be entirely confident of the availability, integrity, security and resilience of such data. By uniting its global cyber security leadership and avionics capabilities, Thales assures absolute digital trust, superior digital flight avionic performance and genuine through-life value – without the risk.
Exploit and secure digital connectivity and communications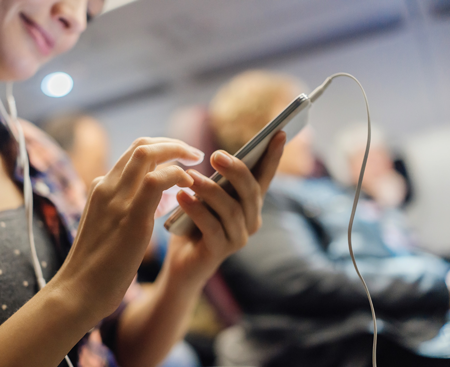 Thales's leading-edge technology optimises awareness and efficiency through continuous, secure connectivity and information flow – gate to gate, nose to tail and air to ground. Unlocking personal mobile device functionality enhances the in-flight experience for passengers, while allowing both military and civil crews to co-ordinate continuously with ground-based activities.
Decide and control with confidence
With Thales, pilots and operators can make fast decisions based on reliable, complete, clear and quickly delivered information – freeing up time and attention for other priorities. User-friendly mission planning, control and air traffic management solutions promise safe, economical and sustainable deployment of UAVs, conventional aircraft and future flight platforms. 
Deploy best-in-class technologies – quickly and cost-effectively
Thales integrates flight avionic systems, regardless of type, technology, maker or supplier, to achieve maximum combined benefit. Its open architectures allow easy inter-system links and – through software replacements – faster, easier and more economical upgrades and extensions. Underpinned by world-leading cyber security, and embracing areas like artificial intelligence and machine learning, Thales's solutions turn future flight possibilities and visions into trusted reality.
Thales is the developer of TopSIS-X – the next-generation information system providing secure onboard data connectivity for a node in the sky
Thales's air to ground direct communication system has been successfully deployed across Europe since 2018
Through its SOARIZON planning software and community, Thales provides a safe system for co-ordinating drones and the drone ecosystem
of aircraft in the world take off and land using Thales equipment

passengers use Thales in-flight entertainment systems every day