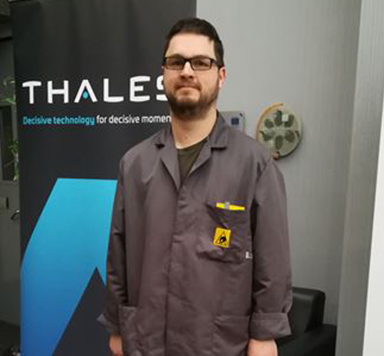 George Stewart
Manufacturing Engineering Apprentice
George Stewart
Manufacturing Engineering Apprentice
It's never too late for a career change, says George, aged 42
George joined Thales as a manufacturing engineering apprentice at the age of 42. Here, he explains why it was one of the best decisions that he has ever made.
 
I joined Thales as a manufacturing engineering apprentice in September 2018. I was previously employed in the construction industry and at the age of  forty-two decided that it was time for a change.
To be honest, I didn't realise that I could be an apprentice at my age, so when a friend told me that it was possible and that Thales were looking for apprentices, I was delighted and jumped at the chance.
 
I have really enjoyed my time at Thales so far. As this has been a career change for me, everything is new. I have experienced so many exciting new things and met so many new people. For the first part of my apprenticeship I was in the machine shop, working with milling machines. I found this very interesting as I love to be hands on with the parts that are produced, as well as enjoying the more technical aspect of the machines themselves. I have also really enjoyed the day release to tech, where I have been working on lathes and manual milling machines.
 
This is also a new experience for me which I have found very rewarding because I can now produce a finished product on both machines to a high standard, something I could not have done just a few short months ago. Also, I took part in an inter-campus milling competition and won, which goes to show that you never know what may happen as part of your apprenticeship.
 
Thales have been very supportive through my apprenticeship so far. The people that I have been placed with on the factory floor have been brilliant and I feel supported. My colleagues are enthusiastic to pass on their experience and wisdom, which is particularly helpful when you are new.
 
I would recommend a career in Thales to anyone who wants to work in this industry. In my opinion, Thales is a forward-thinking and ambitious company. Not only that, I believe that Thales is really keen to ensure that its employees are of the same mind set and they will help you to achieve a rewarding career with a bright future.
 
I believe that joining Thales as an apprentice has been the best career move of my life and I look forward to what the future has to hold.