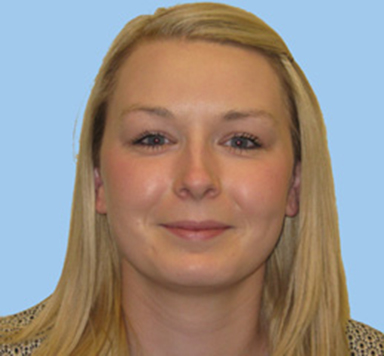 Sarah Hewit
Manufacturing Apprentice
Sarah Hewit
Manufacturing Apprentice
Embracing opportunities for learning and development within Thales
Sarah was looking to take the next step in her career in a role that would enable her to undertake studies at University, whilst working full time. Here she explains why the Thales manufacturing apprenticeship scheme provided the perfect opportunity.
 
Please give us a brief introduction to your role at Thales?
I am a manufacturing apprentice based in the methods department in Belfast. I work alongside the machine details team.
Recently I have been involved in the setup of the new treatments plant and the introduction of new processes to accommodate this. Day-to-day I work on routings for production parts and respond to process queries.
What inspired you to join Thales?
Previously, I was a sub-post mistress for six years and I was at a stage in my career where I didn't feel challenged. I was looking for a career path that would allow me to return to my studies alongside full-time employment. When the opportunity to join Thales as an apprentice came around it was the perfect fit for me.
What have been the highlights of your time at Thales?
One of the highlights of my apprenticeship so far has been the opportunity to build relationships with other UK apprentices during our trip to Eskdale Outward Bound in the Lake District.
The week consisted of outdoor activities, team building and personal development learning, which gave me the opportunity to make new friends and increase confidence in my abilities, which has been invaluable to my work.
What advice would you give to other women looking to pursue a career path such as yours?
Before starting with Thales, I hadn't heard of methods engineering. It is a role where you can face challenges from problem solving, to introducing processes, or manufacturing parts. It's not all about getting your hands dirty, although you can do if you want to!
There is a misconception that engineering is only for men, especially within manufacturing. As one of three women within my department, I am glad that these misconceptions are changing.
A more diverse workforce can mean a more qualified one. Different backgrounds, outlooks and knowledge can be of great benefit to a company. Roles should always be filled by the best person for the team and the job, regardless of their age or gender.
Is there anything else you would like to add?
I would encourage anyone to consider an apprenticeship with Thales and am glad that I chose this route into engineering rather than more traditional routes.
The apprenticeship has not only supported me through my foundation degree in mechatronics, but it has also given me great on the job experience and enabled me to see the business from a range of perspectives. I have also had access to a mentor who has guided me through the programme and helped me gain the knowledge I needed to succeed in my career.