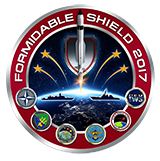 Formidable Shield is an international exercise organized by the US Sixth Fleet. It is aimed at international cooperation in the area of defence against ballistic missiles, as well as to improve countermeasures against atmosphere-based attacks. In addition to the US Navy, the navies of Canada, Germany, Great Britain, France, Italy, Spain and the Netherlands participate.
 
The most spectacular part of Formidable Shield is the elimination of a ballistic missile, outside the earth's atmosphere. The missile is launched from the Scottish coast and travels through space at a velocity of more than 4 km per second. The intention is that this threat is  destroyed by an SM-3 missile launched from an American Aegis ship. And if that isn't enough, the Aegis will launch the multi-million dollar SM-3 without any information from its own sensors. To direct the missile towards the target, the US ship's crew will rely only on the information provided by Thales's SMART-L radar on HNLMS De Ruyter.
 
The exercise really does matter. It is one of the most important naval exercises in years. Why?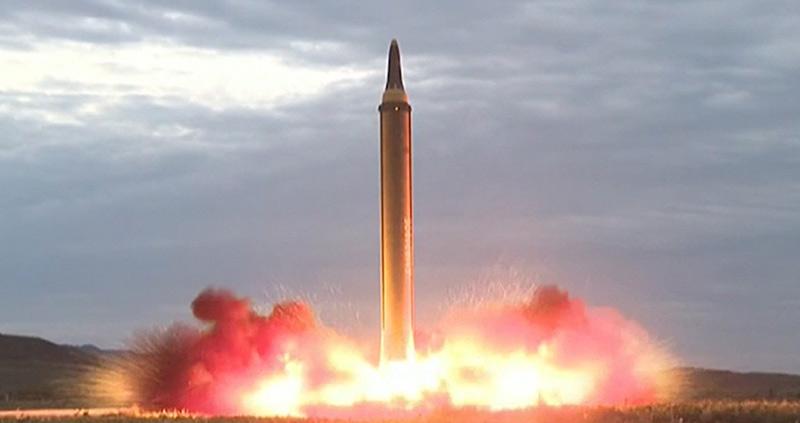 1. Threat of ballistic missiles
North Korea is capable of building nuclear bombs small enough to fit in a ballistic missile that could reach America and Europe. And it is by no means certain that the regime in Pyongyang will stop here. Developments will very likely go on. So far, nothing and no one has been able to stop the regime. The threat of ballistic missiles remains, and will probably increase.
On the other hand, work has been carried out on ballistic missile defence for decades, but it is extremely difficult. This calls for a speeding up of development, and large steps must be made. Formidable Shield is one such important step. 
 
2. The Netherlands is quickly getting closer to Ballistic Missile Defence (BMD)
The first new SMART-L MM/N radar from Thales, which can detect ballistic missiles in space, is currently being completed in Hengelo. Following that, there will be three more for the Dutch Navy. These radars will be placed on Air Defence and Command Frigates (ADCF), the software on board will be renewed, and the crew will be specially trained. The Netherlands is the first European country that will contribute to maritime Ballistic Missile Defence (BMD).
BMD is actually quite a complex process, going through many layers over enormous distances. This is why it must be practised and tested. Formidable Shield is a crucial step.

3. First: Launch on Remote
Formidable Shield will be testing defence against ballistic missiles, as well as atmosphere-based attacks (for example, via missiles that fly close to the sea). It is not the first time such an exercise has been held; in 2015, a Dutch frigate (De Zeven Provinciën) also played a key role during a similar exercise called At Sea Demonstration 2015. This time there are some new elements.
 
A ballistic missile will be launched from the Hebrides and, once again, the rocket will be shot down by an American Navy ship using an SM-3. However, the American destroyer will launch the SM-3 before even seeing the oncoming ballistic missile itself. The SM-3 missile will be launched based on the information provided by the SMART-L on HNLMS De Ruyter, which will be sailing hundreds of kilometres away with the experimental BMD on board. The US radars will only see the target when they begin to receive updates from the SM-3 after it has been launched.
 
4. Gigantic area
Formidable Shield will cover a huge area in the Atlantic Ocean: more than 1,500 km west of the Scottish Hebrides, and from the south of Ireland to the southern tip of Iceland (more than 700 km). And the height? Unlimited.
Formidable Shield will therefore have a huge impact on shipping and air traffic. Shipping traffic will be forbidden from travelling through part of the exercise area during the period Formidable Shield is taking place. The international aviation authority reports that the cordon will effect 160 to 270 passenger and cargo flights on the final day in October.
 
 5. Faster, higher, further
The ballistic missile, a Terrier-Oriole, travels 1.5 times faster, a lot higher and 2.5 times the distance than during the 2015 exercise. This practice target can reach a top speed of 10,800 km/h. It is really a ballistic weapon - it's path cannot be adjusted, and it is quite inaccurate; after launch, it travels through space at high speed on an (approximately) straight trajectory for a certain amount of time before drifting back to earth under the influence of gravity. The path of the missile is known in advance, this will be calculated beforehand, but the exact altitude and course will not be known until the time. 
 
This will make the exercise even more exciting: the radar data from the De Ruyter must be of very high quality. And the data must be collected by the original SMART-L, which was not made for this purpose but has had many adjustments applied to temporarily adapt it to become a BMD sensor. No one knows how high the missile will really fly, but there is no doubt it will be on the limit of what the SMART-L is capable of. With the new SMART-L MM/N radar, this wouldn't be quite as exciting; but this system will only be installed during the upgrade programme of the frigates, which will take place between 2019-2022.
 
6. Integrated Air and Missile Defence
The demands placed on the radar deployed on the De Ruyter are so high that the ship will be focussed entirely on space, which is in contrast to the Zeven Provinciën during the At Sea Demonstration. 
 
BMD will be simulated in other phases of Formidable Shield, and other ships will be required to divide their attention between space and the atmosphere. There will be a lot of opposition from the atmosphere in the form of supersonic practice missiles. This is also unique because most practice targets do not travel faster than sound (the well-known Harpoon and Exocet missiles are sub-sonic); but for this exercise, the practice targets will be travelling at supersonic speeds. Increasingly, it has been seen that more and more anti-ship weapons travel at supersonic speeds, including those from Russia, China and India. Modern naval vessels such as an LCF are equipped with defences against this, but can rarely exercise against such a rapid and advanced opponent because there are few supersonic practice targets; they are very expensive and require huge exercise areas.
 
Ships who will be given a BMD task cannot only specialise in BMD and ignore conventional air defence. A BMD ship is a high-value target in times of conflict and must be able to perform both BMD and conventional air defence. Simultaneous. This is called Integrated Air and Missile Defence (IAMD) and is a crucial part of Formidable Shield.
 
International fleet
BMD is high on the international agenda. It is therefore no surprise that ships are being sent from several countries. Some are involved in other BMD events; others are only partially involved in BMD, being more focussed on conventional threats such as defence against cruise missiles in the atmosphere.
 
Formidable Shield begins on Sunday 24 September 2017 and lasts until 18 October 2017. The exercise is partly combined with the large British Joint Warrior exercise, which is held every 6 months.