The MARSBalloon Project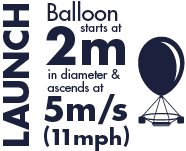 MARSBalloon is an exciting project for school students and science clubs to carry out Mars-analogue science experiments without having to put on a spacesuit!
Our balloon will carry over 150 student experiments to an altitude of 30km, more than twice the height of commercial airliners, where they will be above 99% of Earth's atmosphere. Along the way they will experience conditions very similar to the surface of Mars including temperatures of -50°C, pressures 1/100th that of sea level and an increased radiation dose.
This allows students to test the response of electronics, materials, plants and even food to the conditions outside of a future Mars base, helping future explorers to prepare for this strange and hostile environment. The whole flight lasts approximately four hours and the MARSBalloon team will chase after the balloon to recover the experiments after landing, allowing them to be returned to the students for analysis.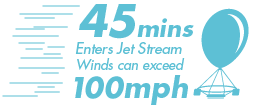 The MARSBalloon project is supported by Thales UK and run by enthusiastic STEM supporters from Thales Alenia Space, that will test student ideas for technologies that could one day be destined for Mars.
The aim is to test anything that humans or robots will be doing on Mars in the future.
This project is open to any school in the UK. There is no cost to take part in the project other than that of experiment materials and postage.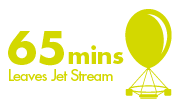 In June 2022 we plan to launch over 150 experiment capsules on high altitude balloons 30km up into the Earth's atmosphere, a place where conditions of gas pressure, temperature and radiation are very similar to the surface of Mars.

The Goal
The objectives of this project and the benefits for your class and club by participating are twofold:
To give students practical experience of designing things to go into Space and visit other planets
To get students to consider careers in the UK Space and other high tech industries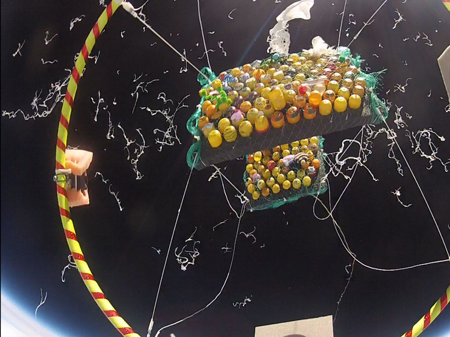 Important dates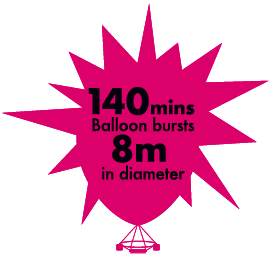 January 2024: Announcement of 2024 launch opportunity
31st March 2024: registration deadline, followed by confirmation of experiment selection
26th May 2024: Deadline for Experiment delivery
Early June: Launch
[Exact dates will be confirmed later. Please note launch times are weather dependant]
What to expect
By registering your class or club to take part in MARSBalloon you will be reserving at least one experiment for a future flight. See the FAQs for more details on registration.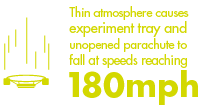 Please read the information pack which contains everything you need to know to get your students to make Mars experiments that can fly on our balloons, including:
Information on exploring Mars and its surface environment
A complete list of rules that experiments must satisfy to be allowed to fly
Career advice for students who want to work in Space and related industries
Ideas for experiments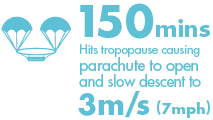 Using the information pack your students can work to together to create Mars experiments, that fit inside a Kinder Egg™ capsule, which you post to us so we can include them in the launch. Previous examples of experiments include testing the effect of Martian conditions on rubber bands, ink, memory sticks and 3D printed materials.
During the launch the balloon will ascend to 30km in approximately one hour where it will burst and the experiment tray will return to Earth via parachute. We will then collect the experiments and return them to your school for your students to analyse the results.

Pictures and video of your experiments in flight will be made available soon after landing.
You can also follow us on our Twitter page or on Instagram.

MARSBalloon 2023
MARSBalloon 2022
MARSBalloon 2021
MARSBalloon 2019
MARSBalloon 2018
Firestar 2015
Elysium 2014
MARSBalloon 2023
At the end of June, Thales Alenia Space engineers took these experiments to the Mendip Hills, ready for flight on MARSBalloon, a high altitude balloon that travelled to 30km, more than twice the height of commercial airliners. Along the way, the experiments experienced conditions similar to the surface of Mars with temperatures of -50°C and pressures 1/100 to that on Earth – inspiring students to think about what tools and technologies might be needed for life off Earth on a future Martian base.
Find out more here.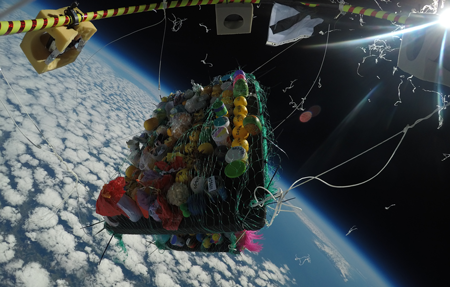 MARSBalloon 2022
MARSBalloon 2022 saw the launch of 165 experiments from 65 different schools, filling up our balloon completely. The schools that participated had to contend with an unexpected egg capsule recall, so well done to all participants! The balloon reached 32.7 km in altitude, and travelled a total of 93 km horizontally over 2 hrs 7 min. It landed on a field surrounded by cows and calves! No experiments were eaten, and they made their way safely back to the schools.
MARSBalloon 2021
MARSBalloon 2021 saw the launch of 147 experiments from 50 different schools/clubs across the UK on 15th June 2021. Almost as many as in 2019, our biggest year ever. This was an outstanding result considering the difficulties of the Covid pandemic! 
In fact, some students decided to see Covid as an inspiration instead of an obstacle for their experiments and sent some Covid test solution into the 'Mars-like' conditions at altitude. The ability to test for diseases will be important to consider for the future colonists of Mars!
Other standout experiments on the 2021 mission ranged from medications, a compass, magnets and testing the bit error rate in electronics to marshmallows, seeds and all kinds of materials useful for engineering and construction. 
The experiments landed on a barn roof, with the farmer who owned it very kindly helping the MARSBalloon Team to retrieve them safely.
2021 Winners
Need some inspiration? These are the 2021 winners in each category.
Primary School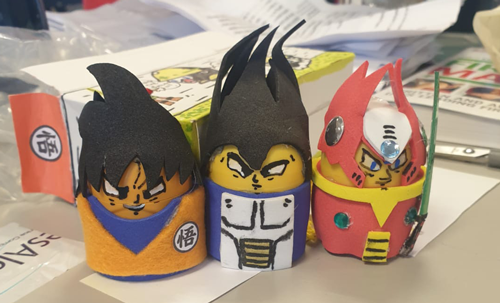 Best Decorated
Home Education (homeschool) stole the show with their Dragon Ball Z threesome.
Engineer's Choice Award
Highgate Junior School (London, England), "Corn kernels experiment".
Just a wonderfully well thought out experiment that applied the proper scientific rigour we'd expect from our future Martians!
Innovation Award – Chosen by Helen Sharman, the first British astronaut
Gosforth Junior School (Gosforth, Newcastle Upon Tyne), "Temperature and pressure effect on metals".
The contraction and expansion effects of varying temperatures on materials that are used in spacecraft and on the Earth are key to many engineering and architectural projects. This experiment provided a hypothesis, testing and a visual, lasting result which was inspires curiosity in the basic constituents of materials.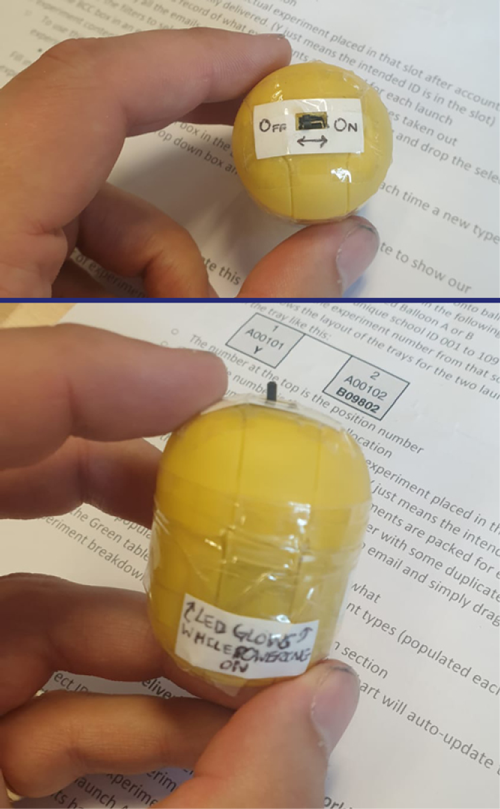 Secondary School
VIP Choice – Awarded by Paul Smith, Head of Robotics Exploration at the UK Space Agency
Bexley Grammar School (Welling, Bexley), "Electronics/bit flipping experiment".
Electronics and radiation are something every engineer and astronaut needs to take into account, this experiment identified a simple but elegant solution to testing. Their attention to detail and wider application of space exploration knowledge was very impressive. 
Innovation Award – Chosen by Helen Sharman, the first British astronaut
The Cowplain School (Cowplain, Hampshire), "Detecting radiation with film".
How radiation is absorbed by different materials and how radiation can be detected demonstrate a variety of scientific concepts and practical implications, including, in this case, the protection for humans of Earth's atmosphere. This experiment can spawn a host of ideas in our scientists and engineers of the future.
Engineer's Choice Award
The Edinburgh Academy (Edinburgh, Scotland), "Covid test solution".
Pertinent for the current climate and important to consider how we will test for disease etc. in the future where diseases can spread rapidly in a closed environment. Definitely a problem for Future Martians!
MarsBalloon 2019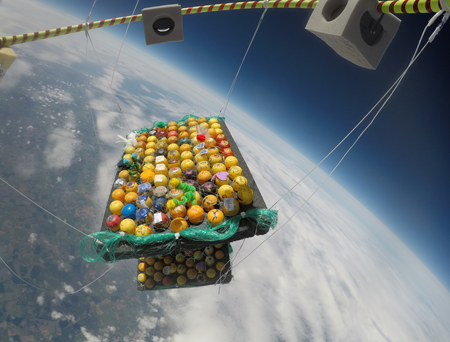 MarsBalloon 2019 was the largest yet and most successful yet! An upgraded balloon and a new double-tier experiment tray saw a launch of 166 experiments from 76 schools and clubs. The balloon reached a max altitude of ~32.5km before bursting and parachuting back to earth and thankfully not landing in a tree. 2019 also saw the introduction of six awards in four categories:
The VIP's Choice award (secondary school only)
The Engineers Choice (primary and secondary school)
The Innovation Award (primary and secondary school)
Best Decorated Award (primary school only)
Yet again the imagination and ingenuity of the submissions was outstanding which made choosing winners the hardest task of all. There was everything from yeast, solar cells, seeds, slime, toothpaste, SD cards, glue, butter, popcorn, medicine and batteries – all must-haves for life on Mars!
 
2019 Winners
Need some inspiration? These are the winners of last year's awards in each category. Each winning school received from us a book and a portion of a meteorite, their own piece of space to keep.
Primary School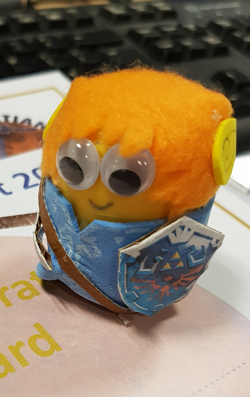 Best decorated
Happy in Home (homeschool). Their Link delighted our team!
Engineer's Choice Award
Borras Park Primary (Wrexham, Wales), "Growing a sunflower".
Although a simple experiment, we were impressed with the write up this school provided, which was very well thought out and presented.
Innovation Award
St Nicholas Chantry School (Clevedon, North Somerset), "Paracetamol (effect of extreme temperatures on medicinal products)".
Health care in space can be a difficult issue, and this is one of the very first submissions we have received dealing with this topic.
Secondary School
VIP Choice - Awarded by Paul Smith, Head of Robotics Exploration at the UK Space Agency
St John Fisher Catholic High School (Newcastle under Lyme, Staffordshire), "Effect of changing atmospheric conditions on CuSO4".
This school wanted to check whether the changing atmospheric conditions would affect CuSO4 crystalisation process, which could affect the way salt solutions are stored and used on Mars. Our VIP chose this one.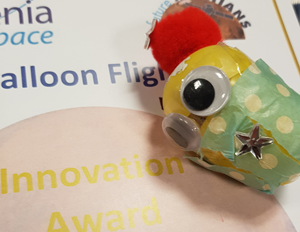 Innovation Award
Stirling High School (Stirling), "Effect of increasing levels of UV on solar cell output".
This school investigated whether solar cells may be affected by changing UV levels by using LEDs with different switch on voltages to check whether they turned on at different points in the flight. You can see the LEDs pointing directly at the camera in the flight video.
Engineer's Choice Award
Beaulieu Convent School (Jersey), "Differences in Rhizobium in plant nodules".
The effects of the flight on seeds is always a popular choice. This school took it further, and sent seeds so they could compare any difference in the rhizobium in the nodules, which is key in nitrogen fixation in the soil. You can actually follow their write up here on Twitter.
MarsBalloon 2018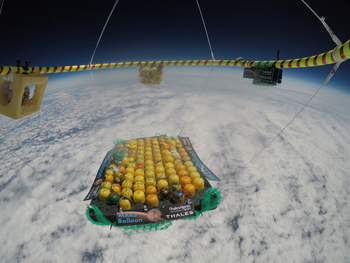 MARSBalloon 2018 broke all previous records with over 120 experiments being launched and 45 different schools taking part across the UK. The 2018 mission brought the cumulative total of experiments launched by the MARSBalloon project to 500 over the previous 5 years.
 
The 2018 launch saw school children unleash their imaginations, sending in an 'out-of-this-world' selection of experiments that ranged from seeds, maple syrup, camera film, sea monkey eggs, slime and baby food, to glow sticks and human cheek cells. Each experiment tested an everyday item in 'Mars-like' conditions, and was available for analysis by the pupils, once the experiment tray parachuted back to Earth and the capsules were returned to their schools.
Firestar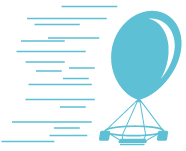 Firestar, named after the ancient Chinese name for Mars, was the fifth MARSBalloon mission launched into the stratosphere at noon Wednesday the 17th June 2015. On board were 80 Mars science experiments from 42 primary and secondary schools from around the UK.
The balloon reached 31km altitude over a two hour flight where the experiments were exposed to temperatures as low as -50°C, pressures 1/100th that of sea level and increased levels of radiation all of which are very similar to the surface of Mars.
The 80 experiments launched on Firestar brought the total number of science experiments flown by MARSBalloon to over 350 over the course of three years. On this flight some of the standout experiments include tests of Mars-like conditions on Sheep's eye balls, UV florescent slime, photochromic paper, smoke matches, magnesium ribbon, toothpaste, enzymes, algae, live plants, sea monkey eggs, antibiotics and several electronics sensors including light and UV.
You can see Firestar's flight below:
Elysium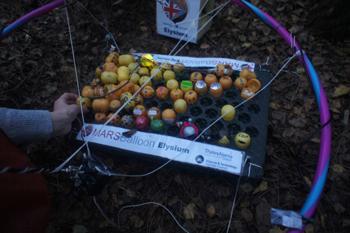 Elysium, named after the second largest volcanic region on Mars, was launched on Sunday 26th October 2014.
The mission had 55 Mars science experiments on board from 33 UK primary and secondary schools. They were flown up in a specially built tray to 31,240m in altitude where the conditions of pressure, temperature and radiation are nearly identical to the surface of Mars. At maximum altitude the balloon burst and the tray and experiments descended by parachute to the ground for a landing in Bramshill Forest.
This launch follows a previous MARSBalloon mission, named Tharsis after another volcanic region of Mars, which successfully flew in June 2014 with 80 experiments from 30 schools.
The experiments recovered from Elysium were returned to the students who made them. 
To see what happened on the ground watch the following video…
…now to see what happened in the air watch this:
Registration for MARSBalloon 2023 is now open! Sign up here!
MARSBalloon Registration
| | |
| --- | --- |
| | It's quick and easy to communicate with us through our Twitter account |