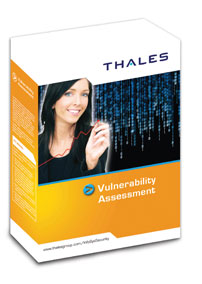 The average cost of a cyber attack on a large organisation in the UK is £650k

78% of large organisations were attacked by an unauthorised outsider in the last year

Most significantly, over 90% of cyber breaches are identified by a third party rather than an internal security team

 
Many organisations are aware of the threat, and yet they are still failing to provide a basic level of cyber protection, leaving their most valuable information assets such as intellectual property at risk. That's why organisations need specialist cyber experts such as Thales to strengthen their cyber defences.
Benefits
Our scalable vulnerability assessment service is designed to meet the demands of any organisation. It will:
Identify the vulnerabilities in your infrastructure, enabling you to make informed decisions about the actions you need to take in order to reduce the risk of a cyber attack

Allow you target investment in the most appropriate areas based on risk and organisational priorities

Provide you with peace of mind that you are taking the first step towards strengthening your cyber defences


 
Our service
Thales offers a CREST-registered cyber security testing service, utilising certified professionals to ensure that you are receiving access to highly trained and experienced cyber specialists. Our approach is to make sure that we understand your organisation's operational priorities so that our service supports your objectives.
Scoping
Initially we will undertake a detailed scoping activity where we will work with your IT professionals, whether in house or outsourced, to define the exact boundary of your infrastructure to ensure that your entire IT networks, web applications and connected outsourced services, such as Cloud providers are included in the assessment. We will start to gain an understanding of your organisation, the processes that you follow and your key objectives, in order to ensure that issues are prioritised effectively against your business objectives.
Assessment
Once scoped, the vulnerability assessment service will see our test team deploy the best industry tools that are linked to the latest vulnerability intelligence in order to determine the existence and extent of any vulnerabilities within your organisation's systems.
As part of our wider capability, we have the ability to model your organisation's systems in our Cyber Integration and Innovation Centre.  This provides an opportunity for our testers to carry out further testing away from your operational environment allowing you to focus on business as usual.
Reporting
Our testing services are underpinned by clear and direct feedback within a final report.  This detailed report will prioritise the vulnerabilities identified during the testing phase, summarise the potential business impact and will provide clear advice on how to address each vulnerability. It will enable you to target investment in the most cost effective way, making sure that you can achieve your organisational objectives with minimal risk to your existing infrastructure.
Our recommendation is that you schedule routine assessments of your infrastructure with professional support at least twice per year.
Other services
Vulnerability assessments are just one part of our wider security audit and test services. For further information about vulnerability assessments and the wider range of services on offer, please call our cyber team on 01256 376633 or e-mail us.