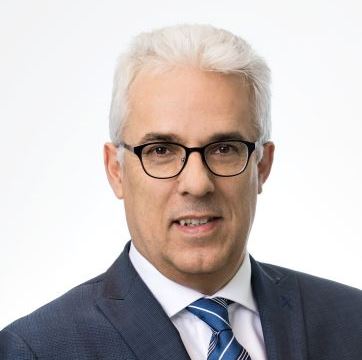 Country Director Central Europe & Balkans, Marketing & Sales, Defence & Security
Based in Paris, Günther Trummer has been Corporate Country Director of the sub region of Central Europe and Balkans since 2009.
In addition to this role he started in July 2015 to head the Marketing & Sales activities (with particular focus on Defence & Security) of Thales Austria GmbH in Vienna, a unit which is steadily growing its business and market shares through its genuine and broad offering. Its specific and long-standing local expertise, particularly in rail transportation, are the keys to its domestic and international competitive success. In this function, Günther Trummer is an authorized representative of Thales Austria GmbH.
From 2003 to 2009 he was at Thales and previous Alcatel responsible as VP Sales and Business Development for worldwide order intake of the transport division. Previous assignments included several staff and line-functions in the transportation and telecom sector, in France, Austria and Germany.
Günther Trummer was born in Stainz, Austria, in 1964. He is a graduate of Technical University of Graz. Additionally, he was educated in business administration at University College Dublin, London Business School and ESSEC Business School.