HELOis is an IP connectivity and mission management solution that can be deployed in air-to-ground mode by helicopters and also in ground-to-ground mode for collaboration with land vehicles, surface vessels, personnel, ect.
Customer need 
Helicopters operators today are limited in their aircraft communication capabilities by lack of onboard resources (BLOS/NLOS limitations, IP connectivity, data handling). This is a major constraint for conducting missions and coordinating with teams on the ground. 
Our solution 
HELOis is a lightweight, low-volume EASA-certified solution requiring only minor modifications to the helicopter, with an app installed on any Android device for other users. It enables aircrews to: 
Make voice calls 
Exchange messages 
Exchange files (text, documents, images, etc.)
Dynamically geolocate all assets on a mission
Stream one or more video feeds
HELOis creates a collaborative environment in the form of customisable "rooms". HELOis uses three public communication network sources - two 4G modems and a satcom modem - operating together seamlessly1 to ensure continuity of communications. 
Transmissions are secure (bank-grade AES 256 bit encryption or better).
Missions are safer and more efficient, with real-time mission reconfiguration, anticipation of action (thanks to better sharing of information, file transfer, etc.), optimised mission times, better preparation for critical mission phases and dynamic, real-time display of the position of each player. 
The HELOis solution leverages Thales's expertise in digital and cyber technologies and is provided to customers as a service. 
1 Seamless operation enables automated, transparent switching between telecoms oprators, depending on the quality of each available network.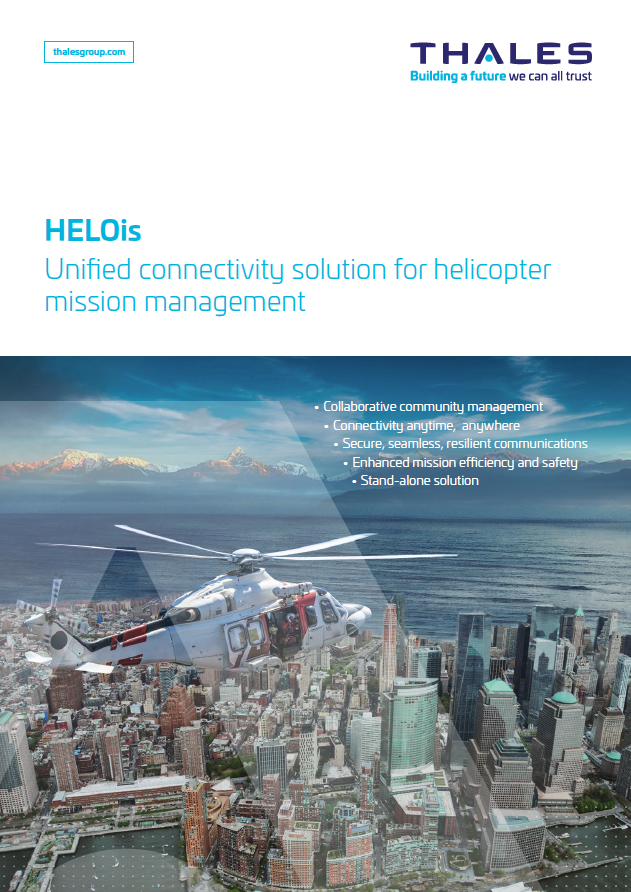 HELOis
Unified connectivity solution for helicopter mission management
This leaflet presents an overview of the Thales HELOis solution that dynamically connects helicopters and other mission stakeholders in the air and on the ground or surface.
Download the leaflet English version [EN] • French version [FR]