Drive your Search And Rescue (SAR) mission with a fleet management and interoperable communication solution. The connected application and the web portal (that runs on COTS computer, smartphone and tablet equipment) increases success by reducing communication time and misunderstanding with live data sharing. Manage the operation with greater security through continuous tracking of mission assets and members, reduced connection loss, and bandwidth optimization to reduce satellite cost. 
Team communication & synchronization for SAR mission
Thales provides its Search and Rescue (SAR) mission management solution adapted to the specific needs of your operation. It supports the mission aircraft ecosystem, allowing better coordination between the various players both on the ground and in flight. This solution consists of a fully customizable mobile application and access to a web portal for the coordination center, coupled with a multi-channel communication system (radio / GSM / satellite). This solution is very light, not necessitating any integration in the helicopter and therefore no Supplementary Type Certificate (STC), meaning that it can equip various types of helicopters and airplanes, but also other vessels such as ground vehicles and boats. Thales offers this web application mainly in a Search and Rescue (SAR) version and also in several other operational contexts (security forces, mountain rescue, firefighters, surveillance, etc.).
Worldwide connectivity for efficient team communication
Thales enables rescue missions to never lose their connection. Thanks to a small short-range radio antenna, the Iridium satellite network and GSM, missions can be deployed anywhere. These UHF antennas (provided on demand) serve as radio relays coupled with the GSM and satellite networks. This system guarantees a triple communication essential to the success of critical interventions. Thanks to its three means of connection, it is possible to carry out any type of mission, anywhere in the world and avoid any loss of contact and connection even in the most remote locations.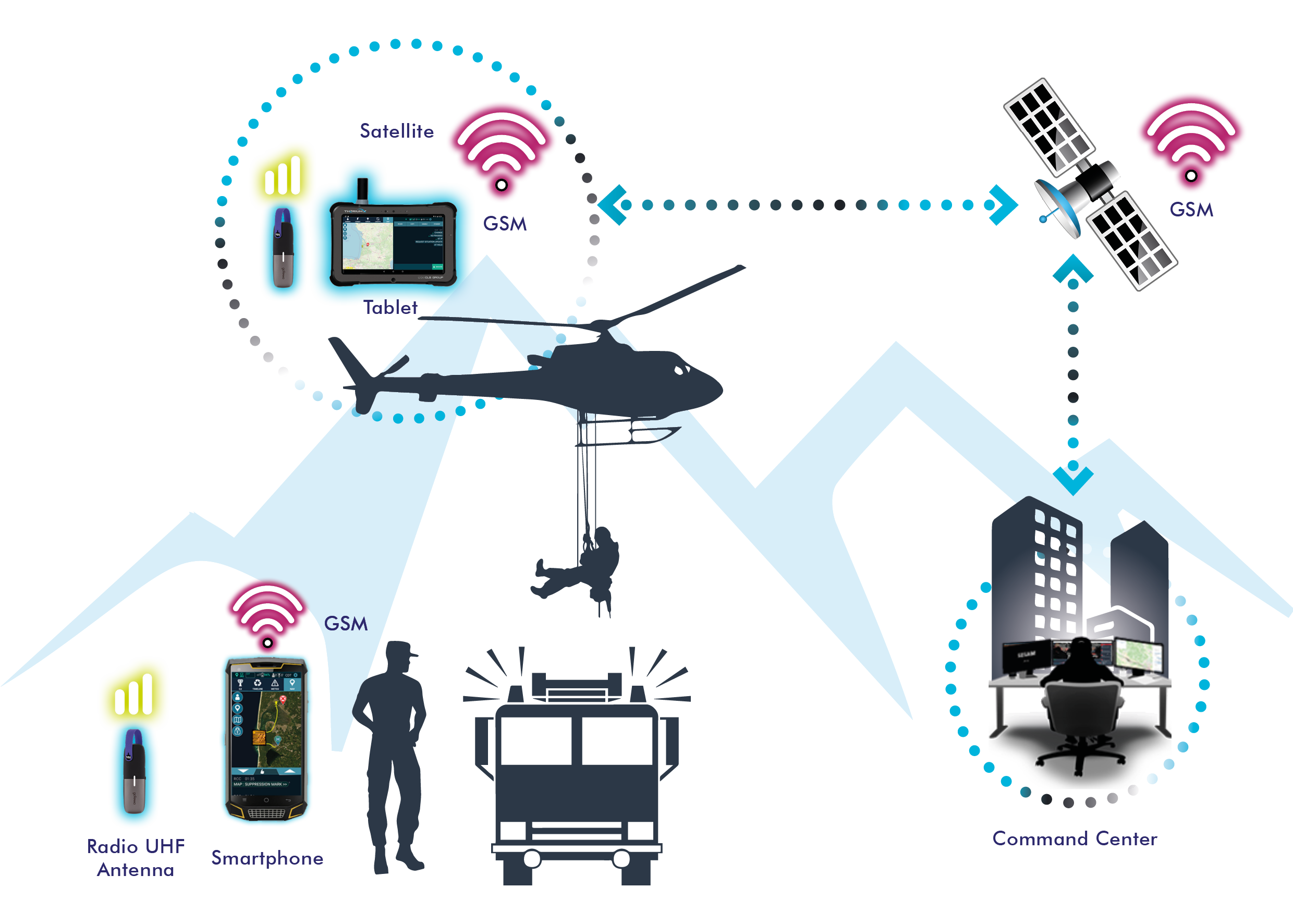 Visibility of mission deployment with customizable communication solution
With its "Blue Force Tracking" capability, this solution allows you to see in real time the position of the team members participating in the mission and never lose their position. Thanks to the different maps (satellite/plane), the understanding of the ground and the situation area is much clearer and more precise, improving the success of SAR missions. Moreover, all your data in transit by satellite are encrypted with the AES 256 software key.
The customization of the Thales team communication solution allows you to communicate more quickly, efficiently and safely. Pre-recorded messages reduce time lost to communicate, avoid misunderstandings, clarify medical checkups and reduce workload. During a SAR mission, you can transmit the medical assessment of a victim in less than 2 minutes thanks to the process already recorded on the application, compared to 10 minutes during an intervention without the Thales solution. In addition, a chat window is available to track the mission and its history. Each intervention is saved, enabling teams to assess the situation later. 
Interoperability between organizations
Our solution is a light, portable and autonomous mission system to help Command Centers (C2) to communicate and synchronize mission teams with no Supplementary Type Certificate (STC). Whether it's with the helicopter or airplane pilot, the command center or the people on the ground, all players are connected and communicate with each other during the mission. Also, share your operations with external organizations such as hospitals or public safety services for better team coordination and mission tracking. 
In addition to our software solution, we can provide all the necessary hardware for your mission (telephone and satellite tablet).