THALES AEROSPACE CYBERSECURITY SOLUTIONS
Faced with relentless growth in air traffic, more competition and new environmental challenges, stakeholders in the air transport sector are engaged in a digital revolution as they move to share information more effectively. Throughout, cybersecurity is key and Thales is throwing its weight behind efforts to place aerospace cybersecurity  at the heart of tomorrow's networks and applications.
The players in the air transport sector are highly interdependent, and today they are becoming increasingly interconnected. As a result, the sector needs to adapt its cybersecurity posture and adopt a coordinated approach at all levels, just as it has done with flight safety.
Leading industry organizations have understood this and are actively communicating around the topic, and Thales is actively involved in ongoing initiatives. Through the CyberSecured in Thales initiative, Thales is deploying a unique combination of specialized aerospace know-how and cybersecurity capabilities.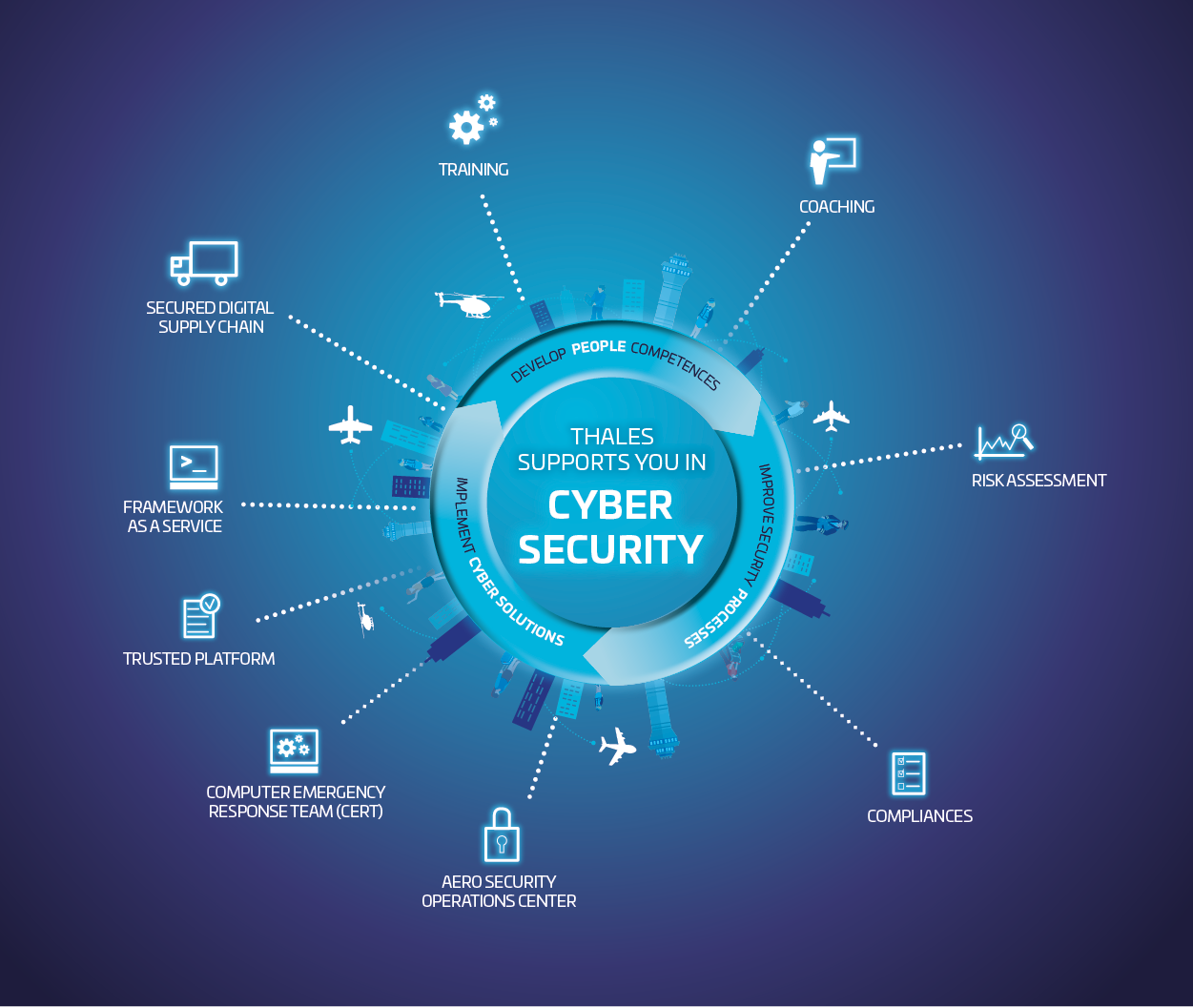 This enables the Group to offer a comprehensive cybersecurity value proposition specifically for the air transport sector, with cutting-edge cybersecurity solutions and services including multi-level protection (from perimeter security to the protection of core system components). Moreover, in accordance with future European regulations, tailored solutions for specific domains such as communications, radar, air traffic management, in-flight entertainment, avionics, preventive maintenance; security supervision incorporating specific threat intelligence; and rapid response teams in case of an attack. We do end-to-end work from the design phase to the operational support.
Cybersecurity is our priority
With its unique positioning in the aerospace sector and a comprehensive vision of the air transport industry and the cybersecurity challenges it faces, Thales has an increasingly important role to play in defining cybersecurity solutions and standards. Thales experts are already involved in international committees for cybersecurity norms and regulations (A-ISAC, OACI, EuroCAE) to support air transport in its digital transformation.