Thales's thermal Weapon Sights respond a full range of needs from dismounted soldiers, marksmen to snipers and provide a decisive operational advantage in both asymmetric and conventional conflicts. Since years, Thales has proposed Cécile TS available in medium- and long-range versions for snipers. Thales now presents a gamechanger for mission effectiveness of dismounted soldiers: XTRAIM© Weapon Sight, the new all-in-one solution combining a reflex sight and thermal imaging, for Day and Night targets decamouflage through a single, compact and lightweight equipment.
XTRAIM© Weapon Sight, a new day/night sight with a patented, all-in-one architecture combines conventional red-dot and thermal imaging technologies– an arrangement that was previously only available via multiple separate weapon-mounted devices.
Designed for assault rifles and light machine guns of conventional forces, XTRAIM© Weapon Sight offers night firing capability right through the hours of darkness, as well as day decamouflage functionality, making it significantly easier for dismounted soldiers to complete their missions effectively.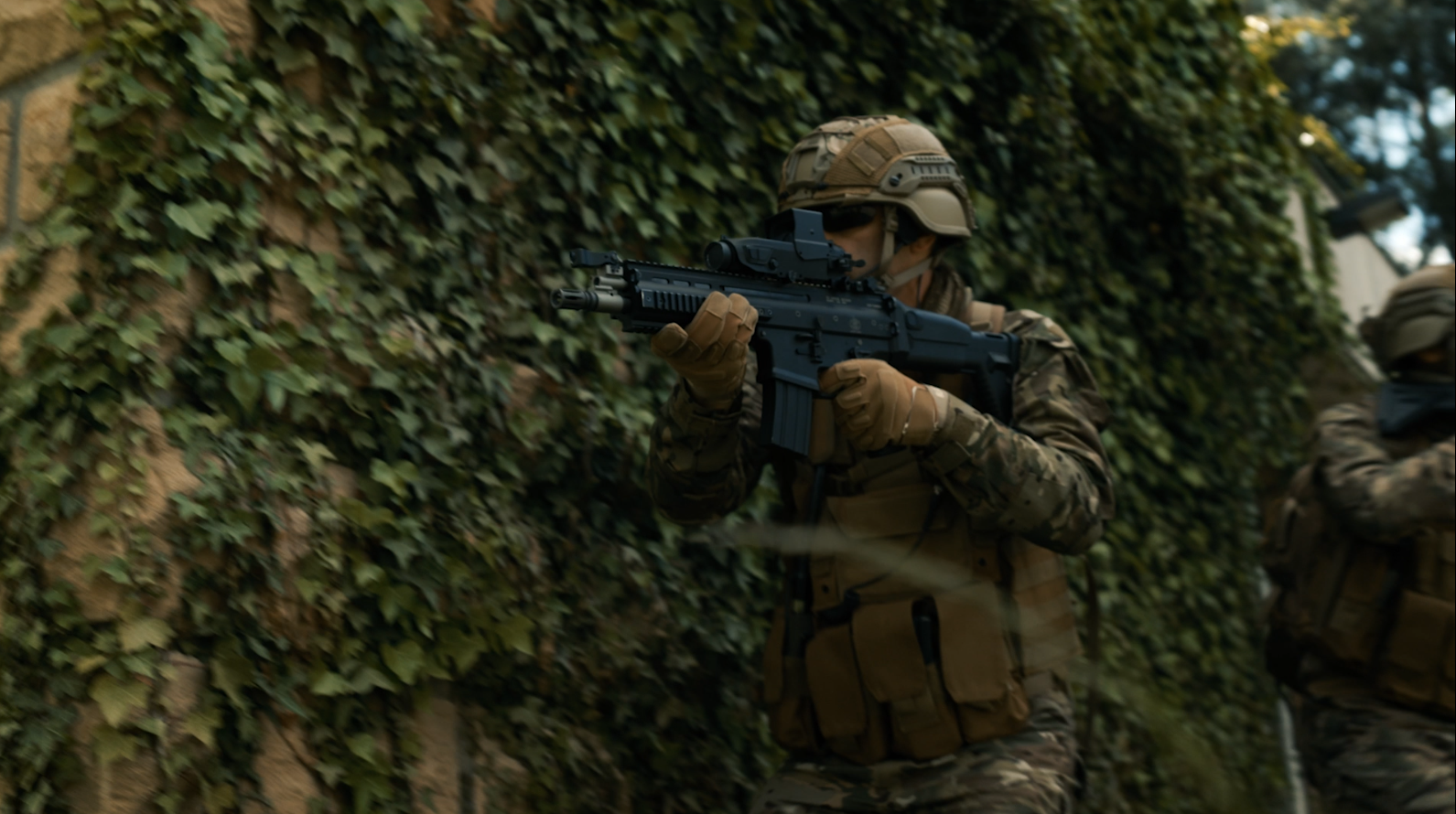 New all-in-one day/night sight
XTRAIM© Weapon Sight gives users the flexibility and enhanced survivability to complete complex missions in challenging, fast-changing environments, both day and night. The sight's built-in infra-red detector can be switched on at the push of a button, allowing targets to be engaged rapidly in darkness, and offering a crucial tactical advantage when entering dark interiors during daytime, as well as providing decamouflage capability both day and night.
A decisive advantage in daylight and at night
The product's light weight and small size shifts the weapon's centre of gravity towards the rear, enabling rapid-response, precision firing, and boosting user agility and endurance. In addition, XTRAIM©'s very large eyepiece allows users to shoot with both eyes open both day and night, thereby enhancing situational awareness.
The XTRAIM© sight is easy to use with night vision goggles too: users are able simply to look through the sight while wearing the goggle to benefit from the combined IR and I² capabilities of both devices, enabling targets to be engaged even in dark and smoky interiors. In addition, the brightness of the electronically configurable digital reticle in the red-dot sight remains constant in all light conditions, allowing the sight to be used effectively in bright sunlight.
Unmatched firepower and tactical superiority 
The ability to utilise the maximum range of weapons (typically around 300 metres for an assault rifle or light machine gun) both day and night delivers a massive boost in firepower. Targets can be identified, engaged and neutralised much more effectively under any conditions, while enabling users to keep the tactical superiority on the battlefield.
User input meets world-class expertise
Thales sought input from potential users on a regular basis throughout the design process for the XTRAIM© all-in-one sight. In addition to this deep understanding of users' needs, Thales's optronics expertise was also a key factor in the design of the new product. All the design and assembly work for the XTRAIM© sight takes place at Thales's Saint-Héand site in France, Thales's centre of excellence for dismounted soldier optronics, with specialist French firms like LYNRED for example making a crucial contribution to the product by supplying the infrared sensor.
XTRAIM, the unrivalled all-in-one night & day weapon sight for the dismounted soldier – Thales
Find out more about XTRAIM© Weapon Sight here.
Please scroll down for more information.
Cecile-TS  extra-rugged thermal weapon sights bring snipers, marksmen and heavy machine gun crews everything they need to engage targets with surgical precision at long range and stay connected with commanders. Available in medium-range and long-range versions, Cecile-TS combines a state-of-the-art optronics package with the very latest advances in mechanical design.
Unparalleled range capabilities
The long-range version of Cecile-TS is ideal for special forces snipers and spotters working in pairs to identify and eliminate individual high-value targets or destroy vehicles and other assets. In a typical scenario, a spotter equipped with a hand-held thermal imager and target locator, such as Sophie, would locate and identify the target before giving the sniper the order to fire. The medium-range version of Cecile-TS is designed for use by marksmen working within infantry platoons to engage enemy combatants directly.
With its uncooled high-resolution infrared detector, flexible zoom capabilities and a wide field of view at long range, CECILE-TS combines Thales's leading-edge optronics technology with the expertise of SCROME, a specialist in weapon sights and optomechanical design based in France. 
It is compatible with all NATO-standard and Picatinny mounting rails and platforms.
Expert in ergonomics
The unique mechanical design of Cecile-TS delivers outstanding recoil resistance and robust performance in hostile territory when troops have little access to technical or logistic support. The sight's long eye relief ensures that the eye is positioned at a safe distance, and the eyepiece is also lower than the objective lens for a more natural firing position. This unique design feature explains the distinctive physical outline of Cecile-TS.
Cecile-TS thermal weapon sights offer in-built connectivity for easy integration with soldier equipment and other assets and to enhance local situational awareness for spotter/sniper teams and share a common operational picture with command centres.