Thales and Ericsson have partnered to enable enterprise OEMs to drastically simplify and accelerate IoT deployments, leveraging eSIM (embedded SIM) technology and providing a single IoT platform to onboard all stakeholders: Ericsson IoT Accelerator Device Connect.
What is the current context for IoT deployment?
As part of their digital transformation, enterprise OEMs are on a journey to bring connectivity to their devices. Currently, these enterprise OEMs are struggling with IoT projects due to the complexity of integrating multiple technologies and suppliers. From the initial prototyping phase, as well as during development and manufacturing prior to deployment, enterprise OEMs are facing multiple challenges, particularly in selecting the right partner and providers.
Enterprise OEMs are finding it a challenge to interface with multiple Connectivity Service Providers (CSPs), which require time consuming and costly roaming agreements, to properly connect their devices across multiple countries. The key business need is for a simple and secure way to connect their devices, and to benefit from a single SKU (Stock Keeping Unit) approach that avoids unnecessary supply chain costs. 
The objective of  the Thales and Ericsson partnership is to drastically simplify IoT deployments for enterprise OEMs, by pre-integrating and pre-defining a range of connectivity services. Similarly, the aim is to provide CSPs with easy access to new connectivity services for truly global IoT deployments. 
How do Thales and Ericsson accelerate IoT deployment?
This is where Ericsson's  IoT Accelerator Device Connect comes into play.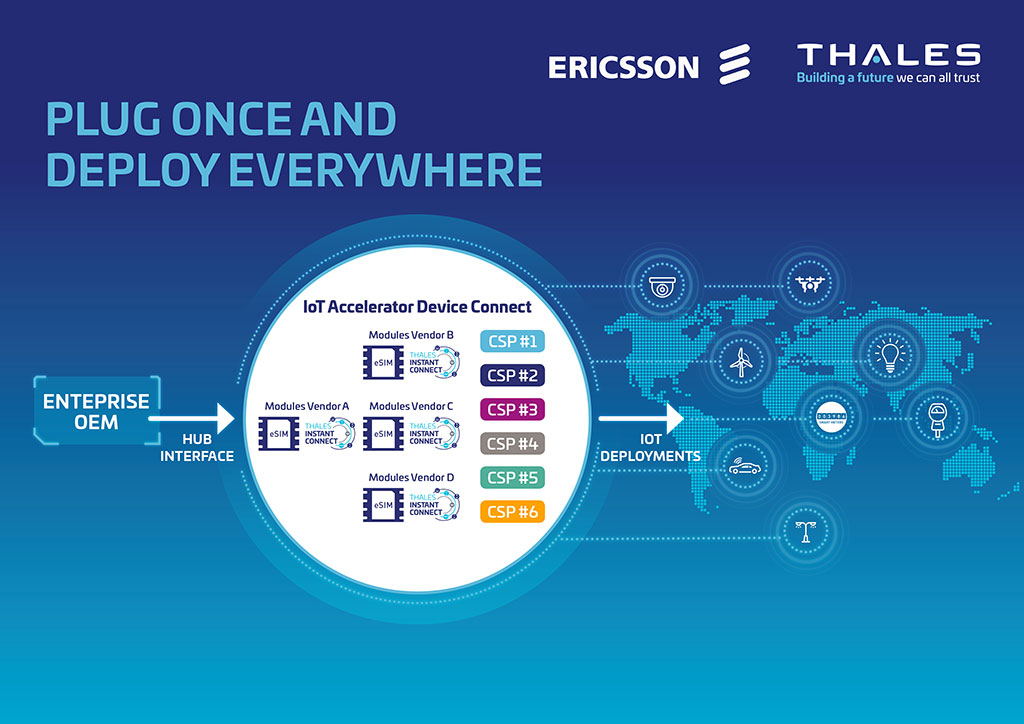 As part of Ericsson's IoT Accelerator family of packaged services with plug-and-play access to cellular IoT connectivity for enterprises, IoT Accelerator Device Connect is designed to enable easy access to eSIM-based IoT connectivity (leveraging Thales Instant Connect), resulting in faster time-to-market for IoT deployments. IoT Accelerator Device Connect is built in partnership with Thales, leveraging their market leadership in eSIM solutions and connectivity modules.
Ericsson and Thales will work with Communication Module Vendors to embed eSIM with provisioning connectivity within their module offerings. Enterprise OEMs will have the ability to purchase these modules and include them in their development, manufacturing and supply chain processes. When an enterprise OEM wants to connect its devices, it simply selects the preferred IoT Accelerator CSP partner, via a single-click or API call.
The new service is a business accelerator through which enterprise OEMs can significantly reduce time-to-market and seamlessly access IoT cellular connectivity. Enterprise OEMs benefit from the flexibility to deploy fleets of IoT devices anywhere in the world, without individual contracts with CSPs. When activating the device, enterprise OEMs can simply choose their preferred CSP by accessing the CSP partner ecosystem and defining the eSIM profile that matches their connectivity needs. As a result, enterprise OEMs have fewer SKUs to manage and lower total cost of ownership.