Duet DRF is a state of the art multi-purpose imaging solution for all your radiography, fluoroscopy and angiography clinical examination needs.

This high resolution digital system features Thales's own industry leading Pixium RF 4343 / RF 4343 FL flat panel digital detectors. The Pixium EZ 3543 is an optional extra.

Guaranteed outstanding image quality in real time, and optimised workflow makes the traditional Image Intensifier obsolete.
Turn Key Solution:
This groundbreaking solution integrates seamlessly with your R+F table meaning its use is instantaneous. Operating on the familiar Windows 7 environment on a touch screen title interface, its use is intuitive meaning a beginner or experienced technician alike can use it. A single control operates all of the detector, the X-ray generator and the X-ray table, ensuring greater system and generator control for immediate technician use.
Workflow Optimisation:
The systems expansive data storage system optimises workflow with 70,000 images stored in one configuration. Thanks to real-time image processing, the technician can immediately review images. Patient throughput is enhanced by the unique X-ray auto collimation which ensures quick treatment of patient.
Optimum Imaging:
Duet DRF is maximised to take static and dynamic images for RF, gastro and angio purposes at low doses. Images are processed in real time and thanks to propriety image processing produce unrivaled image quality. Numerous image reviewing and processing configurations are your disposal so you can optimise the system for individual workflow requirements. Up to 30% dose reduction
in DR mode.
Software Ergonomy:
Operating on the Windows 7 system is the new generation object-oriented software. The software facilitates real-time image acquisition and processing, and features a peripheral equipment interface. Furthermore, it means the system is easily integrated into a PACS network, thanks to DICOM connectivity which transmits patient demographics, examination and image data in digital format.
Short Time-To-Market:
This solution offers the convenience of having a sole supplier for a complete imaging system. The system is fully validated and certified (CE and FDA) and offers Multi Language support (localisation).
Cost Effective:
A single detector for both radiography and fluroscopy, means you don't have to change detectors for different examinations. There is also a single console for system operation and generation control and pre-programmed APR's which generates high patient throughput.

 
Duet DR contains various possibilities of configurations to ensure ultimate efficiency for individual clinic needs.
1. First of all select which of our marketing leading fluoroscopic detectors suits your needs best
2. Pixium portable ez 3543 is an optional extra : for bucky and out of bucky purpose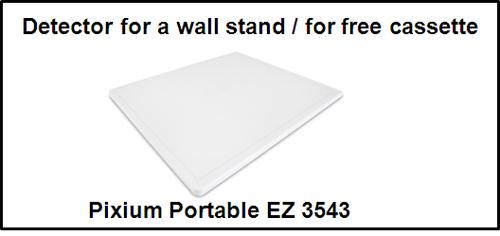 3. Software Options
Angiography Package
Last Fluoro Hold (LFH)
DAP SW interface
Duet Key Pad
Also included in the duet imaging solutions package:

This bundle offer comes with a fully configured workstation, a dedicated processing unit, an FPD power supply, an electronic control unit for the room and the associated cables.