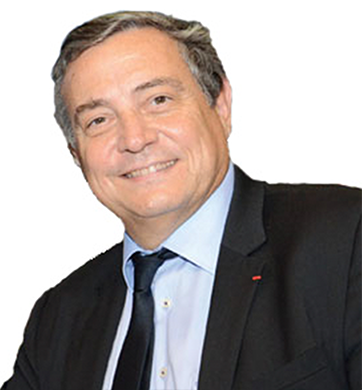 Vice President and Managing Director, Transportation Solutions, & VP Urban Rail Signalling
Dominique Gaiardo began his career as a research engineer in Nuclear Physics at the CNRS (Centre National de la Recherche Scientifique) specializing in the development of gaseous particular detection. He joined Thales (then known as Thomson-CSF), as Head of Software Engineering for combat aircraft radar, in 1990. Then, attracted by export markets and technology, he joined the Training & Simulation business in 1997, and since then has assumed a number of increasingly senior positions.
He became head of the Civil and Military Aircraft, Helicopters, and Nuclear Power Plants Simulator Business Unit in 1998. In 2003, he was appointed Director of Training & Simulation overseeing operations in France, Germany and Australia. In 2005, he was appointed CEO of the Simulators activities in France, UK, US, Germany and Australia and that same year he became CEO of Thales Training & Simulation. He was appointed Deputy Managing Director of Thales Services in 2006, and CEO of Thales Services SAS from 2007 to 2009.
Following the transfer of the Alcatel transport business to Thales, in 2008, he was appointed VP, Managing Director of Metro Signalling, in charge of business units in Canada, UK, US, France and China. In 2010, he has held the position of Chief Operating Officer for Thales Security Solutions & Services and following the formation of Thales Communications & Security became Vice President, Managing Director for the Thales Transport & Security business in France. In addition, in 2013 he was appointed VP, Managing Director of the Protection Systems business dedicated to Defence and Security business (C4i).
In January 2016, Dominique Gaiardo was appointed VP, Managing Director of Urban Rail Signalling business for Thales and General Manager of Thales Canada Transportation Solutions.
Mr. Gaiardo holds an Applied Physics degree from ENSPM (École nationale supérieure de physique), and a Masters in Optics and Signal Processing.