How the Digital Transformation is Empowering Naval Superiority
"Without a decisive naval force, we can do nothing definitive, and, with it, everything honourable and glorious."
George Washington wrote those words to his brother in arms the Marquis de Lafayette in 1781, the middle of the American Revolutionary War.
His expression has never been more meaningful than today, given the increasing challenges confronted by naval forces worldwide.
"No matter where in the world's oceans you look, naval forces are facing not only more threats but more complex ones of all kinds", says Admiral Stephane Verwaerde, Defence Advisor (Navy) to Thales.
Thales's long experience and recognized expertise in naval equipment have earned it the right to equip over 500 warships for over 50 client navies and coastguards worldwide. This provides Thales with a truly global and international vision of the stakes of defence and security.
Long known for the quality of its sensors in sonar and radar, as in communication systems, Thales is developing them as the base of the digital transformation to deliver comprehensive, reliable and robust systems solutions for the naval warfare, protection, and surveillance that the new marine challenges demand.
"Today we are applying the disruptive technologies of the digital revolution---Artificial Intelligence, Data Analytics, Connectivity and Cybersecurity—to give our customers the advantage over the adversary on the open seas, no matter what the situation they face and no matter what support is required from us.", explains Admiral Verwaerde.
To cite one example, those technologies linked to sensors in sonar, radar and electronic support measures can take surveillance and precision intervention to the next level. This means in practice that they can make the difference between being just a player on the chessboard of the electronic spectrum or mastering it for electronic warfare superiority.
Unprecedented scope and performance of naval support systems solutions are needed because the challenges themselves are more widespread than ever, as a quick glance of the oceans shows.
Five distinct current or potential conflict zones exist with theatres of operation including Asia Pacific, the Indian Ocean, the Mediterranean and Black Sea, the North Atlantic and the Baltic, and Western Africa and the Gulf of Guinea.
And the nature of the conflicts has never been more varied and challenging. They include:
Sea lanes and maritime choke-point control
More restrictions to free circulation
Territorial disputes
Regional instability and sea-control conflicts
Constrained access to natural maritime resources
Rising sea levels and new Arctic shipping routes
Sea-robbery and piracy
Illegal trafficking and immigration
Increase in cyber-attacks
Threats from ballistic missiles
Both the geographic scope and variety of the challenges call for innovative, robust and reliable support for peak performance. So, Thales supports the transformation of naval forces by delivering systems and solutions that ensure that all players exchange the required information to act decisively through interoperability with land forces, air forces, allied and NATO. 
​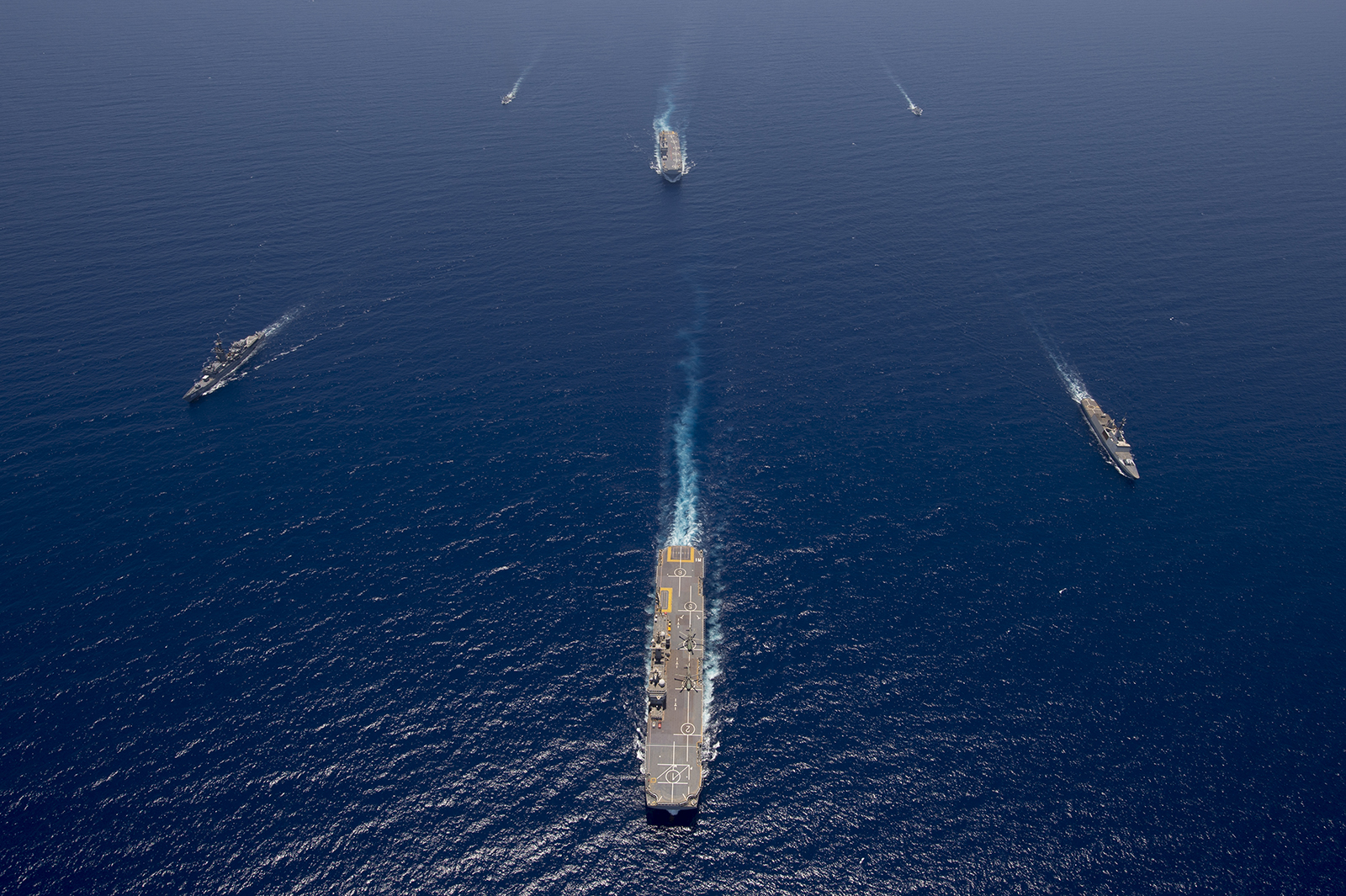 ​
​
Thales equipment covers Combat Management Systems and C4ISR requirements (Command, Control, Communications, Computers, Intelligence, Surveillance and Reconnaissance). Its offers range from equipment supplier to large systems prime contractor and service provider. Key objectives for developing solutions are their modularity, interoperability, performance, resilience, security, and competitiveness. They will be key enablers in the coming collaborative way of fighting.
And Thales is present in all domains of naval force intervention.
Above water warfare including command and control systems, antisurface and anti-air warfare systems. It also delivers state-of-the-art equipment systems in radars, optronics, communications and electronic warfare.
Underwater warfare, building on over half a century of experience, where Thales is now a global leader and the world's top exporter of sonars and related systems.
Services at all levels including support packages based on specific operational and maintenance requirements. Indeed, with the digital transformation, a combination of connected sensors and AI allows for predictive maintenance before problems can affect the performance of the equipment.
"Of course", concludes Admiral Verwaerde, "training is critical to assure that the equipment performs at peak level. There, too, Thales uses its technologies to train through simulators and then adapt the training on each ship. So the place of the human decision-makers will continue to be central to superiority on the seas in the age of the digital transformation."