Operational land forces are using various optronics equipment such as Night Vision Goggles, Hand-Held Thermal Imagers or solutions integrated into platforms. Availability of military optronics is a key to operational readiness and mission success. Despite the increase of the use of optronics equipment, soldiers will still expect short and optimal guaranteed turnaround times and the best possible performance of such equipment (military operations; border surveillance...). Aware of these challenges, Thales takes a relevant, flexible and long-term view of support for its optronics offering. Thales offers a wide range of support solutions, from on-demand services to service-level agreements, as well as operation services and transfer of maintenance.
 
ON DEMAND SERVICES
Thales offers services dedicated to optronics maintenance, such as the delivery of spares & consumables, on-site diagnostic & preventive maintenance, on-site repair and the classical factory repair.
Furthermore, some services are more focused on the improvement of the use of optronics solutions. Thales can propose software or hardware upgrades to improve equipment performance and maintenance capacity as well as training for maintenance activities and/or the operational exploitation of the thermal imagers. Rental and Leasing of thermal imagers will increase the availability of the fleet, and the mission preparation success rate.
Despite the very long duration of its optronics offering, land forces can still choose new Thales thermal imagers solutions. The dismantling: when you have stock of old thermal imagers that you no longer need, Thales offers to dismantle, recycle or refurbish the outdated items.
Thales is able to provide the support you need, when you need it.
THALES SERVICE LEVEL AGREEMENTS
Service Level Agreements (SLAs) help customers take a long-term view of their maintenance budgets. For a yearly price, you get an inclusive package of services and solutions with guaranteed and measurable results. One-year or multi-year SLAs can be chosen either directly after product acceptance, or at the end of the initial warranty period. Three main activities have been packaged together and can be enhanced and strengthened depending on the level of commitment that you expect from Thales.
 
Customer support
A dedicated 24/7 hotline for email and telephone enquiries and requests, offers guaranteed call-back times and detailed ticket tracking. All our SLAs include access to our Customer On Line interactive web platform. Secured remote technical support staff can also provide technical assistance by phone or email (fault diagnostics…). Dedicated customer care managers are available to accurately coordinate your support operations.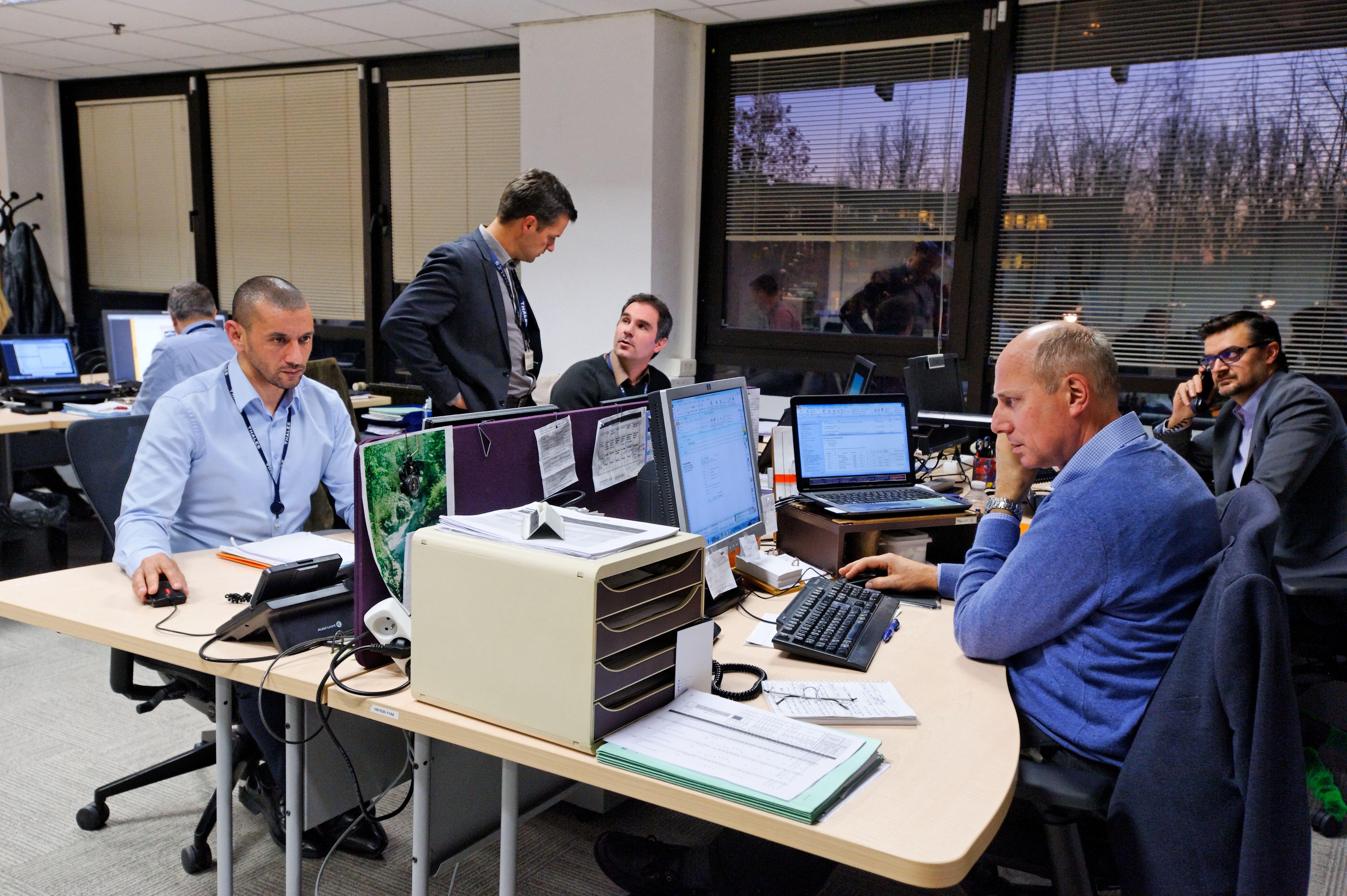 Maintenance & repair
All our SLAs include
guaranteed turnaround times
for repairs as well as systematic obsolescence tracking and information. We can also schedule annual deliveries of consumables (eye cups, batteries…) and plan yearly on-site inspections and preventive maintenance visits. In addition, while your equipment is being repaired, we can send you replacement products within a few days of receiving your incident report, to guarantee the highest possible levels of fleet availability and operational readiness.
Advanced services
Thales's expert trainers are available to make sure users always get the most out of their equipment, and to keep maintenance teams up to date on a regular basis. The agreement can also cover yearly software upgrades to incorporate new functionalities, ensure continued compliance with regulations and install corrective patches between software releases. With the SmartFleet online fleet management solution from Thales, you can: plan and record your maintenance operations, prepare your missions with maximum efficiency and availability, monitor health and usage statistics, and automatically generate reports and KPIs for every optronic product in your fleet.
 
With contractual commitments from a trusted service partner, land forces will benefit from:
Maximum fleet availability and operational readiness
Top performance throughout the equipment's lifecycle
Fixed annual fee for all repair and maintenance operations
24/7 support and delivery time commitments
Attenuation of administrative workload
FOCUS ON THE SERVICES TOOLS AND MEANS
Innovation is part of services development. Thales has designed various solutions :
Predictive maintenance with SmartFleet
Beyond preventive maintenance, Thales is pioneering a new generation of predictive support tools that take maintenance optimisation to a new level. SmartFleet is based on a combination of Health and Usage Monitoring Systems, Big Data technologies and patented algorithms to predict failures based on usage patterns. This optimises equipment selection to minimise the risk of failures during a mission as well as increasing availability.
SmartFleet is an integrated fleet management and predictive maintenance platform for end users, maintenance teams and partners. Suitable for any kind of optronic equipment (vehicle, UAV, pod-mounted, soldier suites, etc.), Smartfleet is hosted on Thales secure servers to avoid additional IT costs for customers.  The intuitive graphical user interface displays overall fleet status, including equipment locations and usage statistics, and automatically generates KPIs and Excel reports for each fleet.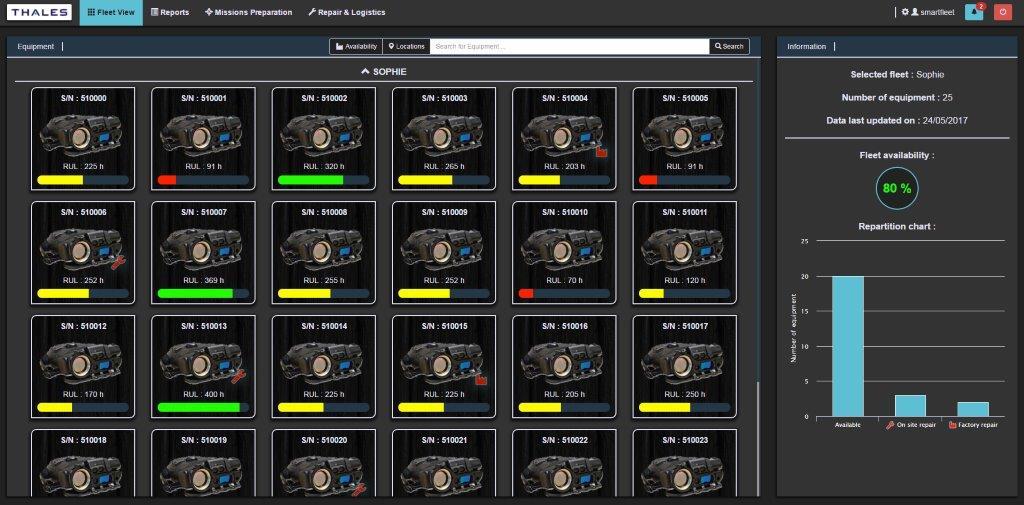 Mobile ISO 7 clean room and workbenches
Imagine you need immediate assistance to repair your thermal imagers on-site or while your units are on deployment. Advanced mobile test benches and tools have been specifically designed to allow our technical staff to perform most intermediate and depot-level preventive maintenance or repair operations.  The mobile workbenches, including a mobile ISO 7 clean room, which are custom designed for ease of use and rapid ad-hoc deployment to perform maintenance and repair procedures including I² changes, helium refills for cooling units and getter reactivation.
 
EXTENDED AND MANAGED SERVICES
Having worked with maintenance & repair organisations for many years, Thales knows that no two customers are the same. To help the customer stay ahead as their situation evolves, Thales offers a range of customised service options:  
Transfer of maintenance
For customers seeking to undertake maintenance tasks in their own organisations, Thales provides all the tools (benches, training, spares…) and the appropriate SLAs to cover maintenance resources and guarantee spares replenishment delivery times. This can be an ideal solution if land forces operate a large fleet or want to share maintenance and repair resources across multiple optronic products.
Operational support
Operation support includes the turnkey design, deployment and operation of any kind of logistic and maintenance service anywhere in the world. We can operate a complete maintenance centre on your behalf, or provide resident or visiting technical assistance, or manage a complete equipment fleet, including storage, maintenance and worldwide shipments. We can even offer third-party maintenance for equipment from other suppliers.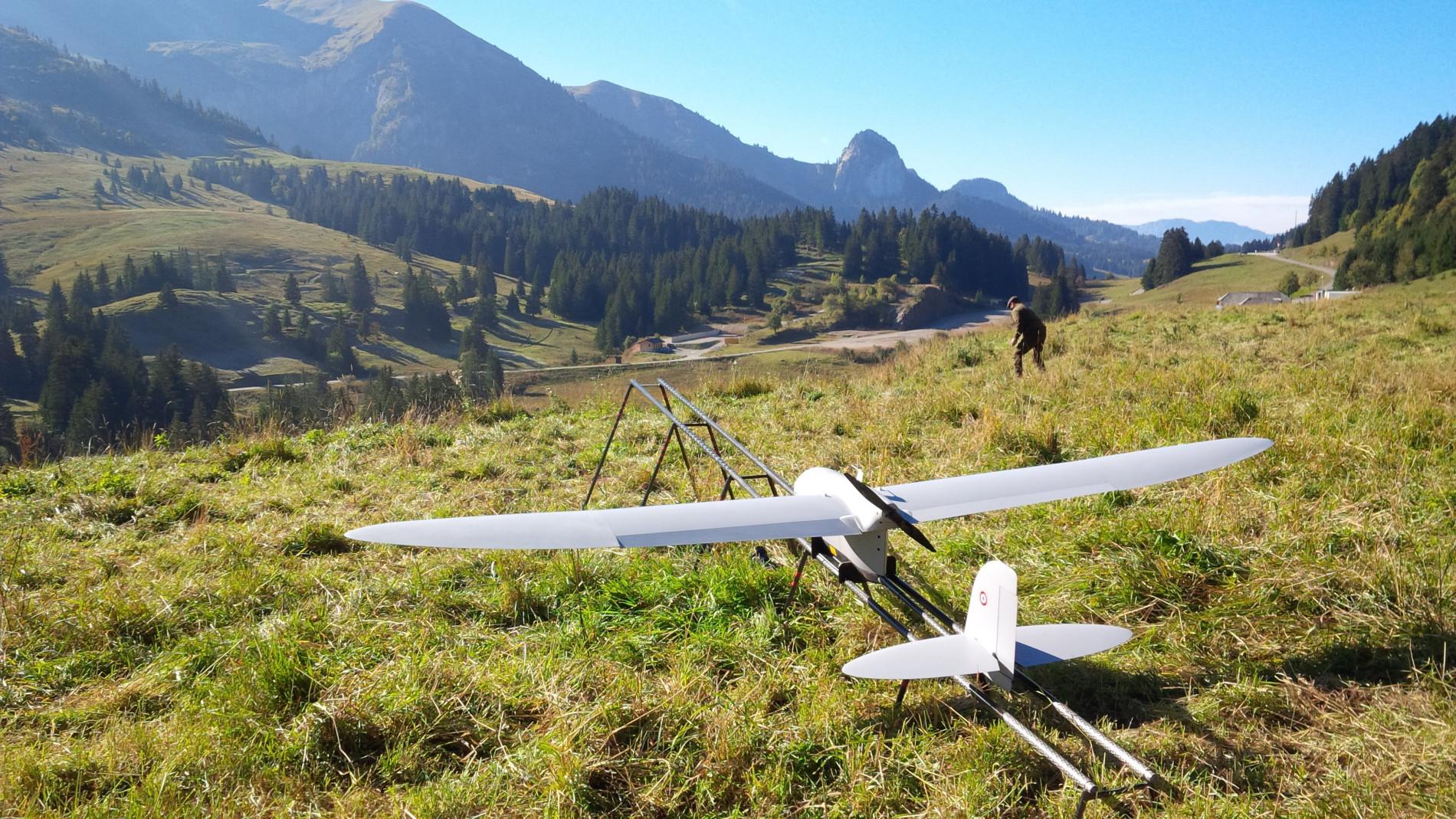 Operational services
In addition, we can design, deploy and operate systems to meet critical requirements, such as surveillance solutions using fixed EO/IR technologies or UAVs.
Studies and consulting
We work with you to optimise your maintenance operations in terms of technologies, support concepts, processes and organisational models. Our consultants and analysts offer a wide range of deliverables, from audits to prospective studies, recommending ways to optimise maintenance & repair organisations today and ensure that sustainable solutions are in place for the future.
Whether you favour maximum autonomy, full managed services with or without third-party maintenance, or any solution in between, we help you choose the most appropriate model for your organisation. With Thales as your service partner, you will find the best combination of support options to make sure your equipment is ready for action when you need it most, over the long term. From on-demand support to tailored SLAs, from organisational consulting to managed services, Thales offers a complete range of solutions and a worldwide presence to maximise your long-term fleet availability and budget control.