Collaboration between Thales in Singapore and DSTA on their Global Internship Programme
Meet Lee Yi Liang, a third-year aeronautical engineering undergrad from the University of Cambridge who recently completed his first summer internship with Thales in France through a joint agreement between Thales and Singapore's Defence Science and Technology Agency (DSTA) as part of DSTA's Global Internship Programme (GIP).
Thales is constantly looking for meaningful collaboration with our customers and the perfect opportunity arose in the DSTA Global Internship Programme (GIP). This programme provides opportunities for promising scholars to undertake overseas internships with DSTA's partners. With Thales' wide scope of business and its presence in 56 countries, it was an experience for Yi Liang to learn more about Thales' decisive technologies in the space sector. Yi Liang was assigned by Thales Alenia Space to work at its research laboratory partner, TeSA, in Toulouse, France, where he would be researching on the topic of telecommunications satellites (from July – September).  We spoke to Yi Liang on his experience:
1) What did you know about Thales before your internship?
I visited the Thales booth as part of a learning journey organised by DSTA at the last IMDEX 2015 exhibition, and got insights into the submarine business. I thought it was a really complex and advanced system and that piqued my interest quite a bit. During my military service in Singapore, I was attached to the Republic of Singapore Air Force where French Mistral man-portable air defence systems were in operation. It gave me good insights into France's defence technology and engineering.
2) What were you looking to get out of this internship?
I saw this as an opportunity to deepen my technical understanding in the area of research and to also gain exposure to a different culture and environment.  Having an internship with a technology company with a wide portfolio of businesses, including defence, is a rare opportunity and I was excited to give it a shot. I also enjoy meeting different people from different backgrounds.
3) What did you work on during your internship?  
Thales Alenia Space assigned me to work at TeSA, a research laboratory where professors, post-graduate students and student interns work together on technology research.  My focus area was communications and signal processing.  I researched on Global Navigation Satellite System Reflectometry using Galileo signals for passive radar applications.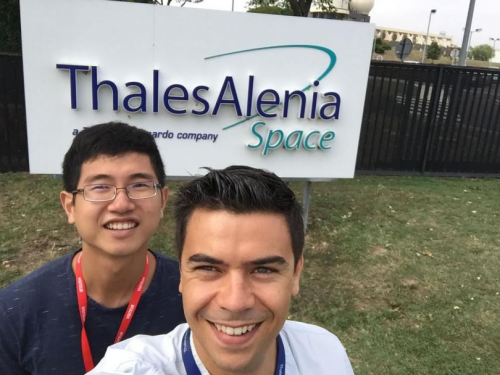 4) What were some of the most memorable events or learnings from your internship?
I have learned a great deal from my supervisor, Mehdi Ait Ighil from Thales Alenia Space. He spent significant time and effort coaching me throughout the project, and he was great at helping me get a better technical understanding in radar and signal processing.  Hands-on experience is much more effective than studying theory from a book.  
During this internship, I was also able to observe how Mehdi led his team by example and with great optimism and resilience whenever challenging situations arose. He was a great host and made sure I was adapting well in Toulouse, giving me guidance and advice about France whenever possible. Being far from home, I really appreciated all his efforts to make me feel welcome and at home during those two months.
At TeSA, regular coffee breaks were held at 10am and 4pm where everyone would gather around the pantry. This gave people the opportunity to interact and bond. I found it a meaningful habit as it helps you get to know your co-workers better in an informal setting.
5) Now that the internship is over, what are some of your reflections?
I think a significant accomplishment was being able to learn and combine different concepts surrounding radar and develop an understanding of how the system worked and how to improve it. Developing a deep understanding of a system is a painstaking but necessary part of research process that includes different aspects like Physics, the assumptions made and how the numbers are calculated.   The internship has helped to deepen my understanding of radio communications. I now appreciate the world of electromagnetic communications that is hidden from human senses.
Initially, I had hoped to have the opportunity to interact with more Thales employees. But given the internship period, I spent most of my time on the project and with my supervisor. I learnt a lot from both, so it was a great experience on the whole.
The living and working environment during the internship was by far the biggest eye-opener for me.  In France, I experienced summer where many people took long breaks from work. With the pleasant weather and tempo, I managed to enjoy myself during my down time, summer festivals with lots of free activities. Seeing the community come together and enjoy themselves, and interacting with the locals, I saw that the French really know how to wind down and have fun.
In the office, the de-facto language is French, although my colleagues are very conversant in English whenever we interact.  This was the first time I was in a work environment where people spoke a different language and I could feel the sense of distance due to language.
On a personal front, spending the internship in France has also given me perspectives that I would not have obtained from an internship in Singapore or even from a conventional European holiday. In this short period of two months, I have gotten an alternative view of the world and this is an experience I will remember as I continue on in my studies.