Thales launches a new station in the Cairo-Alexandria project
To mark the inauguration, on 26 August this year the Egyptian Minister of Transport, Hisham Arafat, and senior ENR management, visited the station along with Rufino Ortega, Thales' project manager. The meeting enjoyed considerable media coverage from the major Egyptian TV channels.
During his visit, the Minister gave a detailed description of the works carried out by Thales following the completion of the Berket el Sabaa section, also enumerating the remaining stations, announcing that Etay El Barood, and subsequently Kafr el Zayat, would soon be launched with Thales technology. The works are progressing and software testing with the client at the first of the stations will commence in September 2017.
The Minister estimates that the Cairo-Alexandria project will be concluded between the end of 2018 and the beginning of 2019, and predicts that the entire line up to Aswan will be modernised by 2022.
The geographical area of the Berket el Sabaa station comprises a length of approximately 15km, with 8 automatic level crossings, and one of the main challenges of this new launch has been the complexity of the electrical wiring across the section, which had to traverse the bottom of the basin of the Nile river over a length of some 750m, crossing an existing swinging bridge through so-called horizontal directional drilling (HDD), implemented to this end.
Another of the project's more important milestones is having managed to achieve consensual agreement on the project's signalling as applies to this new Berket station, in accordance with both the ENR and Systra, using the experience gained in operating Quesna station which was launched in December 2016.
With the inauguration of Berket el Sabaa station, Thales is continuing to lead the unrolling of signalling systems in Egypt, driving and being a key player in the provision of high-level technical and security solutions for the running of conventional lines in the country.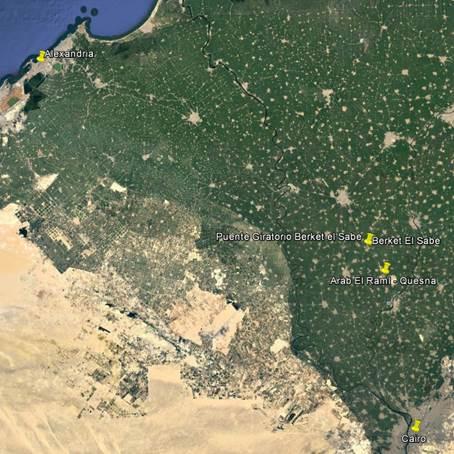 Stations launched on the Cairo – Alexandria line
Regarding the Cairo-Alexandria line
At 25 million a year, the Cairo-Alexandria line carries more passengers than any other on the Egyptian rail network, and its renovation is spearheading an ambitious plan promoted by the country's Ministry of Transport to transform Egypt's railway infrastructure.
The modernisation of this important transport link between the two most highly-populated cities in Egypt will improve the line's safety and capacity, allowing for a greater number of passengers to be able to use it. The new signalling, telecommunications and control systems will make it possible to increase train speeds by 20kmh, going from the current 140kmh to 160kmh, but it will also make it possible for the interval between trains to be reduced, from 10 to 5 minutes, which will improve the frequency of the service.