Adapting to the Challenge
David Rose works as a Simulator Engineer for Thales in Norfolk. Having spent 31 years serving in the RAF, he was medically discharged due to injury and now works on the Tornado GR4 Simulator. Outside of work, David competes in adaptive sporting competitions at an international level. David tells us more about transitioning from life in the Armed Forces.
David, tell us about your time in the RAF
I served for 31 years as an Avionics Engineer, reaching the rank of Flight Sergeant. I worked on a range of aircraft, including the Tornado GR1 and GR4, Jaguar, Wessex and Jet Provost, to name a few. My time in the RAF involved being based across a number of UK sites, as well as postings in Germany and Cyprus. I was also deployed across the world including operations in Afghanistan, Iraq and the Balkans.
Can you tell us about why you were medically discharged?
I fractured my right clavicle into five parts, following a cycling accident in 2009. The non-invasive treatment, in addition to the roles I undertook in the RAF, resulted in the bone growth compressing the nerves and blood vessels that fed my arm. This created chronic pain, spasms, reduced blood flow and a loss of grip and feeling in my right limb. Additionally, my left knee is nearing the point that a replacement is required, due to a separate incident whilst in the RAF. Despite several operations and much time spent at the Defence Medical Rehabilitation Centre Headley Court, I was medically discharged from the RAF after 31 years' service in February 2018.
What was it like transitioning from the RAF to life working at Thales?
Being medically discharged was a stressful and worrying time for my family and I with regards to income and future career prospects. Attaining an interview with Thales was a massive confidence boost and through being honest and upfront about what I am capable of, allowed me to best reflect the skills that I could bring to the company. Attaining a role within a caring workplace greatly reduce the transitional stress.
How have you been supported in the workplace?
My colleagues and managers took the time to get to know me and see if anything needed to be put in place to support me. I was introduced to my job at a pace that suited my circumstances, I picked up my duties quickly and, although I continue to learn on a daily basis, I have regained a good level of self-confidence that enables me to work effectively. My injuries are not always obvious or visible, but I feel comfortable and empowered to tell people how I am feeling and say whether anything could affect my work, without fear of judgement.
To what extent have you been able to pursue your interest in sport?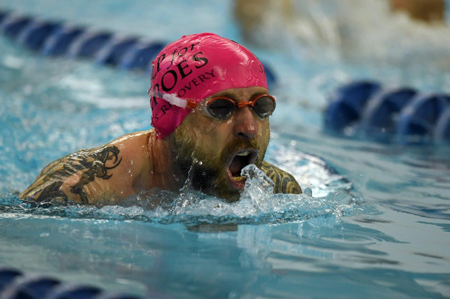 I applied for the Invictus Games programme in order to improve my fitness and adaptive sport technique. After a lot of training, I attended the trials with 450 others, chasing one of the 72 Invictus and 40 Warrior places.  I was overjoyed to be selected to represent Team UK at the Colorado Warrior Games in June, which left me three weeks to prepare. I was entered into two recumbent cycling events and five swimming events, related to my injuries. My goals were to complete each event, put in maximum effort and gain some personal best times; I returned from this life changing opportunity with four medals, PB's in all my events and an entirely new outlook on disabilities. I've since completed a triathlon, raced on my trike and taken up archery with my sights set firmly on some exciting challenges in 2019.
Is there anything you would like to say to people in a similar position to yourself that may be thinking of applying to Thales?
I feared being judged and not being effective but neither occurred due to the people I work alongside. I have had genuine and honest conversation with my managers, which has clarified how they will support me and also how I can achieve my goals.
Is there anything else that you would like to add?
Thales and my managers have been incredibly supportive, which has allowed me to carry out all aspects of my job, irrespective of potential limitations.