Battlefield Ambulance: Driving Forward Life Saving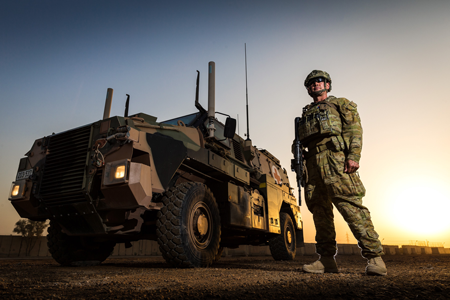 A new generation of protected vehicle ambulances will make it possible to drive an ambulance with a 'clinical space' right to the frontline – meaning better treatment of injured soldiers and more lives saved.
Innovation in military equipment often comes from seeing the possibilities in new technology – finding a way to make something smaller, lighter, smarter, more powerful or more cheaply.
But sometimes necessity is the mother of invention. This has been the case with the evolution of battlefield medical response. 
The Evolution of the Battlefield Ambulance
Historically, the role of field ambulances was largely to get an injured soldier off the battlefield and to a treatment centre – if possible, within the 'golden hour', where life-saving procedures stand the greatest chance of success.
This changed during the conflicts in Iraq and Afghanistan. Due to challenging terrain, a limited supply of sufficiently armoured vehicles , total air superiority –  and in particular, the nature of injuries soldiers were sustaining from IEDs – a faster, safer approach was needed. So response units like the airborne Medical Emergency Response Teams (MERTs) were created. 
Rather than taking an injured soldier to a treatment centre, MERTs would take the treatment centre to the soldier. Four-person MERTs were made up of a flexible combination of consultants, anaesthetists, ITU nurses and other specialists. 
A MERT transported by Chinook, could arrive within minutes and begin life-saving procedures immediately. It was a ground-breaking approach, and undoubtedly saved hundreds, if not thousands, of lives.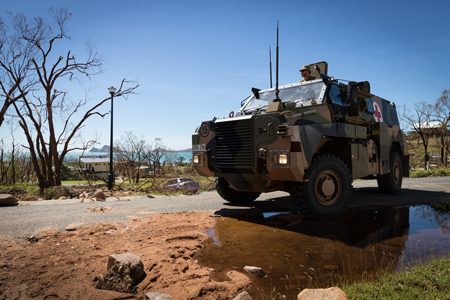 But airborne MERTs face limitations.  They can reach a location quickly, but landing safely is not always easy. Life-saving procedures can be started immediately – but it's impossible to continue during flight. And because the helicopters used were multi-role, storage for critical supplies – such as blood and oxygen – can only ever be temporary. 
Flying-in MERTs is also resource intensive. Every deployment needs not only the team's helicopter, but also the support of a pair of Apaches to provide protection. This can have a knock-on effect for operational effectiveness.
So the key to making emergency response teams more effective is to improve and diversify their transport. This is why Thales have been developing a new  Bushmaster Ambulance  – a purpose-built armoured 'clinical space', designed around the intent of the treatment provided by a MERT, and integrated into one of the world's most well-respected protected mobility vehicles. Thales looked out into the civil ambulance community in a number of countries to identify some of the world's best practices for clinical spaces 'on the move.' Then Thales utilised military customer feedback and user community input to develop the Bushmaster MR6 Ambulance.
Putting Clinical Care in Harm's Way - Safely
The Bushmaster MR6 is  fast, highly manoeuvrable, and exceptionally well protected. There are over 1,200 Bushmasters in service around the world, and in over 15 years of service they have been hit by well over 120 'explosive events' – without there being a single reported fatality. Indeed 50 Bushmasters have been written off entirely by Improvised Explosive Devices (IEDs) - it's a vehicle that already saves lives just through its protection design. 
Transforming the Bushmaster into a ground based MERT or in fact an ambulance with a clinical space to provide advanced levels of treatment has taken a meticulous attention to detail, and hasn't been without challenges. The vehicle's highly effective protection is partly thanks to the configuration of its chassis inside of its monocoque structure. However, this made for a less than ideal arrangement for patients and crew – initially, stretchers had to be loaded overhead, into an awkwardly high 'treatment' position, made even more difficult by a low ceiling.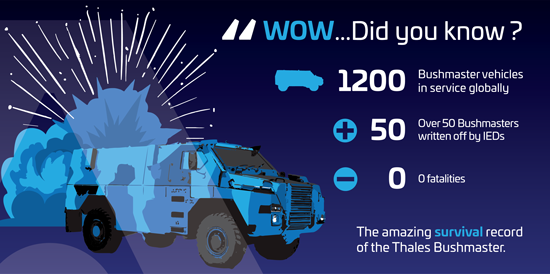 Effective treatment needs headspace and elbow room as much as gas and air, so Thales completely reconfigured the vehicle.  Now, a unique stretcher loading system means even the smallest and lightest medic can now easily load the largest, heaviest soldier. And inside, there's room for two stretchered patients and a 5-strong MERT team,  with two positioned behind the patient's head, (the ideal position for carrying out procedures such as intubation) and enough headroom for even the tallest medic to stand in the 'locked arms' position needed for giving CPR.
And being a dedicated medical vehicle, it's been possible to optimise the layout for MERT use – everything the medics need is within reach, in specially designed storage units. Gas, air and refrigeration are built in. And the specially designed dynamic seat belts mean procedures can be carried out safely even while moving at speed, cross-country.
Driving Forward Military Medical Care
Kevin Wall, the VP heading the Thales Vehicles & Tactical Systems business globally said:
By bringing together the world's best protected vehicle, a deep understanding of what emergency response teams need to work at their best, and the expertise to design the ideal frontline-ready clinical space, Thales are helping in driving forward the future of battlefield medical care, which ultimately will save lives inside a vehicle that is already proven to save lives. Our Bushmaster new Bushmaster MR6 ambulance is something our team is very proud of.