Deepening ties, strengthening bonds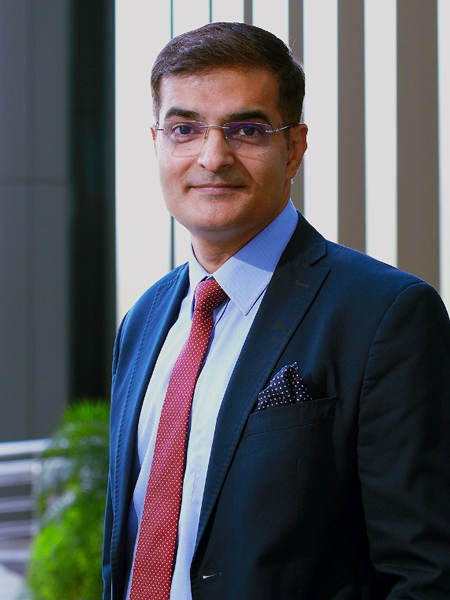 As the Carrier Strike Group continues its deployment around the Indo-Pacific region, we caught up with Ashish Saraf, VP and Country Director of Thales in India. Among other things, we talked about his new role with Thales India and the deepening ties between the UK and Indian Governments and their respective Navies.
How did you come to join Thales?
I was appointed asas VP and Country Director of Thales in India in June this year. My previous role to this was as President of Airbus Helicopters, South Asia. Prior to that I led a joint venture between Sikorsky Aircraft Corporation (now owned by Lockheed Martin) and Tata to set up India's largest private sector aerospace manufacturing company.
How have your first few months been?
It's been an exciting journey familiarising myself with the diverse business lines and business units we have across the Group and in India. They cover everything from defence to aerospace to transport to digital identity and security for banking and telecoms, and other sectors. Plus, I've enjoyed getting to know customers, suppliers, partners and, of course, many new colleagues working locally, regionally and globally. 
How does Thales in India support the country's Armed Forces?
Well, Thales has been in India since 1953, so has developed a long and close relationship with all of its Armed Forces. For example, and among other things, we provide front-sector optronic, missile electronics, (AESA) RBE2 radar among a host of other sub systems as part of the Rafale Fighter Consortium to the Indian Air Force, optronics and air defence radars to the Indian Army, and EW systems, anti-submarine sonar systems and mine-hunting solutions to the Indian Navy. 
We're also supporting the Indian Government aim to become more self-reliant by developing our manufacturing footprint in line with its 'Make in India' policy, along with investing in a range of joint ventures and supply chain partnerships with public and private sector companies.
What do you think about Carrier Strike's visit to the region?
With it being the UK's first large-scale operational naval deployment in a generation, it clearly shows the UK's intention towards the Indo-Pacific region as a strategic priority. CSG's visit to, and the joint exercises in, the Bay of Bengal between the Royal Navy and Indian Navy shows the continuing and developing relationship between the UK and Indian Governments and their maritime defence forces. Thales has a lot of capabilities onboard HMS Queen Elizabeth and the wider CSG, and this visit is a great opportunity to showcase many of them.
Of course, as part of the Aircraft Carrier alliance, Thales led the design of the HMS Queen Elizabeth, as well as its power and propulsion system, and integrated platform management system. It would be great to extend all this knowledge and experience to help India's ambitions to build their own aircraft carriers in future. And not forgetting, the integrated comms, electronic warfare systems, sonars, radars and the optronic submarine masts we provide on vessels escorting the HMS Queen Elizabeth – above and below the waves. 
Can you talk a bit about STARStreak, Thales's high-velocity missile system?
This fifth-generation missile is in a class of its own. Mountable on ground vehicles or naval vessels STARStreak travels at more than Mach 3, has no countermeasures, and is designed to neutralise airborne threats up to 7km away, including fighter ground attack aircraft and helicopters. 
With the full support of the UK Government, we recently signed a memorandum of understanding with Bharat Dynamics Limited to make STARStreak in India. In other words, the UK Government has expressed a willingness to authorise an export licence for transferring the technology to India, again as part of the Make in India policy. And just as important, once manufacturing capabilities are set up, the UK Government will then purchase STARStreak missiles from India, helping to fuel India's ambition to become a defence technology exporter. So we're keen to make STARStreak a showcase programme that becomes the benchmark for defence collaboration and technology transfer between our two countries.
Anything else you'd like to add?
Yes, I'm excited about the future. Thales UK and Thales India have a long-standing and close connection. One that mirrors a tradition of partnership between UK and Indian companies in defence, innovation and knowledge-sharing, and increasingly between Governments. I'm really looking forward to helping strengthen those ties in the years ahead.
Header image © Crown copyright