A foot on a submarine, delivering technology for the Royal Navy, and the adventures of sea trials – just an average day for an engineer!
Could you tell us about your career at Thales?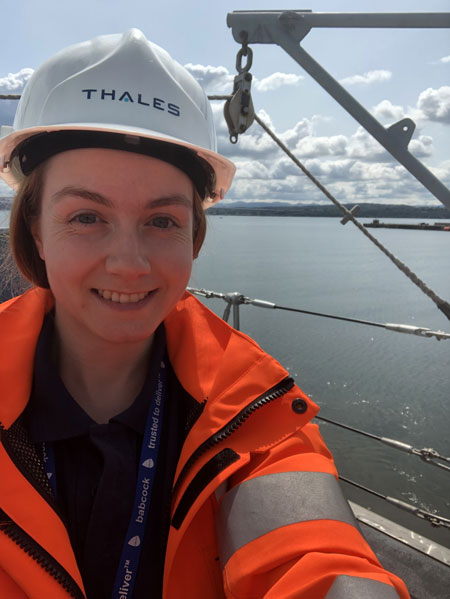 I'm Charlotte Rigby and I joined Thales for an Internship as an Installation and Test Engineer in 2013. In this role I gained vast experience with complex sonar systems, as well as being involved in the introduction of new and novel technologies. I had the opportunity to manage the build of a development and customer demonstration environment for "Rapid Reconfigurable Training Technology"; which is now being delivered to the Royal Navy. 
After finishing my studies, I returned to Thales and completed the graduate development programme alongside my daily role. I built on the experience from my internship by supporting a bid submission for a future submarine programme, supporting integrations on platforms, completing of setting-to-works and planned maintenance activities. 
Next I became involved in mine countermeasures projects for different export customers. A key project was for the Estonian Navy where I spent 16 months based at Babcock's Rosyth dockyard to manage the platform activities as the Installation and Acceptance Manager. Estonia was a significant technical challenge as these were the first ships to have a towed body Sonar replaced with a hull mounted Sonar. 
What is your role now and what does it involve?
I am currently managing the installation and platform acceptance on programmes for the UK, Estonia and Lithuania. These projects will deliver replacement naval systems to a total of 19 ships. I am responsible for managing people offsite at military premises in the UK and overseas.
I am also the Installation Manager on the UK ORCA project. This is a command and control system replacement update for UK naval ships. Actively supporting two projects at once has required planning and scheduling work and teams across multiple platforms concurrently; with refit work taking place on UK platforms, whilst also being on site myself and managing both platforms/projects.
What's the highlight of you career? 
The highlight of my internship has to be conducting a survey on an operational submarine in dry dock; it was so impressive to see its true scale. It was pretty special knowing that the vessel had been in the depths of the oceans for decades.
One of the most significant challenges that I have faced was the first Estonian ship to be refitted - Admiral Cowan. A lot of expertise and dedication was required on this platform, and my biggest highlight was being awarded a medal of excellence from the Commanding Officer. 
My first sea trial also has to get a mention – we were subject to force 10 winds! Sailing with the Estonian Navy was a great experience. 
What are the opportunities of having a career in STEM?
Having been a STEM ambassador for six years, I have represented Thales at careers fairs and delivered sessions in schools, teaching about the fundamentals of electronics and its applications. 
There are many benefits in choosing a career in STEM. Not only are there so many lines of work available, but the subject areas are so broad that there are lots of "door's opened". There are many transferable skills which can be used in alternative paths should a STEM professional wish to pursue something different at some point in their career. 
Many job roles are project-based, which keeps the role interesting and allows opportunities to gain more experience. This variable work helps to develop an engineer's ability to adapt and solve different problems in new ways. For me this has given me the understanding required in order to progress my career from engineer to technical leader/manager.
Find out more about a career with Thales here.
Main image © Crown copyright 2021