Headquarters turn green in support of our St John Ambulance volunteers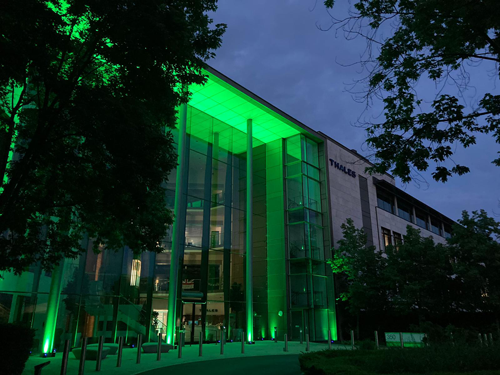 Thales's Green Park UK headquarters joined some of the UK's most famous landmarks, including Lincoln Cathedral, to be lit up in green in support of St John Ambulance volunteers one June evening.
June 24th is St John's Day and we showed our support for the organisation and for all of the Thales members of staff who regularly give up their time to help save lives and support their communities across the UK. 
At sunset on Thursday 24th, from 9.30 to 10pm, Thales's headquarters in Reading was illuminated in the distinctive green of St John Ambulance to say a thank you to all of the organisation's volunteers who have been working tirelessly through the pandemic and in support of the vaccination rollout across the country. 
Thales in the UK has a policy of encouraging and supporting volunteer engagement in the community and gives members of staff two days off a year to get involved. Additionally, Thales has given an extra allowance for Covid-19 related volunteers to recognise the extra pressure they have been under due to the pandemic.
Rob Jones, 33, a hardware manager at Thales's Cheadle site, has been a St John Ambulance volunteer since he was 11 years old and has continued since joining the company in 2018, more recently as the Emergency Planning, Resilience and Response Lead for North England. 
The extra leave is particularly appreciated since, in the first 3 months of this year, Rob has clocked up over 500 hours of voluntary service helping to organise and train St John Ambulance volunteers to support the vaccine rollout, running centres and teaching volunteers to vaccinate the public.
As well as company supported activities, volunteering is done in volunteers' own time, in the evenings and at weekends. Rob knows of at least one fellow volunteer at Cheadle who leaves work to go straight to their volunteer job.
"It's been a bit like having two jobs recently," said Rob. "I've been providing human resources support for 120 volunteers and helped to train 1200 volunteer vaccinators in the Manchester area, all in the evenings and weekends after logging off at Thales.
"People often think St John Ambulance is just about providing first aiders at football grounds," he added. "But I've also been involved in logistics, training, emergency response and managing people, so my experience with Thales has helped me to contribute in many more ways."
The importance of having even basic first aid knowledge was highlighted recently. Danish footballer Christian Eriksen's life was saved by the quick application of cardiopulmonary resuscitation, or CPR, after he suffered a cardiac arrest during Demmark's Euro 2020 match against Finland. 
"CPR is a really important life skill; it can keep someone alive," said Rob. "We've been working with the British Heart Foundation and British Red Cross to train up more people, everyone can learn the basics needed to save a life."
Despite the demands, Rob doesn't regret contributing his own time and has a message to anyone thinking about it: "If you're thinking of volunteering, I'd say "Do it". There's so much that anyone can offer.
"I volunteer because I think it makes the community a better place, but I've also learned new medical skills that I wouldn't normally acquire as an engineer.
"You get such a lot out of volunteering; you meet new people, which is important now with so many of us working from home, and you learn some great skills."
More information about St John Ambulance is available on their website or at Twitter hashtag #askme.