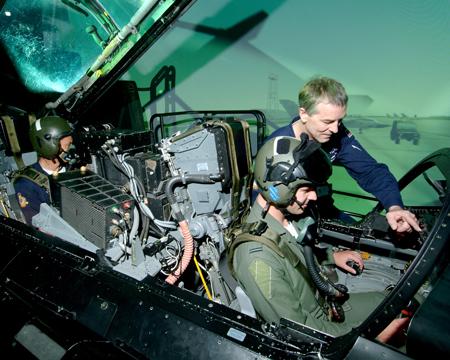 Since its inception in 1918, the Royal Air Force has explored and extended the frontiers of human skill, endurance and technology. Thales is proud of its legacy of close cooperation with the world's first independent air force.
This legacy is inherited from its precursor companies. Big names in British technology like Marconi, Shorts, Thorn EMI, Vinten, Racal and Rediffusion all cooperated with the RAF during two world wars, providing – for instance – innovations in optical equipment for delivering weapons and hydrostatic fuses used in the bouncing bomb.
Today, Thales continues that tradition as the RAF faces unprecedented challenges that place new demands on people and equipment. Thales is supporting the RAF's technological transformation: for example, Chinook and A400M Atlas aircraft are equipped with Thales cockpits and, under the Marshall Programme, the company provides key air-traffic management capabilities to support RAF operations at home and overseas.
It is also partnering on the construction of a new High G-force Centrifuge pilot training facility at RAF Cranwell and will provide the instructors and maintainers to prepare future generations of RAF fast jet pilots for the rigours of G-force.
However, the company's relationship with the RAF is primarily about people. The RAF is transforming its training and Thales is designing, building and servicing a new generation of synthetic training services. Its instructors and engineers also work alongside uniformed colleagues at every stage of a young pilot's progress, which ranges from basic flying tuition to advanced mission training in simulated environments.
In addition, the Thales Charity Trust has close links with several RAF charities and is a proud sponsor of the RAF100 Appeal. Many of the company's people also support the RAF directly as uniformed reservists, and it actively backs the Armed Forces Covenant.
As well as commemorating 100 years of achievement, Thales also celebrates the RAF's current work, which serves to inspire its own people to continue delivering extraordinary hi-tech solutions that enable the RAF to shape its second century, protecting UK citizens and projecting the UK's influence around the world.