HMS Queen Elizabeth and me: a 20-year relationship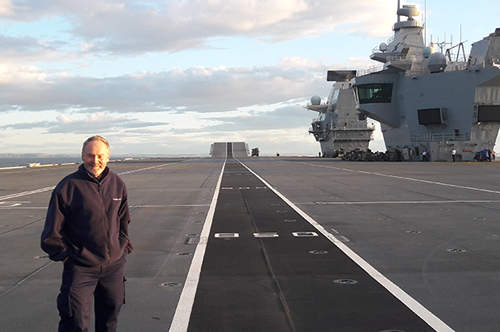 To celebrate the deployment of HMS Queen Elizabeth – the jewel in the UK's Carrier Strike Group – we spoke with Graham Thomson, Type 31 Programme Director at Thales UK.
Our Thales people and capabilities play a key role in the Carrier Strike Group 21 [CSG21] deployment. Our technology features on many of the platforms that make up the Carrier Strike Group from submarines to surface ships to Helicopters and the aircraft carrier itself.
We wanted to find out more about his 20-year relationship with the Royal Navy's flagship vessel and why this new carrier class is so impressive.
Seeing HMS Queen Elizabeth lead out the Carrier Strike Group on her 26,000 nautical mile maiden deployment must have been quite a moment for you?
It truly was. I've had a relationship with the vessel for two decades. I first joined the Thales team competing for the design and build of what was called the Carrier Vessel Future (CVF) as we didn't know what the name of the ship was going to be yet in 2001. Those first two years were especially exciting as I was part of the Thales-led team of about 30 companies when we created the initial carrier design. We were up against BAE Systems in what we thought was a winner-takes-all bid. As it turned out, Thales won the design competition, but the MoD selected BAE Systems to build it; we moved from competitors to working collaboratively as one team with BAE Systems and other companies almost over-night! Over the next several years the Aircraft Carrier Alliance was formed and the ship's design was refined and finalised before the award of the manufacturing contract on 2008. 
I moved onto several other roles in Thales, before re-joining the Queen Elizabeth Class (QEC) programme, as it was now called, in 2013. Over the next five-and-a-half years I worked alongside my colleagues in the Power and Propulsion team, and more specifically on the Integrated Platform Management System (IPMS).
Can you tell us a bit about the IPMS?
The IPMS controls and monitors most of the ship's systems and is a key part of the ship's automation technology. Put simply, it allows a ship as enormous as HMS Queen Elizabeth to operate with far fewer crew members than you might expect. Typically, most carriers have about 30 tonnes of ship per crew member. So the 90,000 plus tonne US carriers have about 3,000 crew, the French flagship carrier, the Charles de Gaulle at 42,500 tonnes has a crew of 1,350. But the Queen Elizabeth class is different. At 65,000 tonnes, you'd expect a crew of 2,000, yet it operates with just 750, so you've three times more ship per person than a normal aircraft carrier. By using automation and careful design, we've reduced the number of people required to operate the ship by around two thirds. And when you realise that about a third of the whole cost of an aircraft carrier through its life-cycle is the cost of the crew, this is even more impressive.
How does the Queen Elizabeth stack up against other carriers in terms of its size, design and capability?
Extremely well. Displacement-wise, it's second only to the largest US nuclear-powered carriers so it's a formidable ship to say the least. The power generation is a combination of gas turbines – derived from the Rolls-Royce Trent aerospace engine – and four large diesel generators, so it has lots of redundancy and robustness. The vessel is capable of a speed in excess of 25 knots and has a range of around 10,000 nautical miles. Its integrated electric propulsion system is unique in the sense that it's the largest system of its kind installed in any warship to date and effectively turns the vessel into a floating power station.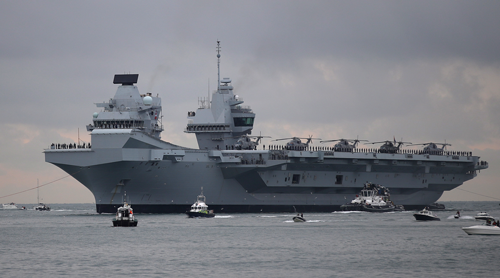 All the engines on-board generate electricity, which is directed through a power management system to where it's needed to drive the ship and its internal systems including its automated weapons-handling system – which negates the need for dozens and dozens of crew. Plus, the flight deck arrangement and hanger (which can comfortable fit in excess of 3,000 people), allows for a very high sortie-generation rate, so you have a fast turnaround when it comes to re-arming returning aircraft to go out again. In fact, this was a key design requirement. 
Perhaps the most obvious innovation I like to point out is the Queen Elizabeth's 'twin islands'. These two separate super-structures were designed to use space more efficiently and segregate the different engine systems. The aft island contains the air traffic control, or FLYCO, while the front island has the bridge where the captain commands the ship.
It's the biggest ship the Royal Navy has ever had and it can operate about 40 aircraft including 36 F35s and Chinook, Apache, Merlin and Wildcat helicopters. All in all, it offers a lot of bang for its buck. This is replicated in the HMS Prince of Wales, the second Queen Elizabeth Class carrier. The reason we have two is for preparedness, so there's always one combat ready to go when the other returns for maintenance or system upgrades. Essentially, these ships were designed from a clean sheet of paper and represent some of the world's the most innovative and advanced military sea-faring capabilities.
Do you think the Royal Navy needs a Carrier Strike Group capability?
It's incredibly important for the Royal Navy to be able to deploy its ships in a way that supports 'our national interests'. From the military-strategic point of view, the UK's Carrier Strike Group – made up of six destroyers and frigates, an Astute-class submarine in support below the waves, and two Royal Auxiliary support ships – achieves that. It's the Royal Navy's largest deployment in more than a decade and allows us to deploy four acres of the UK to anywhere in the world. The CSG's eight-month tour is one way to show the world that we have a naval capability able to project power and presence and protect the interests of Britain and her allies the world over.
What happens to all that knowledge and experience gained during the development of the QEC over the last 20 or 25 years?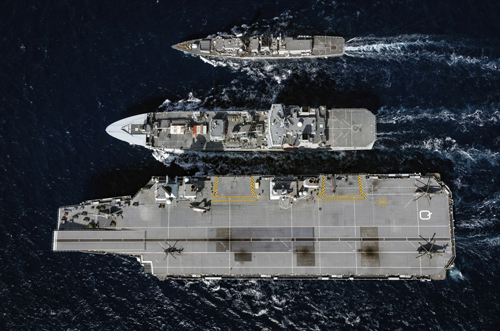 © Crown Copyright
It's a little bit bittersweet, to be honest, because the size and scale of the enterprise required to design, develop and build a warship of this size is certainly not going to happen again in my lifetime. However, I feel very fortunate and privileged to have played a small part in it. I've since moved to work on the Type 31, a new general-purpose frigate class progressively coming into service over the next few years. At 140m long, it's half the length of the QEC and just under a tenth of the tonnage at about 6,000 tonnes. A lot of my team members have come from the QEC programme too, and brought that heritage, experience and skills with them. 
In many ways, Type 31 extends our development and learning from QEC. Essentially, we're flowing all of that experience into other programmes. What's particularly good is that we've been able to establish a specialised division inside Thales UK called Above Water Systems, which provides us with the perfect environment to further develop our knowledge, skills and experience for these sorts of programmes. 
Anything else you'd like to add?
When I look back on my career, the QEC will always hold a special place in my memory – especially when I joined the ship's crew of HMS Queen Elizabeth for a month during her initial sea trials. That was a major career highlight and one I'll never forget.
All images © Crown copyright