IET award winner returns as judge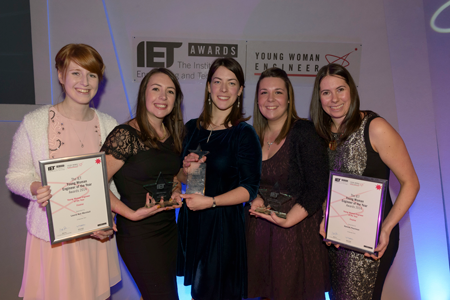 Female engineers are passionate problem solvers, who impact virtually all aspects of our everyday lives. Naomi Mitchison is no exception – winner of the 2014 Young Woman Engineer of the Year awards, she has now returned to the ceremonial stage; this time as a judge. Here, Naomi shares her story, along with advice for future finalists. 

You're a previous winner of the 2014 Young Women Engineer of the Year Awards. What did the recognition mean to you? 
It was amazing to win, and to be given a platform where I could voice my opinion.
Furthermore, the extent of support within the community of engineers that were nominated was wonderful. The 2013 winner emailed me her congratulations and offered me advice and support. It felt like such a welcoming community of engineers, almost like a sisterhood. Being chosen as an ambassador for engineering, travelling all over the country to attend conferences, and attend discussions is brilliant. What you don't realise however, is what a steep learning curve and how people-orientated the role is!  I went from getting involved in talks at schools to speaking in front of politicians, and being asked to contribute to STEM policy in Scotland. Having input into such critical decisions was particularly meaningful.

Now you're returning as a judge, what kind of things will you be looking for? 
You have got to be able to bring engineering to life, regardless of who you are talking to. Being able to talk about something with such conviction that it grabs an audience and makes them investigate further, is crucial. Coming from an international background, you learn how to speak to people with different cultural backgrounds and that as a general skill does help you in engineering. Engineering is a rewarding and interesting career opportunity, being an ambassador is about showing young women what a diverse, interesting and challenging career choice it is.
What does it mean to you to come back as a judge? 
Six young female engineers working on projects ranging from emerging defence technologies to new Apple products have all been shortlisted and I want all of them to win. As I've been in their shoes, I knew what type of person we were looking for, the type of challenges that person may face and what expectations were of the winner. Someone who is brilliant at both the technical, but also the personal, and is comfortable talking to and interpreting engineering in an interesting and captivating way.
As a judge, you have to almost climb into the psyche of the person you are interviewing, and to establish what their motivation is for winning, what their leadership skills are like, and whether they are able to create a top level overview of why engineering is critical to our workforce and economy. It's got to be fun, accessible and interesting to engage everyone from kids to politicians. It's got to be fun for kids, explanatory for parliament and interesting for engineers.  Einstein said "if you can't explain it simply, you haven't understood it well enough". There's a lot of truth in that.

What is your current role at Thales?
I'm the Deputy Electronic Engineering Manager in Glasgow, so working as both an engineer and a manager. We are currently redesigning a sighting system that is used by the military for awareness. These sighting systems work within a system of thermal imaging units and day camera, which are used to keep soldiers and civilians safe.
What has been your proudest moment at Thales?
When I first joined Thales, my colleagues and I ran a stand at The Big Bang Fair, which is the UK Young Scientist and Engineers Fair. Seeing children and teenagers together and being genuinely interested and invested in learning about STEM and engineering was really rewarding. These fun and hands-on activities give the children a sense of achievement but also reminded me how much fun it is to build things, which was one of the reasons I became an engineer in the first place. I'm passionate about others joining me in engineering and so in that moment, seeing the interest and fascination first hand was particularly special to me.
The IET Young Women Engineer of the Year awards takes place in London on 7 December. You can learn more about the IET and the awards in general here.