Italy welcomes the Carrier Strike Group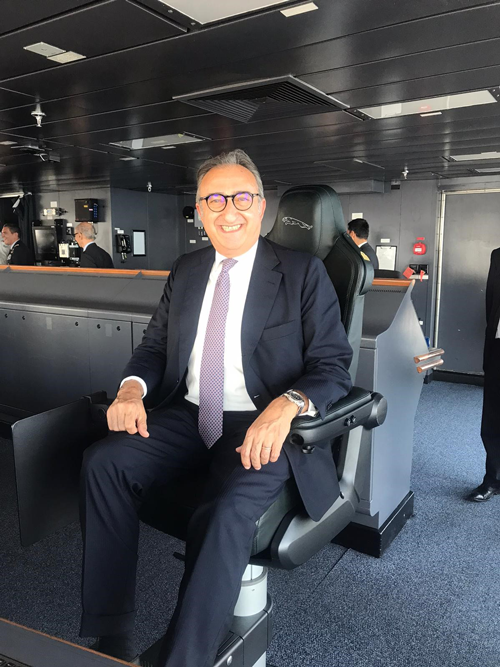 The first official port of call for the Carrier Strike Group on its six-month, 26,000 nautical mile deployment was Augusta in Sicily, Italy. It was here Elizabeth Baker, Business Development Director, UK Exports at Thales caught up with Donato Amoroso, CEO and Country Director of Thales Italia, who had recently been invited on board HMS Queen Elizabeth, the Thales-designed Royal Navy flagship. They spoke about his experiences of this new carrier class and how the British and Italian Navies and Thales UK and Thales Italia are working more closely than ever.
Donato, can you provide a bit of background about how you came to be at Thales?
I joined Thales in January this year as CEO and Country Director of Thales Italia, though I was also CEO of Thales Alenia Space in Italy for nearly five years. I've also worked for other major players in Italy's defence and aeronautics industries. This has given me a unique perspective of the industry, which I believe will help Thales Italia make the most of potential partnership and collaboration opportunities.
What was your first impression of HMS Queen Elizabeth?
Big! When I first went aboard, a young officer escorted me to where I needed to go. I asked how long it took her to get to know her way around the ship. She thought it would take three weeks, but it took over a month to completely familiarise herself with where everything was. I was also astonished to learn there were 1,600 people living and working on board. It's like a floating city. I was also lucky enough to see her next to the Giuseppe Garibaldi, the smaller of Italy's two aircraft carriers, and the size difference was immense, with HMS Queen Elizabeth being twice the length and twice the beam.
Seeing them together like that, did you get a sense of the relationship between the Royal Navy and the Marina Militare, the Italian Navy?
Interestingly, the connection between both Navies goes back as far as 1799 when Admiral Nelson rescued King Ferdinand I and his family from Naples and took them to safety in Sicily. During the Commodore's address, he mentioned several times it was not a coincidence the CSG's first operational visit was to Sicily. To me, it was a clear statement of the long-lasting and close relationship between the Royal Navy and the Marina Militare: a relationship both seem intent on strengthening.
We can assume they would have conducted some joint exercises?
Yes, but obviously they don't disclose exactly what these joint exercises involve. However, you can imagine the operational and logistical complexity of one aircraft carrier launching and landing multiple types of aircraft. Now, imagine coordinating all the traffic from two aircraft carriers working in close proximity to each other – along with multiple other vessels above and below the waves. That is a highly complex and formidable challenge and it makes me proud that so many Thales-designed technologies, systems and processes sit at the very heart of all that to make it work seamlessly.
So the presence of CSG in Italy has also been an opportunity for Thales to showcase how it can work with different Navies as well?
Exactly. When you really understand the complex challenges your customers face, you're in a good position to develop software, systems and hardware that's faster, easier and simpler for them to use from an operational perspective. That's what partnership and collaboration are all about and that's what Thales is all about: working hand-in-hand with our customers to develop the "decisive technology for the decisive moments" they might face – whether at sea, on land, or in the air.
The CSG stopping at Augusta is also an opportunity for Thales UK and Thales Italia to deepen their relationship: to share knowledge and expertise, learn from each other's successes and to collaborate on joint opportunities where we know our technology will give our customers the cutting-edge capabilities they need. Thales Italia is already leading the way with the variable-depth sonar upgrades for the Marina Militare's Gaeta class minehunters. The system is second to none, but we have so much more to offer in terms of our wider mine warfare capabilities.
Any other reflections from the day?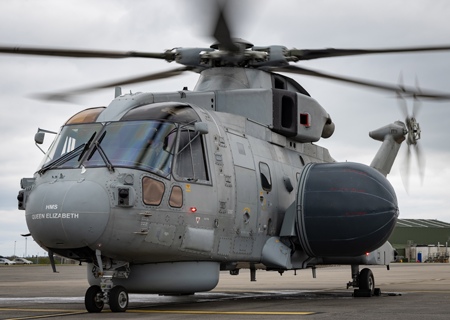 © OGL
After the official tour, and under escort from two Naval Officers, we looked at the Crowsnest-equipped Merlin helicopters. When I mentioned I was from Thales they told me how close the relationship was between the company and not just the QEC, but also the CSG in general. There is a lot of our tech on board a lot of the other vessels in the group. They also mentioned how hard the Thales team works and that made me feel extremely proud and privileged to be part of a company so close to the cutting-edge of technology. It's not often you get to be part of such an awe-inspiring event and to see so much Thales technology on board. But also to hear how good it is from the people using it day-to-day, really is the "ciliegina sulla torta", the icing on the cake.