Keeping the UK Armed Forces operational wherever and whenever required
We can all be rightly proud of our armed forces. Efficient, versatile and responsive, we rely on them to protect our national interests, day in, day out. Thales helps the UK Armed Forces with its very short range air defence capability worldwide during peacetime and whilst on operations.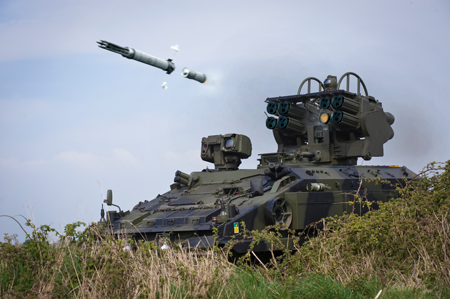 The story starts back in 2008, when the UK Ministry of Defence set up the Air Defence Availability ProjecT (ADAPT). Thales's weapon systems operation in Belfast was awarded the STARStreak high velocity missiles (HVM) ADAPT contract, which gave Thales the responsibility of providing the Royal Regiment of Artillery and the Royal Marines with their air defence weapon systems.
The Regiment plays a vital role in the Army, providing close air defence protection for Armoured Infantry Brigades, as well as maintaining a shoulder-launched and lightweight multiple launcher capability to 16 Air Assault Brigade, which is capable of being deployed worldwide at extremely short notice. ADAPT provides them with the availability and readiness for all aspects of the capability, including the vehicle and missile systems. The army will then take delivery of the equipment and take it on exercise. Once the exercise is over, the equipment is returned to Thales for servicing and restoring to readiness.
The missile provided for these challenging operations is the STARStreak HVM. Operating at a speed in excess of Mach 3, it is designed to defeat fast-moving threats and those with short unmasking times. The three-dart 'hittile' configuration maximises lethality and the highly-accurate laser beam riding guidance enables engagement of low-signature targets and is immune to all known countermeasures.
As the world is forever changing and innovations continue, new asymmetric threats evolve and Thales is continually working alongside the customer and user to meet their changing needs and ensure our troops are equipped with a modernised capability.
Providing modernised potent defence ability Stuart Andrew MP, Minister for Defence Procurement, visited Thales's air operations and weapon systems facility in Belfast along with a number of of defence suppliers, announcing the Ministry of Defence has awarded a £93 million pound contract to Thales to modernise and boost the critical air defence capability of the British Army and Royal Marines.
The Future Air Defence Availability ProjecT (F-ADAPT) will provide the customer with a modernised and fully supported availability solution with enhanced capabilities. The upgrades include thermal imaging, ensuring the HVM system can be used 24 hours a day for 'friend or foe' identification, maximising intelligence on potential threats and targets.
With the ever evolving threats come new innovations and weapon systems – capabilities are being continually developed.  The lightweight multirole missile (LMM) is Thales's latest missile with a true multirole capability. LMM will now come into service with the Royal Artillery in 2019 and is designed to provide rapid reaction to a wide range of evolving asymmetric threats, both in the air and on the surface.
The weapon systems available to front line soldiers are now capable of defeating the complete target set from enemy drones to helicopters and armoured vehicles. They also have increased flexibility as both STARStreak HVM and LMM systems are designed to be fired from the in service tactical platforms such as the Stormer fighting vehicle, lightweight multiple launcher and can also be shoulder launched.
Stuart Andrew MP says:
In these uncertain times, it is crucial that we protect ourselves from the rapidly evolving spectrum of global threats. These cutting-edge missile systems will fortify our military advantage over adversaries and help protect UK Armed Forces across the world and into the next decade.
Richard Smart, DE&S Director Weapons, says:
"F-ADAPT is crucial in safeguarding our very short range air defence capability and the team at DE&S has worked collaboratively with industry to deliver the enhancements needed to ensure this project continues to support our troops for years to come."
Thales will continue to provide its customers with enhanced capabilities to ensure they are efficient, versatile and responsive, wherever and whenever required.