A look back to look forward
Darryn (Daz) Rawlins, Managing Director, Thales Training and Simulation, UK writes reminisces about his formative years in the Air Cadets and how it prepared him for a career in the RAF and, more recently, the defence industry. 
Many ex-RAF people stoked their ambition to join the Service or the aviation industry by joining the Air Cadets. Me included. So what was it like back in the day? And looking to the future, what can we do to keep the talent pipeline flowing for Generation Alpha?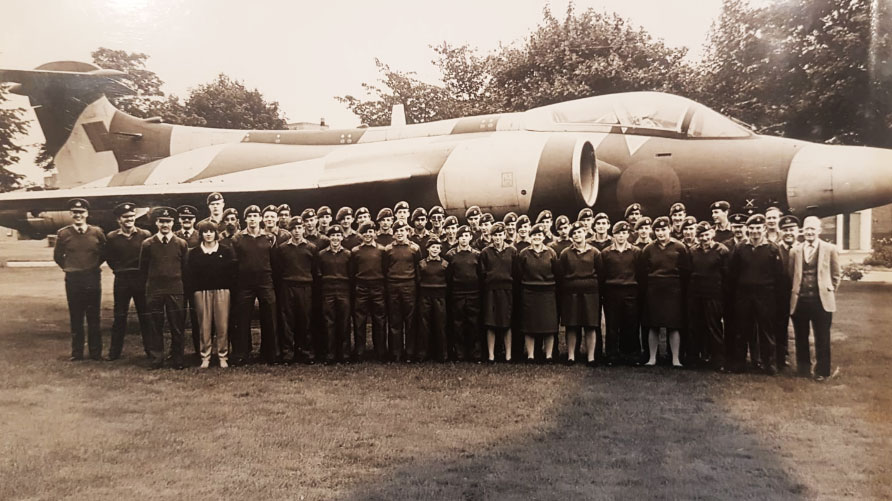 I consider myself very fortunate. I spent 29 years in the military before ending up in an organisation I greatly admire, doing a job I absolutely love. At the risk of descending into cliché, I really am passionate about delivering high-quality training and simulation supporting the UK's Armed Forces and its allies the world over. 
And whenever I think about why I'm so energised and enthusiastic about what I do today, I can't help but gravitate back to where my love for aviation was first ignited, fanned and then fomented: those influential years between 13 and 17 as a gangly and, no doubt, very impressionable Air cadet. It was my experience of this organisation (which dates back to the 1930s) that not only equipped me, but propelled me to work and study hard to get onto Initial Officer Training (IOT) at Cranwell and then into the RAF.
The odd squad
Casting my mind back, it's funny how you recollect the little things. The first day I joined 967  Air Cadet Squadron in Freckleton, Lancashire, I remember lining up to pay my subs (25p, I think) and feeling a sense of purpose I'd never had before – along with a real sense of belonging, of joining a select 'gang'. And we even had matching uniforms! No doubt, we looked more Frank Spencer than Douglas Bader dressed in our oversized berets and ill-fitting clothes that were waiting patiently for our teenage growth spurts to begin. 
I remember the parade ground, doing drills and learning to march in time, desperately trying to avoid doing a Mowgli (remember the Elephant March in The Jungle Book?). The competition to see who could whittle the most realistic replica rifle out of wood for our next night exercise. Speaking to an Air Cadet on the other side of the world via a radio set, which was a major event. As was saving your pocket money to spend at the local army and navy surplus store on combat gear and camo cream. And few things made you prouder than learning to wield an iron so you could put the perfect tramlines in your trousers.
The anticipation of the evening's activities would begin in the school yard on a Tuesday or Thursday afternoon. But never more so than in the run up to flying trips, which happened twice a year. This was the highlight of anyone's air cadet experience. In those days, we went up in a rattly old two-seater de Havilland DHC-1 Chipmunk. 
Cloud burst
I distinctly recall the bus trip to the airfield at RAF Woodvale. The interminable hours in the crew room as you waited patiently for your turn to go up – hoping the weather would hold. The strange mix of deep trepidation and bubbling excitement as you walked towards the aircraft, stooped over because of the parachute on your back. The smell of aviation fuel hanging in the air. The incredible rush as the plane accelerated down the runway and the sheer joy as the wheels left the ground and the sharp intake of breath as your burst through the scattered cloud cover into bright blue sky. And I'll never forget the first time the instructor uttered the words, 'You have Control', what a buzz! And somewhere in my loft, in a shoe box, is my F3822, Cadet Record of Service Book signed by all the instructors I flew with and revered.
Collectively, it was all of these things (and a lot more I can't remember) that shaped and prepared me for a career – first in the military and subsequently the defence industry.
I'm sure a lot of the things that impressed me and my fellow cadets wouldn't necessarily impress today's more tech-savvy and worldly-wise air cadets. It was all much more basic back then, and we were encouraged to learn different kinds of life skills like carpentry in wood working club or restoring a Hillman Imp in the motor club. 
Plus ça change
But a lot of the experiences I had are timeless and universal. Like that pre-flight trepidation I mentioned. Like that view out the cockpit that evokes those feelings of freedom and awe. The houses and the cows look the same size at 3000 feet today as they did 35 years ago. The sense of independence (essential for every healthy teenager), the people you meet, and the lifelong friends you make along the way won't have changed either. In fact, while I'm in reminiscent mode it's a good opportunity to apologise again to one of my fellow air cadets from a different squadron (he's now one of the RAF's finest) for almost decapitating him with a discus at Wing Athletics! You know who you are.
While the unique experiences, camaraderie and confidence the Air Cadets gives young people will never change, let's not forget that technology and the aspirations of young people have moved on hugely since my time as an air cadet. So one question to ask is how can the Air Cadets (and the RAF) keep up and continue to inspire the talented air and ground crews of tomorrow?
Back to the future
In my next article, I'll be talking to Helen Gardiner, our current Head of Training Innovation and Chief Instructor at Thales, about what it's going to take to attract, stimulate, encourage, and ideally recruit Generation Alpha (those born in the last 10 years). Namely, how can we tap into the hearts and minds of Gen A, while keeping those timeless values that every modern and effective military force is built on?
One thing I can promise you is that there are no "rattly" old Chipmunks involved.