Mace & Thales sign MOU to deliver 360 degree integrated physical & digital security solution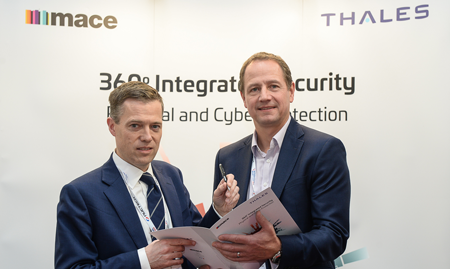 Thales and Mace have today signed a memorandum of understanding to deliver a joint 360 degree Integrated Security Solution. Mace bring their expertise in physical security in the built environment together with Thales's expertise in cyber security to deliver assured business continuity and the strongest possible protection for clients, against even the most carefully planned attacks.
To date, it has been accepted practice to think of physical and cyber security as separate entities, each designed without consideration of the other. But modern physical and digital landscapes have converged and managing them separately no longer makes sense. Working together Thales and Mace's Integrated Security solution ensures robust protection for the military, government and critical national infrastructure markets against the threat of state actors and organised crime.
Whether tackling existing infrastructure where vulnerabilities have crept in through the march of progress or designing physical and digital security in from day one of a new build, there are significant benefits to be had through working in an Integrated Security approach.
For more information please visit Thales in the UK or Mace Group.